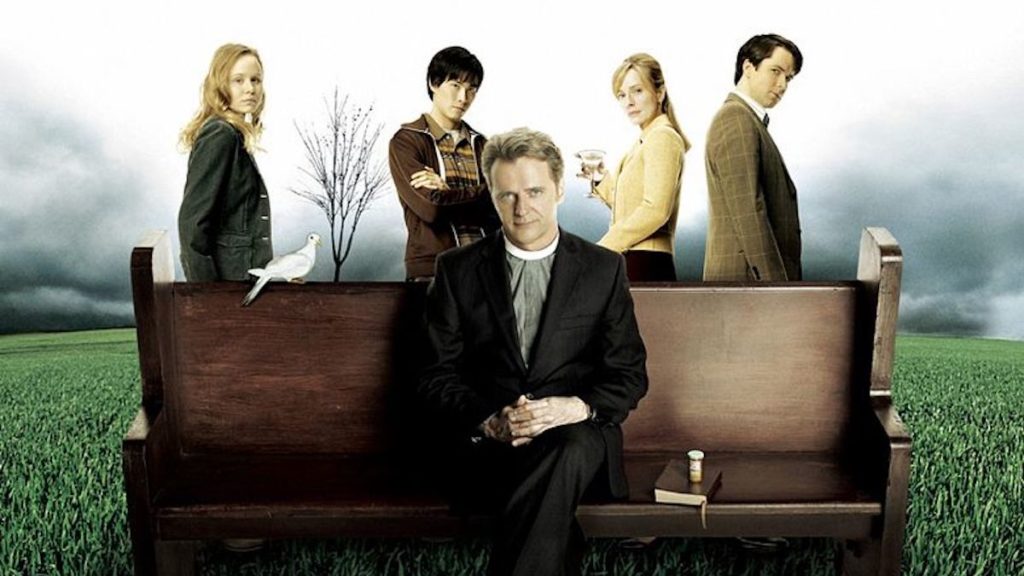 Overview
Set in the fictional town of Newbury in Westchester County, New York, the main character is the Reverend Daniel Webster, an unconventional Episcopal priest who is addicted to narcotic painkillers while his wife Judith fights her dependence on mid-day martinis.
Struggling to be a good husband, father, and priest, Webster regularly sees and talks with a traditional Western-world, white-skinned, white-robed and bearded Jesus who nonetheless is rather unconventional. Daniel's Jesus appears only to him and openly questions modern interpretations of Church teachings, reminding Daniel of his own strengths and weaknesses.
The Webster family includes 23-year-old gay son Peter, 16-year-old daughter Grace (arrested for drug possession in the pilot episode), and 16-year-old adopted Chinese son Adam, who is dating Caroline Paxton, the daughter of one of Daniel's parishioners who harbors anti-Asian prejudices. Another son, Peter's twin brother Jimmy, died of leukemia two years prior to the beginning of the series.
When Daniel's brother-in-law Charlie absconds with church funds and abandons his family, Daniel's sister-in-law enters a lesbian relationship with Charlie's bisexual secretary. Bishop Beatrice Congreve is involved with Daniel's married father, a retired bishop who, despite his gruff exterior, is troubled by dealing with his wife's Alzheimer's disease.
Queer Plotline Timeline
Daniel's sister-in-law, Victoria, is portrayed as a ditz who has an affair with her late(?) husband's secretary, only to be scammed by her.
Characters
There are 2 queer characters listed for this show; none are dead.
Recurring (1)
Guest (1)
This page was last edited on March 7th, 2021.