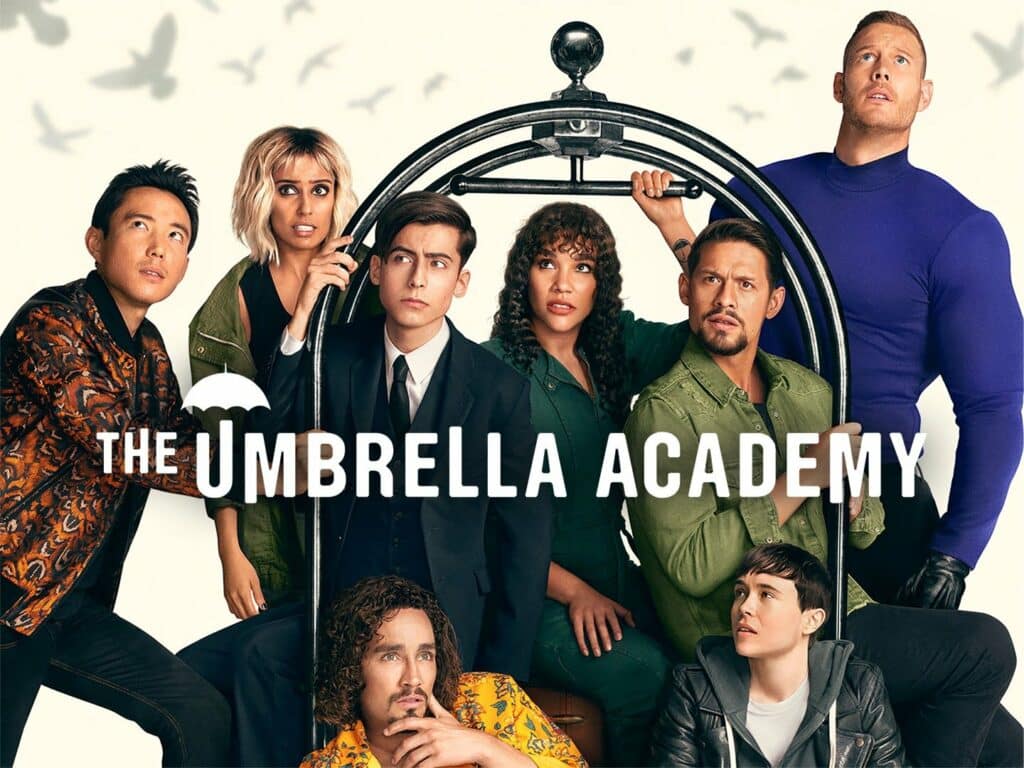 Overview
On October 1, 1989, 43 women around the world give birth simultaneously, despite none of them showing any sign of pregnancy until labor began. Seven of the children are adopted by eccentric billionaire Sir Reginald Hargreeves, and turned into a superhero team in what he calls "The Umbrella Academy". Hargreeves gives the children numbers rather than names, but they eventually are named by their nanny robot-mother, Grace, as: Luther, Diego, Allison, Klaus, Number Five (his only name), Ben, and Vanya. While putting six of his children to work fighting crime, Reginald keeps Vanya apart from her siblings' activities, as she supposedly demonstrates no powers of her own. (Plot twist? She's more powerful than anyone else.)
In the present day, Luther is a part ape who lived on the moon for four years, Allison is a famous actress, Vanya is a violinist, Klaus has a drug addiction, Ben, now deceased, is a ghost able to converse only with Klaus, and Diego has become a vigilante with a penchant for trouble. The estranged siblings learn that Reginald has died and gather for his funeral. Number Five returns from the future, chased by vigilantes, and reveals that a global apocalypse is imminent. Meanwhile, the reunited siblings try to uncover the secret of their dysfunctional family while beginning to come apart due to their divergent personalities and abilities.
Five warned his family (so, so many times) that using his powers to escape from Vanya's 2019 apocalypse was risky. Well, he was right – the time jump scatters the siblings in time in and around Dallas, Texas. Over a three year period. Starting in 1960. Some, having been stuck in the past for years, have built lives and moved on, certain they're the only ones who survived. Five is the last to land, smack dab in the middle of a nuclear doomsday, which – spoiler alert! – turns out is a result of the group's disruption of the timeline (déjà vu, anyone?). Now the Umbrella Academy had to find a way to reunite, figure out what caused doomsday, put a stop to it, and return to the present timeline to stop that other apocalypse. All while being hunted by a trio of ruthless Swedish assassins. But seriously, no pressure or anything.
It didn't work out quite right as they jumped to the future and found they were all replaced by the Sparrow Academy.
Queer Plotline Timeline
In season one, Vanya is dating a man. In season two, she falls in love with a woman.
Notable Queer-Centric Episodes
Season 2, Episode 4 "The Majestic 12" - Vanya and Sissy kiss. 
Season 3, Episode 2 "The World's Biggest Ball of Twine" - Vanya cuts his hair and takes the name Viktor. His brothers are fine with it.
Characters
There are 2 queer characters listed for this show; 1 is dead.
Regular (1)
Recurring (1)
This page was last edited on April 2nd, 2023.