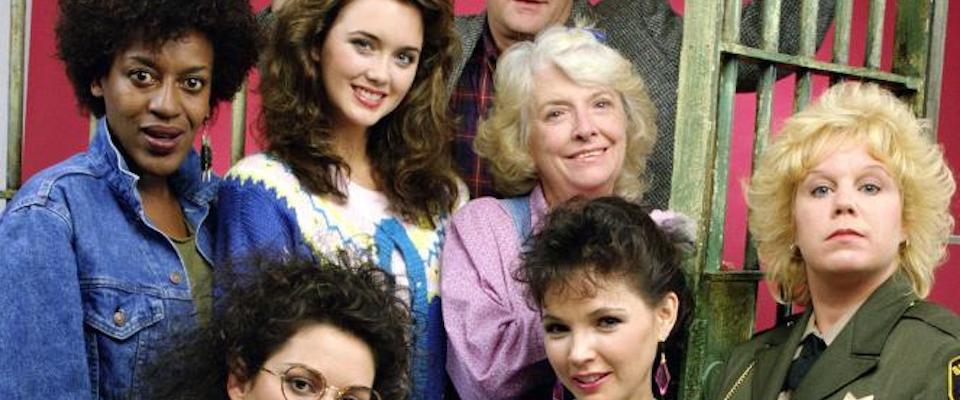 Overview
This is possibly the show I remember the best for only watching one, or maybe two, episodes.  And not in a good way, This was the absolutely last show I ever watched that made pain funny. Because it didn't.
Set in cell-block J of the Bass Women's prison in Wisconsin, the show focuses on the interactions among the prison inmates. Vicki Springer, an overachieving yuppie, who was brought to Bass Women's Prison for supposedly shoplifting (she had been actually framed on the charge by her scheming no-good husband), where she had to deal with the inmates. Eve Shipley was the old lady prisoner, having been there for almost 10 years and was kind of the old hand prisoner, helping others get used to the routine; Dawn Murphy was a bad tempered African-American woman who had murdered her abusive husband; and Bonnie Harper was in for prostitution.
Vickie, Eve, Dawn and Bonnie all shared a cell, while, in a nearby cell of her own, complete with computer access, was Pam, who was, not surprisingly, in prison for computer fraud. They all had to contend with guard Meg Bando, who didn't like the prisoners, and vice versa, and the assistant warden, Clint Rafferty, for whom Vicki worked as a secretary (for her prison job) and to whom he was attracted.
Only thirteen episodes of the series were produced and aired. That's probably a good thing.
Characters
There is 1 queer character listed for this show; none are dead.
Regular (1)
This page was last edited on January 21st, 2018.