If you were a big Harold They're Lesbians Podcast fan like me, then you have been missing the show's funny and informative queer media news and views since it went on hiatus. Today, we are very happy to announce a new feature to help fill that void.

We are so excited to announce a new weekly column: Queer Beats with Nikki!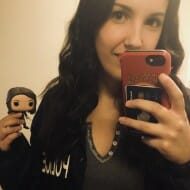 Nikki is bringing her Queer Beats segment from the podcast to the website and we couldn't be happier!
Queer Beats, based off the HTL Podcast segment of the same name, will be your one-stop shop for queer TV news. Weekly posts will include a roundup of anything from behind-the-scenes social media posts of your favorite queer shows to first-hand reports of conventions to interviews with your favorite queer and allied actors.
We are thrilled Nikki is joining Team LezWatch and bringing her voice to the site!
Here is what she has to say about rejoining the world of creating content for queer fandom.

As a longtime fan of LezWatchTV, I am beyond excited for the opportunity to write regular content for a site that is so important to the queer fandom community! Some of you may know me from the Harold They're Lesbians podcast. Or some of you may know me from my Alex Danvers-focused freak outs on Twitter. Either way, I feel so lucky to have another venue to express all my fangirl feels and expand my fandom friendverse.

I want to thank Team LezWatch again for allowing such a blatantly crazed superfan to have access to their site. I promise to keep out of any ship wars to the best of my ability (Team #Kadena forever)!

-Nikki
It's okay, Nikki, this is a safe shipping space.
Look for Queer Beats every Friday here on the site!