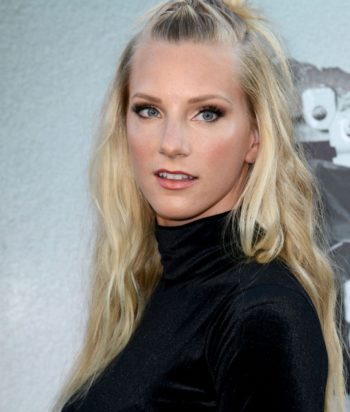 Actor Bio
Heather Elizabeth Morris is an American actress, dancer, singer and model. She is best known for her role as Brittany S. Pierce in the Fox musical comedy-drama series Glee (2009–2015).
Morris was taking acting classes and actively pursuing an acting career when she was asked by Woodlee to teach the choreography for Beyoncé's "Single Ladies" dance to the Glee actors. At the same time, the show was looking for a third cheerleader, and Morris ended up landing the role of Brittany. Initially a background character who hardly ever spoke, the role grew as writers discovered Morris had a gift for delivering one-liners. Jarrett Wieselman of the New York Post opined that Morris had "emerged as one of the funniest second bananas on TV right now" and a LA Times writer mentioned having a "comedy crush on Morris, who plays the galactically dim Glee Club cheerleader Brittany".
When a promotional clip for the episode "Sectionals" indicated that Brittany Pierce and Santana Lopez had slept together, Dorothy Snarker, writing for lesbian entertainment website After Ellen, praised the pairing, referring to them by the portmanteau "Brittana". Snarker called the two her "new favorite Glee pairing", commenting that: "While Heather Morris (Brittany) and Naya Rivera (Santana) have had minimal screen time, they've made it count. Heather in particular has brought the laughs as the Cheerio least likely to get a Mensa invitation. Never mind Finn and Rachel — I'm on Team Brittana now."
Morris is married to Taylor Hubbell, whom she began dating when he was a college baseball player.
Actor Information
Born: February 1, 1987
Age: 36 years old
---
Characters
There is 1 character listed for this actor; none are dead.
This page was last edited on July 19th, 2018.