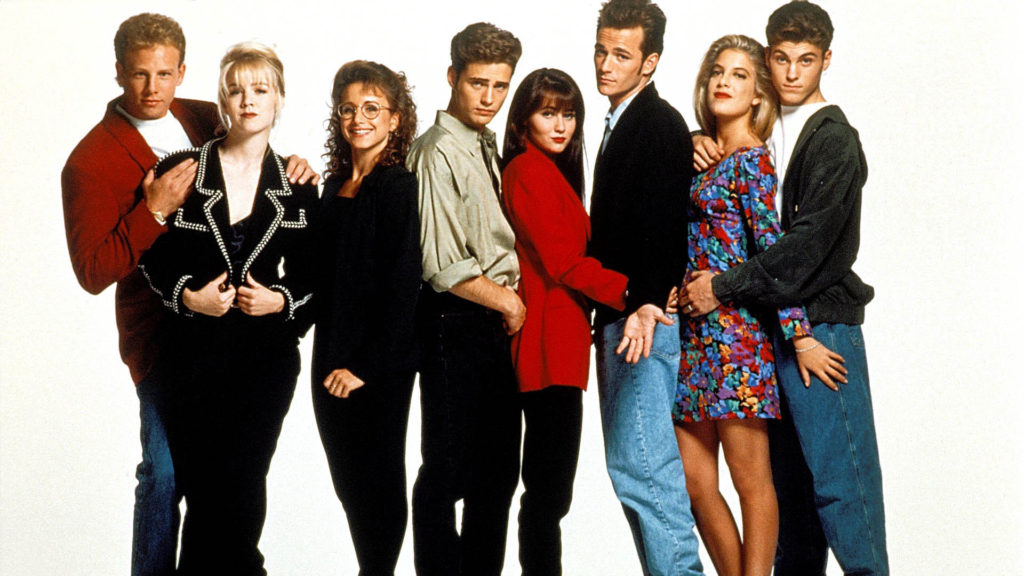 Overview
The series begins with the introduction of the Walsh family—Jim, Cindy, Brandon, and Brenda—who have recently moved from Minneapolis, Minnesota to Beverly Hills, California as a result of Jim's job promotion. In the first episode, Brandon and Brenda begin attending West Beverly Hills High School, where they befriend several classmates: the self-centered and promiscuous Kelly Taylor, carefree and spoiled Steve Sanders, smart and driven Andrea Zuckerman, ditzy and virtuous Donna Martin, brooding loner Dylan McKay, and younger and naive students David Silver and Scott Scanlon. The show follows the siblings as they bear witness and take part in the dramatic lives that their wealthy and privileged peers lead.
One of the definitive shows of the 1990s, "90210" became a global pop culture phenomenon with its cast members, particularly Jason Priestley and Luke Perry, who became teen idols; the series also made actresses Shannen Doherty and Jennie Garth household names in the US. The show is credited with creating or popularizing the teen soap genre that many other successful television shows followed in the years to come. In addition to making sideburns momentarily cool again during its run, the show deals with a steady stream of love triangles and other romantic entanglements and occasionally touches on more serious issues as well.
Notable Queer-Centric Episodes
Season 5 Episode 13 "Up In Flames" - Steve throws a house party at an abandoned house and Claire inadvertently attracts a large lesbian crowd. When fire breaks out Kelly is trapped with Alison.
Season 5 Episode 28 "Girls on the Side" - Alison has feelings for Kelly.
Season 5 Episode 31 "P.S. I Love You" - Alison acknowledges that she is in love with Kelly and rumors about their relationship start circulating. Steve becomes infatuated with the beautiful Elle, only to discover she is transgender.
Characters
There are 5 queer characters listed for this show; none are dead.
Recurring (3)
Guests (2)
This page was last edited on November 18th, 2019.