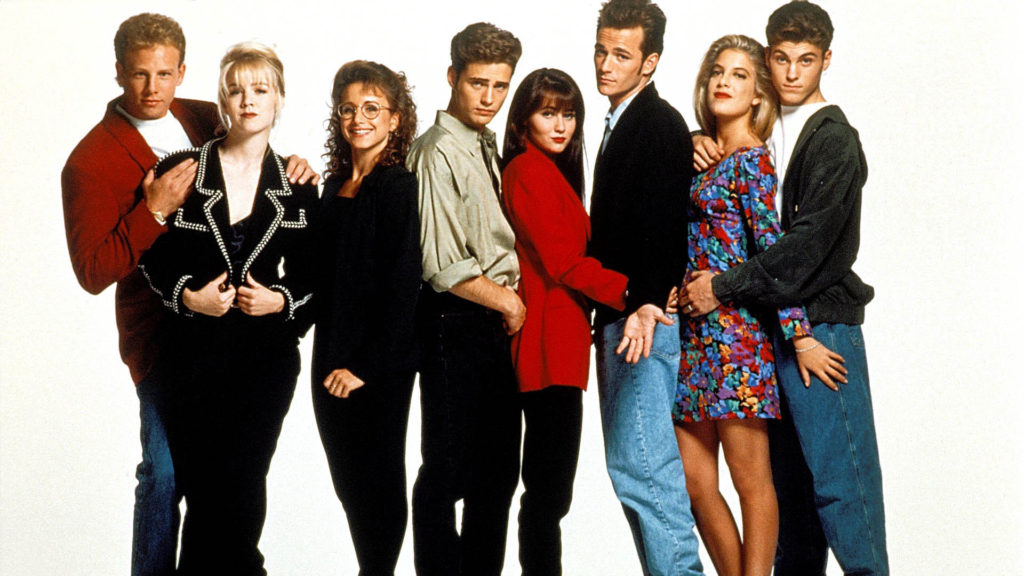 Overview
One of the definitive shows of the 1990s, "90210" originally follows the lives of Midwesterners Brandon and Brenda Walsh, who both eventually leave the show, as they move to California, and their friends through high school and college into adulthood. In addition to making sideburns momentarily cool again during its run, the show deals with a steady stream of love triangles and other romantic entanglements, and occasionally touches on more serious issues as well.
Notable Queer-Centric Episodes
"Up In Flames" – Steve throws a house party at an abandoned house and Claire inadvertently attracts a large lesbian crowd. When fire breaks out Kelly is trapped with Alison.
"Girls on the Side" – Alison has feelings for Kelly.
"P.S. I Love You" – Alison acknowledges that she is in love with Kelly and rumors about their relationship start circulating. Steve becomes infatuated with the beautiful Elle, only to discover that she is a pre-operative MTF transsexual.
Characters
There are 5 queer characters listed for this show; none are dead.
Recurring (3)
Guests (2)