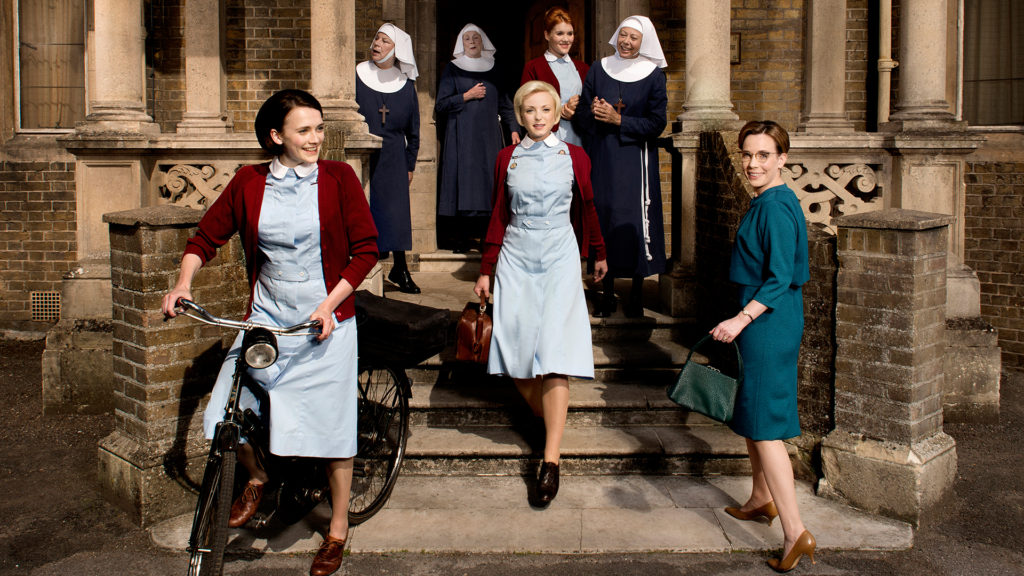 Overview
A period drama series about a group of nurse midwives working in the East End of London in the late 1950s and early 1960s.  The show follows newly qualified midwife Jenny, who joins an eccentric, lovable community of nuns who are nurses at Nonnatus House. Jenny is surprised to find herself at a convent — she thought she was being sent to a small private hospital — and is initially daunted by her surroundings, most notably the formidable Sister Evangelina and the unconventional Sister Monica Joan. But Jenny gradually begins to find her way and develops incredible friendships among the nurses, as they are drawn into the lives and homes of the women and families they treat.
Queer Plotline Timeline
We meet Patsy in season two, but she doesn't join the show until season three. Delia is introduced in season four without much of an explanation except surprise they're lesbians together. In the end of season three, Patsy danced with Trixie's fiancé and stirred a little drama but said "he has not enough of some things and too much of others." In season four, Patsy's girlfriend, Delia, shows up. Tragically, Delia went for a ride on Patsy's bike, got hit by a car, and woke up with amnesia. In season five, Delia remembered things and came back, only to have Patsy run off to tend for her ailing father. In the end, she came back and the two absconded together.
In the 2018 Holiday Special, we learn that they had moved to Scotland and adopted a puppy named Garbo.
Notable Queer-Centric Episodes
Season 12, Episode 1 - Olive is dying of cancer and has been hiding her relationship with her lodger for all these years. They met in the Land Girls.
Characters
There are 5 queer characters listed for this show; 1 is dead.
Regulars (2)
Guests (3)
This page was last edited on February 19th, 2023.