It's a proven fact that all queers love science. It's a historical fact we can prove with the very accurate diaries of a famous historical lesbian.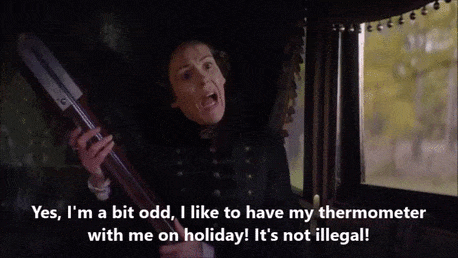 But it's not just science we love, but the scientists. What's more attractive, after all, than someone who's passionate for test tubes, experiments, and gore? Turns out we have over 250 characters who love the science, and winnowing that down was practically a cage match. I could have kept it to just medical examiners and had a list.
So without further ado, here are my top eleven lab coat wearing badasses.
She was on the short-lived, and oft-lamented show, Todd & Becky— I mean Stitchers. And yes, she was only a recurring character in the latter half. Still, the rockabilly medical examiner had enough sass and swagger for anyone.

Camille had no chance but to grow and be worth of her.

It was a long, slow burn for it, but Dr. Grace finally figured out why she didn't really connect with men. I know, shocker! It was sad that she left Murdoch Mysteries after her girlfriend died, but they were planning to go to England together anyway and win the vote for women.

She may be too grown up for toys, but we hope she found time for dating in London.

A former military doctor, Bernie was bloody tough, and cheating on her husband with her girlfriend. Times were tough, and Bernie came clean and broke off with both husband and fling. That left her free for the heart of Serena, which worked out after a kiss on the Trauma floor.

While Bernie and Serena's relationship is wobbly at times, they're on a soap, so we give our mature ladies some slack.

A cane, a cranky attitude, and a no-shits-given approach to management made Kerry Weaver a stand out character on ER. She was also a Delayed Born Lesbian, only realizing it later in life and being terrified to come out. But out she did, and thanks to a helicopter landing on her nemesis (twice) opened the Robert Romano Center for LGBT Health.

And then Kerry did the unthinkable. She got a happy ending.

Even before Dr. Mac, as everyone calls her, came out, we all knew. She was a lady of a certain age in the 1920s, she wore hell out of a suit and tie, and she was the only person Phyrne listened to on Miss Fisher's Murder Mysteries.

Dr. Mac was the stand-out star of the series.

Gillian Hunt

A medical examiner with a motorcycle is all but a shoe-in for a list like this. Thrust into a world with angels, demons, and demented stuffed bunnies with really creepy songs, Gillian took it all in and decided to believe Riley about the world of Riley Parra.

That didn't mean she wasn't going to give Riley crap though.

Breaking legs and breaking hearts, Callie Torres loved a lot of people at Grey-Sloane-whatever hospital on Grey's Anatomy. Her journey from weirdo living a supply closet to married mom wasn't easy, but we loved every moment.

The B totally stands for Badass in Callie's case, but also bisexual.

Everyone lies on House, this is true, and Thirteen lied about having a terminal illness. That didn't stop her from being the best of all the little cottages.

As far as the show goes, she had a happy ending. Sure, she'll die of Huntington's later, but at the close she's alive and with a girlfriend.

Tricked into working for the Fae to save her girlfriend, who couldn't be saved, Lauren got revenge in the best Lost Girl way ever. She stole the Fae Queen's power via cunnilingus. I mean, that's ballsy.

And let's be honest. Who hasn't let their ice cream melt while their succubus girlfriend washed a car and fulfilled several fantasies?

I'm pretty sure the nuns at Nonnatus weren't fooled by the tip-toeing between rooms of Patsy and Delia, but it's the tough as nails and warm heart of Nurse Mount that kept bringing us back to Call the Midwife.

I mean, she moved to Scotland with Delia, her lady love, and they named their dog Garbo.

I'd be fired if she wasn't on the list. She's a lesbian (supporter) and without her, not a thing would have moved forward on Orphan Black.

The most interesting thing about her is her sisters, but even so, she's pretty damn interesting herself.
Who was your favourite lab coat sporting science nerd?