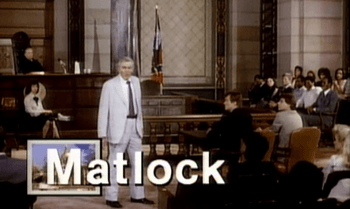 Overview
The show centers on widower Benjamin Leighton "Ben" Matlock, a renowned, folksy and popular though cantankerous attorney. Usually, at the end of the case, the person who is on the stand being questioned by Matlock is the actual perpetrator, and Matlock will expose him, despite making clear that his one goal is to prove reasonable doubt in the case of his client's guilt or to prove his client's innocence.
Notable Queer-Centric Episodes
In the final moments of the episode "The Stripper," Matlock tells the court that the mysterious and elusive murderer is really a cross-dressing male strip club worker suffering from "identity confusion."
Characters
There is 1 queer character listed for this show; none are dead.
Guest (1)
This page was last edited on January 21st, 2018.