This year, the original plan was for LezWatch to send Tracy to SDCC! However it's happening over her birthday when she'd planned a magnificent vacation overseas. Neither of those things happened (thanks 2020), and now we're but a week away from what will be an at-home SDCC! Since this means anyone and everyone can watch the panels, I thought I'd get you started by sharing my schedule of queer friendly TV content for you to enjoy at home!
This post has first an explanation of how you can watch at home (probably US only, sorry) and what I think should be on your schedule.
How It Works
The full schedule spans four days and is available online. You can make your own schedule via Sched.com, just make an account and put everything you want to watch on there. There's an app too, and you can just log in and search for things like "LGBT" or "Motherland Fort Salem" and fill out your to-do.
All the videos will be on ComicCon's YouTube page: youtube.com/user/ComicCon and many of them have the YouTube link for that specific panel up already!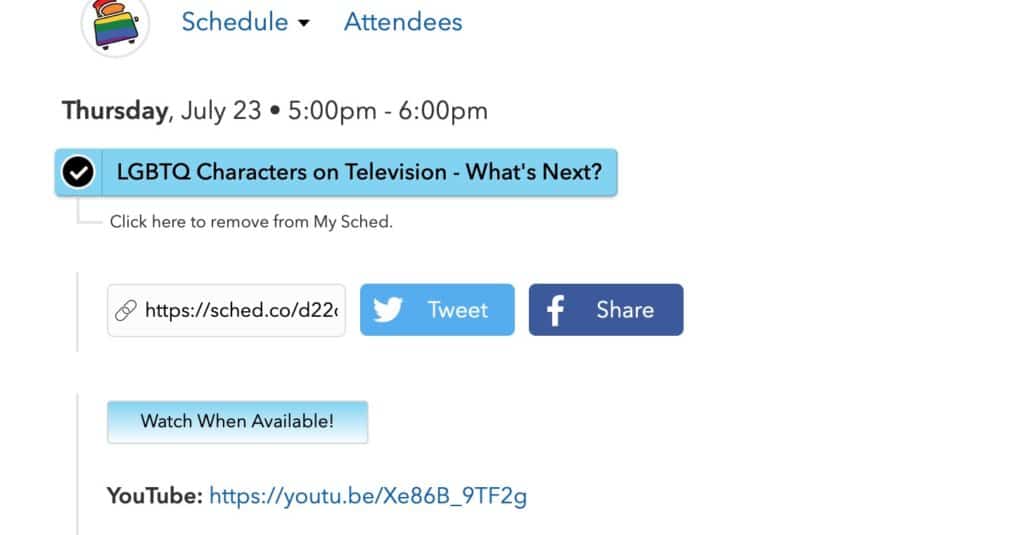 Thursday
I don't know how queer the Mythic Quest panel will be, but it's got Ashly Burch, who besides being one of my favourite guests on Critical Role also plays a queer character on the show. Also it's a hella fun show. The Boys is unlikely to be super (heh) queer, but one of the main characters is secretly queer, so we'll see.
Friday
To be fair, Avatar is unlikely to be super queer, and Lights, Camera is not TV specific, but both have enough crossover in the Venn diagram of this site that I'll be there. I'm also planning to check out a couple maybe-queer(?) panels, for shows I've not seen screeners yet.
Saturday
Jodi Balfour will be at the For All Mankind panel, and she plays our queer who stayed on the moon, alone, at the near-end of the first season. That ending was so damn powerful, I can't wait to see what's next! And I'm sure I don't have to explain why Stumptown and Wynonna Earp are there, eh?
Sunday
Sunday is, historically, a light day anyway. Last year I was all done by lunch. This Sunday? Motherland: Fort Salem, which thankfully has a new season coming up. I can't wait to get a look at our crazy witches! The Comics and Popular Media panel will include some of our favourite queers (like Noelle Stevenson!!!).
What's On Your Panel List?
Are you planning on dialing in? What's on your SDCC Must Watch panel list? Give a shout in the comments and I'll see you there, at home.