In January 2019, I looked at the new streamers, Apple TV and Disney+, and tried to figure out which was a better service to spend money on (spoilers? It was Apple TV at the time).
But a lot has changed since then. A lot a lot. Not only are there more streamers, but there are more shows on all the streamers.
Everyone Has Queers
The bad news first. If you want to watch all the best queer content, you're going to need to pay for a lot of streamers. Why? Everyone has queers. Yes, even Disney (though their rep on Loki was arguably by some). They came back around with Big Shot.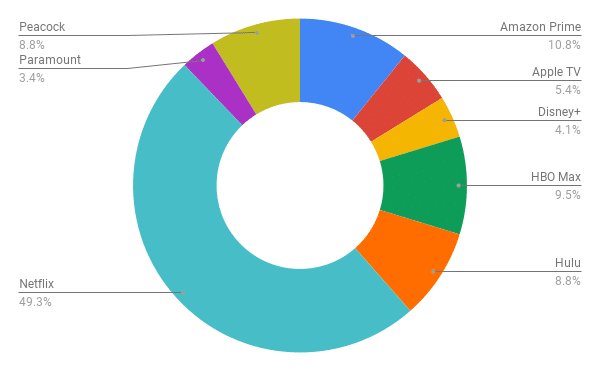 Some of those numbers are 'off' since Peacock and Netflix 're-air' shows from other countries, but also shows like Y: The Last Man are on "FX on Hulu" which means they show up on Hulu and not FX.
By the way, one of my favourite sneaky stats things is the charts that let you see how many shows per station per year. If you went to see Paramount's growth, you would see this chart: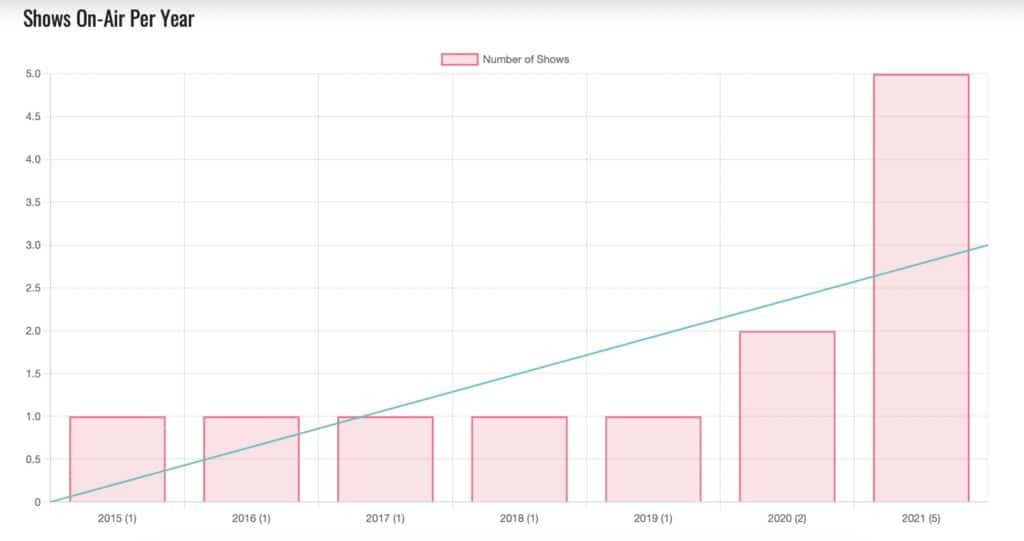 That's a happy little trendline right there.
That's Only One Pie Slice
The thing about those stats, though, is we're only looking at the queer slice of the pie. It's one thing to look at the smaller streamers, like Apple TV, where you can easily count the original shows (32) and get a visual that shows you it's 25% of all shows on AppleTV have some queer rep: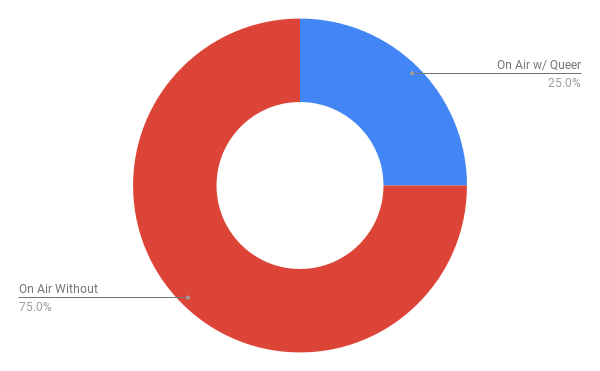 This falls apart once you start looking at Netflix. Why? Okay, how many shows are on Netflix, internationally, right now? Just TV shows and just ones that are 'active' (not canceled)? Any idea? Yeah, not easy to find.
The best I could find was via JustWatch, and from there I extrapolated a little. Sadly they're segregated by nation, and (worse) you can't identify by originals or on-air so I had to just run with that by making a list of all shows for each network. From that…
The Big Three
The charts were unreadable due to the quantity difference, so I broke it out into groups.
Amazon
Prime
Hulu
Netflix
Without Queers
1407
1213
1822
With Queers
36
36
168
Percentage
2.5%
5.04%
8.4%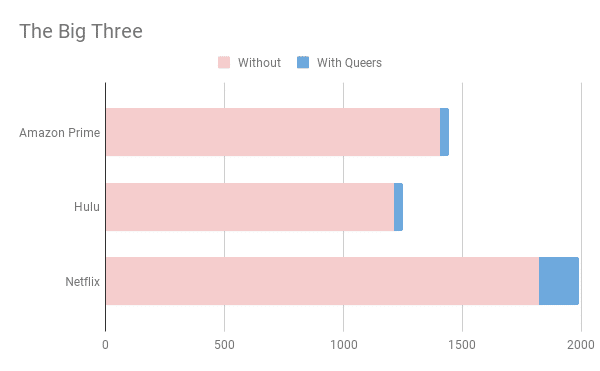 The Smaller Ones
| | Apple TV | Disney+ | HBO Max | Paramount+ | Peacock |
| --- | --- | --- | --- | --- | --- |
| Without Queers | 23 | 362 | 362 | 570 | 517 |
| With Queers | 9 | 6 | 14 | 5 | 15 |
| Percentage | 28.13% | 1.63% | 2.03% | 0.87% | 2.82% |
I left Apple out of the image since you really can't see much from it: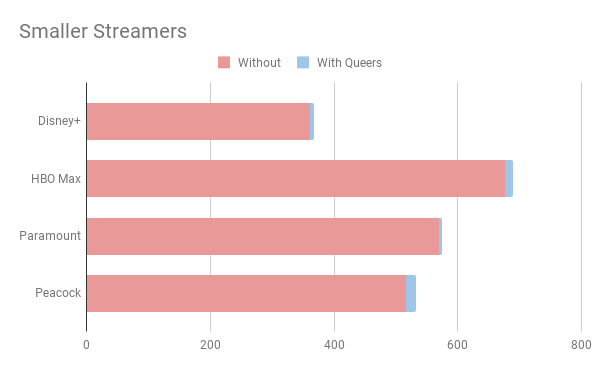 Winners and Losers – Which Streamer Is Worth It?
Apple TV (even though it's teeny) has the biggest queer bang for the buck with a masterful 28%! That's mind boggling!
Paramount+ is hurt more than the rest by having a larger catalogue. They put all their old shows up on their app, which seriously skews things (though retroactively they did manage to sneak Star Trek TOS in there, so I can't be all mad). Disney+ is higher than I thought, and probably getting more as time goes on. Peacock may go down as they add shows, since they'll be adding in all their historical shows once their existing licenses with Hulu and Netflix expire.
Speaking of, that does mean I expect the Big Three to start dropping even more! Especially Netflix.
Of course, the ultimate losers are us, who have to sign up for way too many streamers.