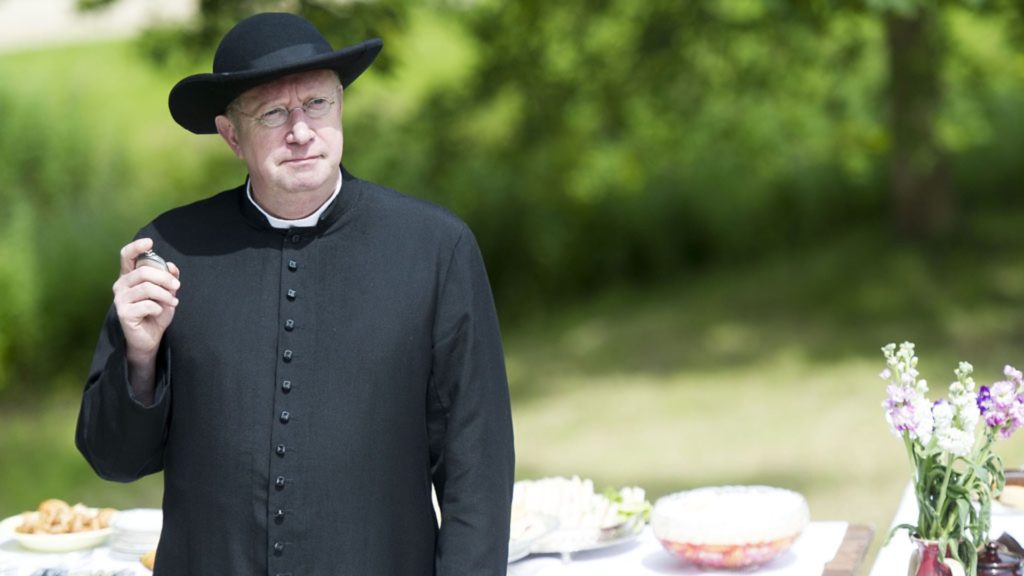 Overview
A British crime drama about a priest who solves crimes. In the 1950s. It's actually a fun show all told. Based on the novels of G.K. Chesterton.
Sadly the majority of the queers, male or female, were evil or insane. Not a great track record. Even given the time period.
Queer Plotline Timeline
Overall, the show is not great rep for queers, however this improves as the seasons continue and they veer further from the source material.
In "The Missing Man", they refer to Ned (and his friends) as 'crossdressers.' Given the time the episode takes place (shortly after WWII) it's certainly plausible that they are trans-women.
Notable Queer-Centric Episodes
Season 3, Episode 8 - Marooned in the country Father Brown, Lady Felicia and Mrs McCarthy come across the Hotel Cuba where the exotic Madame Chania is organizing a weekend of hedonism for three wealthy playboys. Two prostitutes are expected but one is found dead and soon the guests are being murdered. Madame Chania would seem to be responsible but Father Brown uncovers a case of hidden identity and exposes a murderer who kills purely for the pleasure of it.
Season 4, Episode 7 "The Missing Man" - Airman Ned LeBroc returns after eight years away, allegedly as a spy, only to discover his wife is marrying his brother. When Ned is shot dead Mallory arrests Meg but a card found in Ned's possession leads Father Brown to an unusual club which reveals Ned's secret life and the circumstances of his death.
Season 5, Episode 5 - When a local writer of an incredibly racy lesbian book is murdered, Father Brown must delve into her infamous novel for inspiration.
Season 6, Episode 4 "The Angel of Mercy" - Mrs McCarthy's friend Freda Knight dies in her sleep at the hospital where Bunty's old nanny Ellen is also a patient but Father Brown feels her death was not natural, especially when the sole heir to Freda's will is also found dead. One of the suspects is a nursing student/possible postulant who leaves to be with her true love. Alex.
Season 7, Episode 2 "The Passing Bell" - One of the female bell ringers has strong feelings for another.
Characters
There are 9 queer characters listed for this show; 3 are dead.
Guests (9)
This page was last edited on January 17th, 2022.