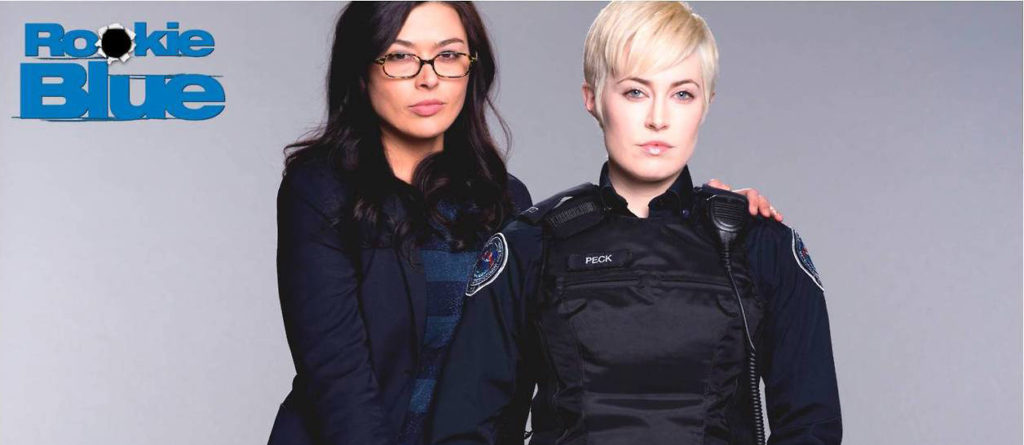 Overview
When I watched the very first episode, I was looking for a Grey's Anatomy fix in the summer. My wife popped her head in to ask me something, saw Gail Peck (Charlotte Sullivan), and announced "So that's the token lesbian?" Four seasons later, Gail got kissed by a girl and her world exploded.
Rookie Blue was a Canadian show about cops, and while it has an awesome supporting cast, it's not an ensemble show. If your name isn't Andy McNally, you rarely get a dishy plot line. Gail Peck is the daughter of cops and calls Toronto policing her birthright. She's persnickety, has a complex about failure, lazy, and basically bitchy. Naturally she was my favorite character from the start.
The whole coming out/realizing she's gay plot line was handled perfectly in season four. Everything felt wonderfully organic, even if you only got one or two moments with Holly in an episode. Season five was disjointed and painful, possibly because ABC ordered a double season and then changed their mind and made the back half of season five into season six and screwed up everything.
The only good things that came out of it is that Gail is most definitely not into men anymore, as she pointed out a few times (including to her ex-fiancé), and there have been no 'sleep with a dude' panic moments. They have enough clichés going on as it is.
We'd like to pretend that after Gail's fling with Frankie, she ran off to be with the love of her life in San Francisco.
Queer Plotline Timeline
While my wife spotted it from day one, it's not until season four when we meet Holly Stewart in Season 4, Episode 7 "Friday the Thirteenth". At the end of the episode, they've become friends and Gail confesses she's terrible at relationships. Holly says she used to be, but it turned out she hated me. When Gail says she's not too fond of them either, Holly elaborates to her lesbian-ness and Gail flippantly remarks she hates people. After a brief and drunk kiss in a coat closet, they stay 'just friends' until Gail's shot at and … well there's making out in an interrogation room. Season five rips them apart, going from awesome highs of dating to a very fast low of arguments with friends, breakups, adoptions, and moving out of state. But hey, no one slept with a man!
Notable Queer-Centric Episodes
Season 4, Episode 7 "Friday the Thirteenth" - Holly and Gail meet at a crime scene; Holly outs herself as a lesbian, Gail just hates people
Season 4, Episode 8 - For Better, for Worse" - Gail invites Holly to a wedding as her 'plus one'; Holly kisses Gail in the coat closet
Season 4, Episode 9 - What I Lost" - Holly runs the labs on a missing child as a favor for Gail; no one talks about the kiss; Gail goes to the batting cages with Holly after work
Season 4, Episode 10 - You Are Here" - Holly picks an injured and drugged Gail up from the ER
Season 4, Episode 12 - Under Fire" - Gail is shot at, Holly freaks, Gail kisses her in an interrogation room
Season 4, Episode 13 - You Can See the Stars" - Holly comes to check on Gail, but is stone walled; when Holly comes to the hospital later, Gail hugs her in front of everyone and introduces Holly to her brother
Season 5, Episode 1 - Blink" - Gail cuts off all her hair, Holly fixes it, they make out in a shower
Season 5, Episode 3 - Heart Breakers, Money Makers" - Gail doesn't take meeting Holly's friends very well
Season 5, Episode 7 - Deal with the Devil" - Gail sees Holly in the lab and tries to talk; Holly is seeing someone new; Gail tells Holly she was the best thing that ever happened to her
Season 5, Episode 9 "Moving Day" - Gail planned to take Holly to the Peck Monthly Dinner
Season 5, Episode 10 "Fragments" - Holly shows up and kisses Gail in an interrogation room, they make a dinner date to talk
Season 5, Episode 11 "Everlasting" - Holly's moving to San Francisco in two weeks; Gail's trying to adopt a kid
Season 6, Episode 11 "74 Epiphanies" - Gail and Frankie sleep together. Ugh.
Characters
There are 7 queer characters listed for this show; none are dead.
Regular (1)
Recurring (2)
Guests (4)
This page was last edited on June 7th, 2020.