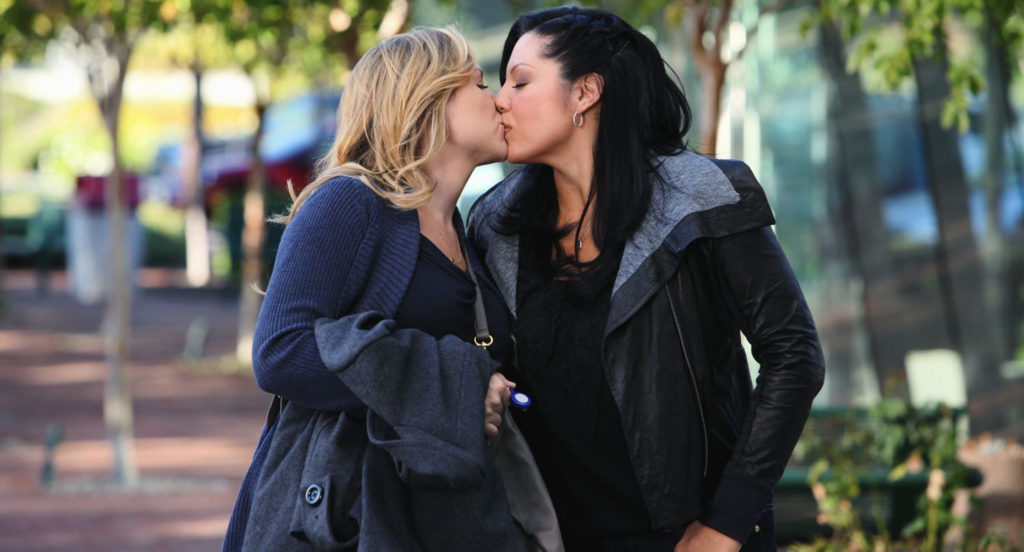 Overview
This long-running medical drama series started with a group of young doctors at Seattle Grace Mercy West Hospital, who began their careers at the facility as interns. One of the young doctors and the show's namesake, Meredith Grey, is the daughter of a famous surgeon. Grey struggles to maintain relationships with her colleagues, particularly the hospital's one-time chief of surgery, Richard Webber, due to a pre-existing relationship between them – Webber and Meredith's mother had a personal relationship when Meredith was young.
Over the years the show has had relationships between the doctors, either friendly or romantic, which create conflicts between their personal and professional lives. The show has introduced dozens of queer characters and some of the longest-running queer characters on television including Callie Torres and Arizona Robbins.
The show has a spin-off with crossover characters named Station 19.
Queer Plotline Timeline
In season four we all noticed there was 'something' between Callie and Erica. The season ended with them making out. After Erica vanished Arizona joined the cast. She and Callie have since married and divorced. Callie leaves the show with the kid and her new girlfriend, Penny, at the end of season 12 and Arizona goes on to have various relationships. Season 14 was Arizona's last season and they wrapped her up with a weak, off-screen possibly getting back together with Callie.
In season 14 bisexual OB/GYN Carina DeLuca arrived at Grey Sloan and dated Arizona for a brief period. In season 16 during a crossover with Station 19 Carina meets Maya Bishop at a bar and a year later they got married.
Notable Queer-Centric Episodes
Season 4, Episode 14 "The Becoming" - Callie thinks Erica has the hots for her
Season 4, Episode 15 "Losing My Mind" - Erica kisses Callie to prove that McSteamy wouldn't last in a threesome with them
Season 4, Episode 17 "Freedom"  - Erica and Callie really kiss
Season 5, Episode 7 "Rise Up" - Erica leaves Callie and the hospital, vanishing into a parking lot
Season 5, Episode 11 "Good Mourning" - Arizona shows up and flirts
Season 6, Episode 5 "Invasion" - Arizona is a good man in a storm and defends Callie to her father
Season 7, Episode 7 "That's Me Trying" - Arizona gets a grant to do work in Africa and Callie decides to go with her. At the airport, when they're about to leave, Arizona tells Callie she wants to go alone and leaves her
Season 7, Episode 10 "Adrift and at Peace" - Arizona leaves Africa and shows up at Callie's front door
Season 7, Episode 13 "Don't Deceive Me (Please Don't Go)" - Arizona and Callie get back together after Callie learns she's pregnant with Mark Sloan's baby. Yup that happened, this is a soap opera after all.
Season 7, Episode 17 "This is How We Do It" - Arizona asks Callie to marry her while driving and then they immediately get hit by a truck.
Season 7, Episode 18 "Song Beneath the Song" - A very special post-proposal car accident musical episode.
Season 7, Episode 20 "White Wedding" - Queer women getting married
Characters
There are 35 queer characters listed for this show; 2 are dead.
Regulars (5)
Recurring (15)
Guests (15)
This page was last edited on December 28th, 2021.