Around the time Supergirl announced the introduction of Maggie Sawyer (notably a lesbian in the comics) and that someone would be gay, they also announced that Superman would show up.
Guess which one gets the most press attention?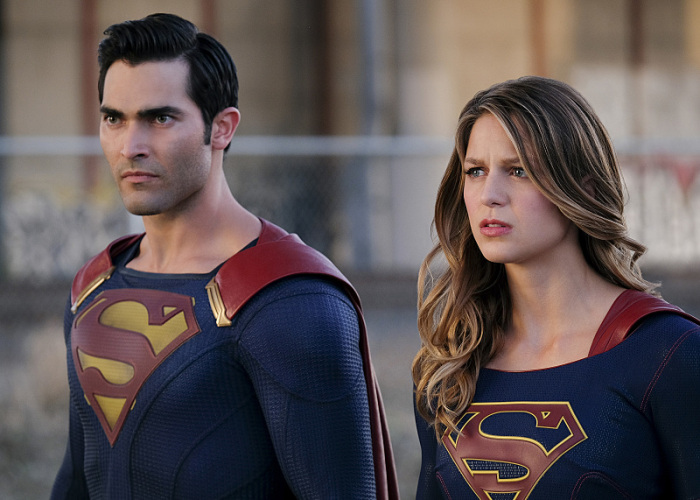 Don't believe me? Let's go to the Press Release for the first episode of season two (and please remember season one ended on a cliffhanger of a mysterious pod, crashing to Earth).
THE CW HAS A NEW HERO AND SHE'S BRINGING SUPERMAN WITH HER — When a new threat emerges in National City, Kara/Supergirl (Melissa Benoist) teams up with her cousin, Clark Kent/Superman (guest star Tyler Hoechlin), to stop it. Kara is thrilled to have family in town but it leaves Alex (Chyler Leigh) feeling a bit left out. Meanwhile, Hank (David Harewood) and Supergirl are stunned by the pod that came crashing to Earth. Glen Winter directed the episode with story by Greg Berlanti & Andrew Kreisberg and teleplay by Andrew Kreisberg & Jessica Queller (#201). Original airdate 10/10/2016.
Nothing against Superman, but the show is named Supergirl and it's been categorically about the struggles of a woman trying to find her place in a mans world. It's a show that resonated with young girls, who see the world as best against them, always in the shadow of men, and they think "I too can be a hero." But the news? Oh no, they want to talk about how Superman will be there, and is he cute, and will he be the same character as he was in Smallville?
What gets lost is the hope for women and girls.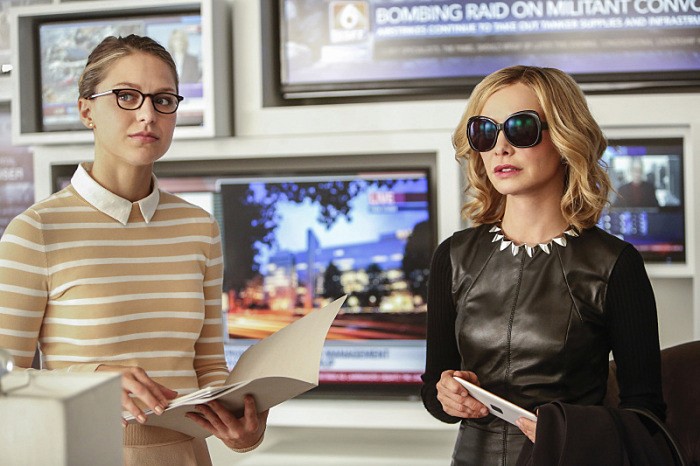 But also the loss is for queers.
What story possibly rings more true to the Superman mythos — a stranger in a strange land, who looks like everyone else but is totally different inside — than the mirror of homosexuality? And coming out in the shadow of Supergirl is one thing, but now it's a coming out behind Supergirl and Superman?
The popular theory is that Alex Danvers (Supergirl's adopted sister) will be the lesbian.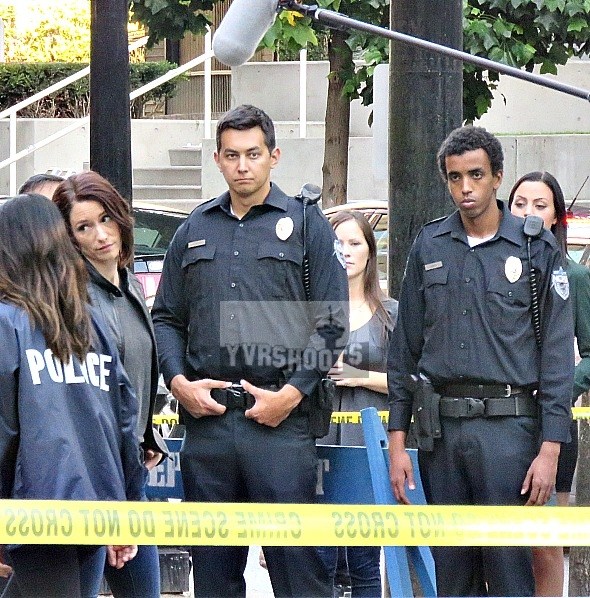 In the above photo, she's looking at Maggie Sawyer in a way that made every fanfic writer on the planet ask "So they're already in a relationship?"
Speaking of Maggie, she seems to be a strange combination of the Maggie we know from the comics and Renee Montoya. Unlike the comics, Maggie is an ally of aliens, saying that growing up as a Latina in Nebraska, she understands what it's like to be an outsider.
And there we are again, aren't we?
Superman will show up in the first two episodes of the season, which starts on October 10th on the CW. While I want to say I hope the ratings will be low so he goes away, I hope they'll be high so the show stays on the air.