It's that time. The second season of fabulously campy, irreverent, and fun Wynonna Earp airs on SyFy tonight.
Yesterday, Emily Andras (showrunner), Dominique Provost-Chalkley (Waverly Earp) and Katherine Barrell (Nicole Haught) did a Reddit AMA.
Important things we've learned:
Purgatory is in Canada, but right over the border.
Kat promised "a whole LOTTA gay ;)" in season two. Emily said we'll be surprised at how "freakin' gay and female and crazy it is."
Emily offered to write a note to excuse a student from an exam: Please excuse due to WayHaughitis.
Everyone things ClexaCon was one of the greatest events ever (and Emily will be back)
There "could be" some more gay characters in season two.
Kat's favorite filming location was a strip joint ?
Emily suggests watching with the lights on, unless you want to have a heart attack.
How exited is Emily for tonight? "AHHHHHHHHHHHHHHHHHHHHHHHHHHHHHHHHHHHHHHHHHHHHHHHHHHH!!!!!!!!!!!!!!!!!!!!!!!!!!!!!!!!!!!!!!!!!!!!!!!!"
Emily wants Sigourney Weaver to play a villain on the show.
Dom's a vegan.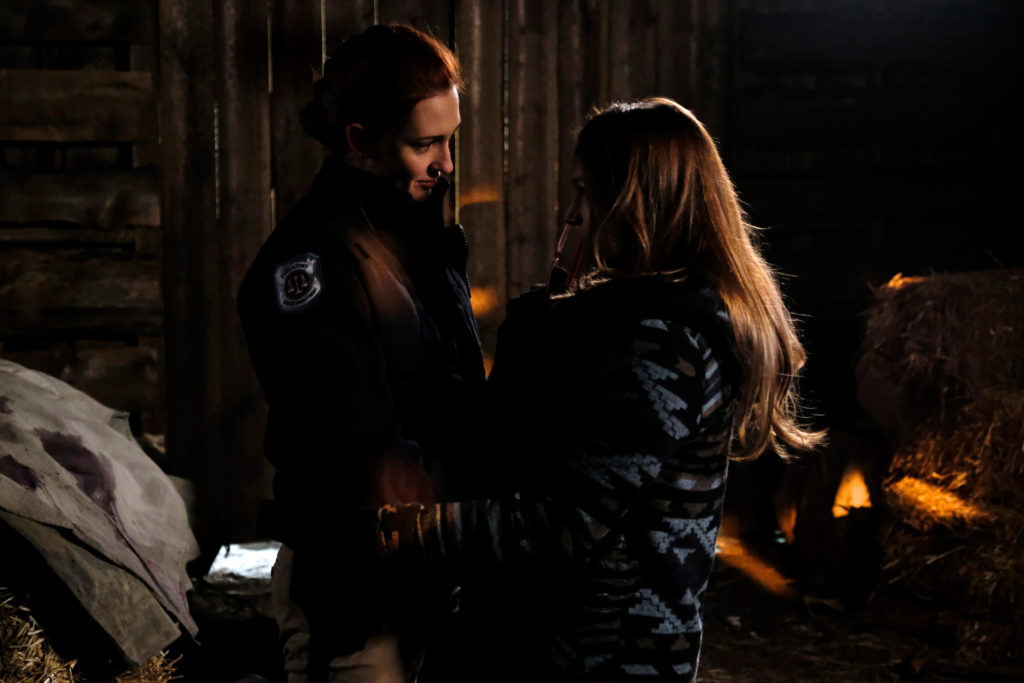 Selected Questions and Answers
These are some of the best questions from the thread (yes, I read the whole thing). The best overview I can give you is that it's clear Kat was not prepared to become a lesbian icon, but she's handling it beautifully. And Emily is amazing. Just that. Dom was busy filming the Carmilla movie (talk about your lesbian fandom crossovers) but had some time for a few.
chibijax asked "How has playing queer characters affected how you see the world around you, the people in your life, and even yourself as an individual?" and Kat replied:
Playing a queer character has just made me so much more aware of the imbalances still existing in our media. Once we started airing and I learned more about the bury you gays trope – you just cant un-know that information. It used to make me so sad and angry to see the statistics – but I've tried to channel that into fueling me to help be part of the solution. That sounds a bit corny but I just realized that just being "saddened" couldn't be enough, I needed to use the "soapbox" of Wynonna to help change the landscape.

One of the most special things about this on a personal level is the old friends who have gotten in contact with me and told me how much Nicole means to them, how it has positively affected the life of people I have known for years.
ninja40428 asked about positive things being a good rep for the LGBTQ+ community, Kat replied:
The interactions with fan have given me this whole new sense of purpose with my career. Playing Nicole and connecting with the amazing #WayHaught fanbase makes me feel like I can actually put some positivity into the world with what I do for a living.
And Emily said:
Knowing you're validating people's lives and stories. xo It's pretty amazing.
dagrock asked Kat "When first started this journey, did you expect to be this important to the LGBTQ+ community? What have you learned from this?"
I did not expect it at all! I was very naive in my knowledge of how lacking we were for queer representation. I have just learned so much abut the POWER that comes from an underserved community rising up together. It has forever changed how i will work as a content creator knowing how important it is to create diverse characters and how much support those characters will have from the fans who feel their voices are finally being heard.
shayjay asked "Did you ever expected the impact Wayhaught had? Why do you think it happened?" and Kat replied:
I never expected it AT all! Now that I've become much more educated on queer representation in the media and the bury your gays trope I understand why this relationship became such an important one for the community, and one so sorely needed. I'm glad I didn't expect it though because literally every day it gets BETTER and surpasses my expectations being with you all! Ive never felt such love. I honestly think about you guys all the time and I am so incredibly grateful that you have embraced our show in such a loving and positive way

I think it happened because for the first time in a long time we were able to see two fully three-dimensional characters who did not exist just to be the "token gay character" but to be fully fleshed out people who happened to be gay. That's why I love Emily's work so much – she just gets it and knows how important these characters are.
latortua95 asked "Emily- what's the most amount of pushback you've ever gotten from superiors or networks re: queer storylines?"
The most amount of pushback I've ever gotten is: do not make her gay. And my answer was: I'm gonna.

***NOT ON WE btw…I have amazing execs at SYFY.
Season Two Is Tonight
Tune in tonight for season two. It's on SyFy (or Space) and you can check out the second trailer (with more WayHaught) on SyFy.com