Okay so we didn't even get to hear their voices on the first episode, but on next week's episode of Good Trouble will bring the Moms to the Coterie. That's right, Lena and Stef come to visit their girls next week (Feb 5th) and see this lovely new commune where they're living.
It goes about as well as you might expect.
Warning: This post contains spoilers!
I wanted to stop my little recap at that, because what happens after is actually hilariously fun to watch. It's a comedy of errors with everything from marijuana cookies, a Fire Marshall, coed showers, cancer, and toilet paper shenanigans.
The Moms are dealing with their own dramas in their empty-nest life. It's not all sunshine and roses in politics, as Lena's finding out, and Stef was a cop forever and has to find herself again. It's new and different, and they struggle not to be the Moms all the time.
This is harder because the girls hate their jobs, and are miserable. They're both struggling with the secrets they have to keep. Callie knows a little too much about the judge, and Mariana knows way too much about the jerks she works with.
But of course everyone wants to put on the brave face and be the indomitable Adams Fosters. Thankfully, their nature as Adams Fosters is what brings them back together for a bit of a cheesy, heartfelt, confession.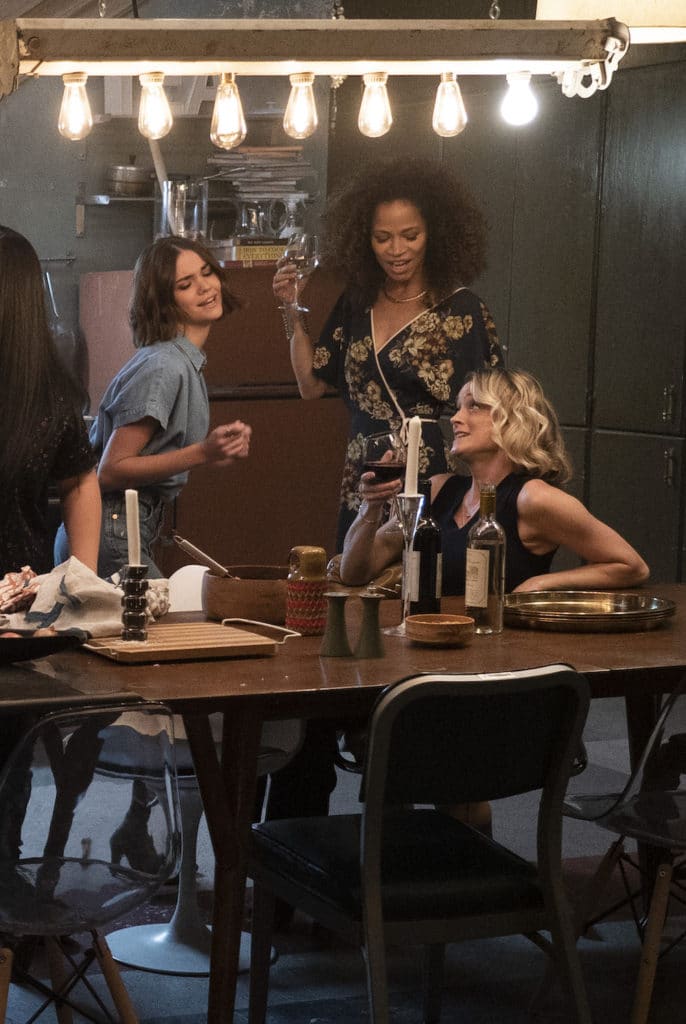 Much like The Fosters itself, they get a little saccharine with the love. And much like the parent show, the parents ain't getting some. In honour of Tracy's sponge ratings, I am going to tell you that it ain't much. In fact …

That's probably a generous sponge. We see Callie having sex more than anyone else. Actually I think we see Gael having sex more than anyone. For all Mariana goes out every night, she's not having random hookups yet. Both of the girls are running from their problems in different ways. Serial monogamist, Callie, has sex with Gael but doesn't want anyone to know. Mariana seeks attention in different ways.
As always, Stef and Lena are problem solvers, and it's fun to have them around for an episode. Much like the Jude episode, they don't over-use them and the Moms serve as another reminder that good trouble will follow you wherever you belong.
Check out the moms on February 5th and enjoy some Good Trouble.