It's been a long year, Earpers, I know! We've had a rootin' tootin' rollercoaster of a show being canceled (or not) and then dead (or not) and then finally (finally!) back on it's feet. But it's still only filming, and as we get nearer to summer, you might be like me, and missing our quipping, irreverant, queer AF series with a crazy chick with a gun.
So good news.
You really want to get off your duff and watch Vagrant Queen on Friday.
Vagrant What Now?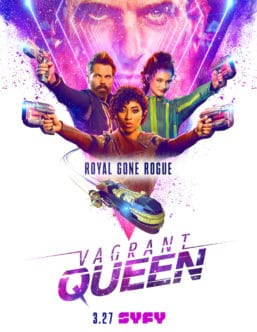 Based on the comics of the same name, Vagrant Queen follows Elida (Adriyan Rae) from child queen to orphaned outcast, as she scavenges the treacherous corners of the galaxy, always one step ahead of the Republic government out to extinguish her bloodline. When her old 'friend' Isaac (Tim Rozon) shows up claiming her mother Xevelyn is still alive, they head off with their new ally, Amae (Alex McGregor), to stage a rescue that will take her back into the perilous heart of her former kingdom and up against a deadly foe from her childhood, Commander Lazaro (Paul du Toit).
That's a lot to take in, but you're going to get space travel, fight scenes, betrayal, lies, tricks, romance, and everything you love about a show on SyFy. In fact, let's go by the numbers:
Sci-Fi theme
Heists galore
Grey-Hat complicated anti-heros
Crazy chick with a gun
This is sounding good right?
Great, But Will I Like It?
You're here, and you're still reading, so the odds are pretty good. And if you like Wynonna Earp or Xena: Warrior Princess or Firefly or Doctor Who, then you're going to like this show. Quips and fists galore, this series is fun to watch and true to the comics.
Of course, if you also like stories with characters who just happen to be queer, then you're also in the right place because this was created by a wonderful woman: Magdalene Visaggio. She's the creator of Vagrant Queen as well as Kim & Kim, and Visaggio's comics have been nominated for two Eisner Awards and three GLAAD Media Awards. And she's trans. In 2016, she wrote a powerful essay about the problems with cis-creators telling trans stories that I recommend every cis-creator read. She's also got a Patreon (because queer stories do not pay the bills, as we all know) and I recommend you check that out.
Anyway, the other day I was telling my friend to watch it because it's up her alley, and I added that the source material was hella gay. Mags replied to me:
I am officially super excited.
When's It On?
Vagrant Queen starts this Friday, March 27th, on SyFy.
Tune in and give Vagrant Queen some love.