On this chapter of The Queerest Things I Watched Last Week, the Twenties season finale left things feeling awkward and the Grey's Anatomy mid-season finale made Amelia and Kai official.

Warning: This post contains spoilers!
Twenties – Season 2 Episode 10 "How Do You Feel?" [Live]

I went into the Twenties season finale thinking it was going to be about Hattie choosing to stay with Idena, take back Ida B or give in to temptation with Alicia. Either way, I was sure Hattie was going to make a bad decision.

The opening dream sequence was in line with that.

I LOVED Ida B saying, "It's not my fault you like being manipulated." Truth!

Right after that, you see Hattie texting with Alicia, getting a call from Ida B and lying to Marie about all of it. Okay, still on track.

Hattie's dad, who randomly showed up in her life after several years, invited her to his comedy show. A bunch of Hattie's friends went to the show with her including her 2 besties, Idina and Lauren. The show was a little cringy with Hattie's dad opening up about some real personal shit on stage.

After the show, Hattie introduced her dad to Idena and that went well. I was almost thinking maybe things would be okay with the two of them. But when Idina went home by herself (Hattie didn't go home with her because Idena "had to get up too early") I knew it was going to be trouble.

So, who did Hattie go home with? Did she text either Ida B or Alicia and meet up with them? No, she went home with Courtney.

Courtney? What?

First, Courtney said she wasn't going because she doesn't like stand up. I swear I didn't see her in the audience with the rest of Hattie's friends, but at the end of the night, there she was. Second, have Courtney and Hattie ever been flirty with each other? She's a former co-worker, and maybe I missed it, but I never remembered any romantic chemistry between them. Last, Courtney? Really? Hattie is going to jeopardize her "only person to love her back" relationship to go smoke weed with Courtney?

Maybe they're just hanging as friends, but the way it was shot you're led to believe it's more. Is Hattie still a person who will hook up with anyone who gives her attention? I was thinking this season would be about her growing up a little, but maybe that is still to come.

That ending felt really awkward. I hope the show gets another season so we find out what happened!

Grey's Anatomy – Season 18 Episode 8 "It Came Upon a Midnight Clear" [Live]

Last week Grey's Anatomy gave us all a gift for the holidays — Amelia and Kai finally kissed!

It was perfect.

I did feel a little bad for Linc, but Amelia has barely seen him since they broke up and she hasn't led him on at all. Plus Linc has something brewing with Jo anyway.

And then as a special gift to me, Owen fell off a cliff.

I'm sorry, I know that's mean, but I can't stand his character. Plus I'm sure he's hanging on to a tree branch somewhere.

Love and romance rarely last in Shondaland. But I hope Amelia and Kai get some happy times while doing their medical research the rest of this season.
This week: It's the Hightown finale and I slowed down the end of the "Scenes from the Next" (for science) to see Leslie kiss Jackie!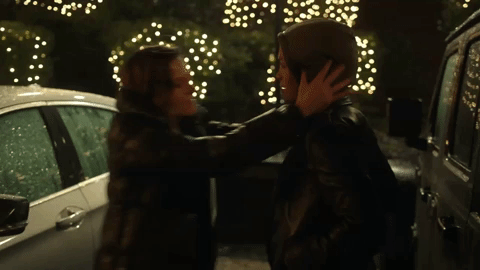 Is this a "Yay, we just caught the bad guys!" celebration kiss or more than that? I can't believe I'm looking forward to finding out.