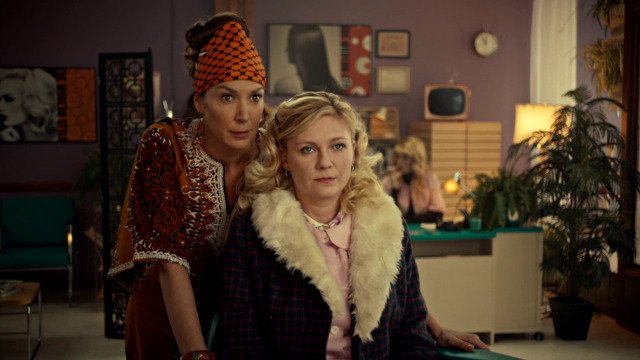 NOTICE: While generally acceptable for the over 14 crowd, there may be some sensitive topics now and then.
Overview
Fargo is an American crime black comedy drama anthology television series created and primarily written by Noah Hawley. The show is inspired by the eponymous 1996 film, which was written and directed by the Coen brothers. The Coens were impressed by Hawley's script and agreed to be named as executive producers. The series premiered on April 15, 2014, on FX, and follows an anthology format, with each season set in a different era and location, with a different story and mostly new characters and cast, although there is minor overlap. Each season is heavily influenced by various Coen brothers films, with each containing numerous references to them.
Queer Plotline Timeline
Season Two: In 1979, beautician Peggy Blumquist and her husband, butcher Ed Blumquist of Luverne, Minnesota, cover up their hit-and-run and murder. Peggy's boss, Constance Heck, has a crush on her and plans a seduction only Constance dies first. Season Four: Dibrell Smutny's sister Zelmare and Zelmare's girlfriend, Swanee, break out of prison to help Dibrell pay back loan shark, Loy Cannon.
Characters
There are 3 queer characters listed for this show; 2 are dead.
Recurring (3)
This page was last edited on May 25th, 2023.