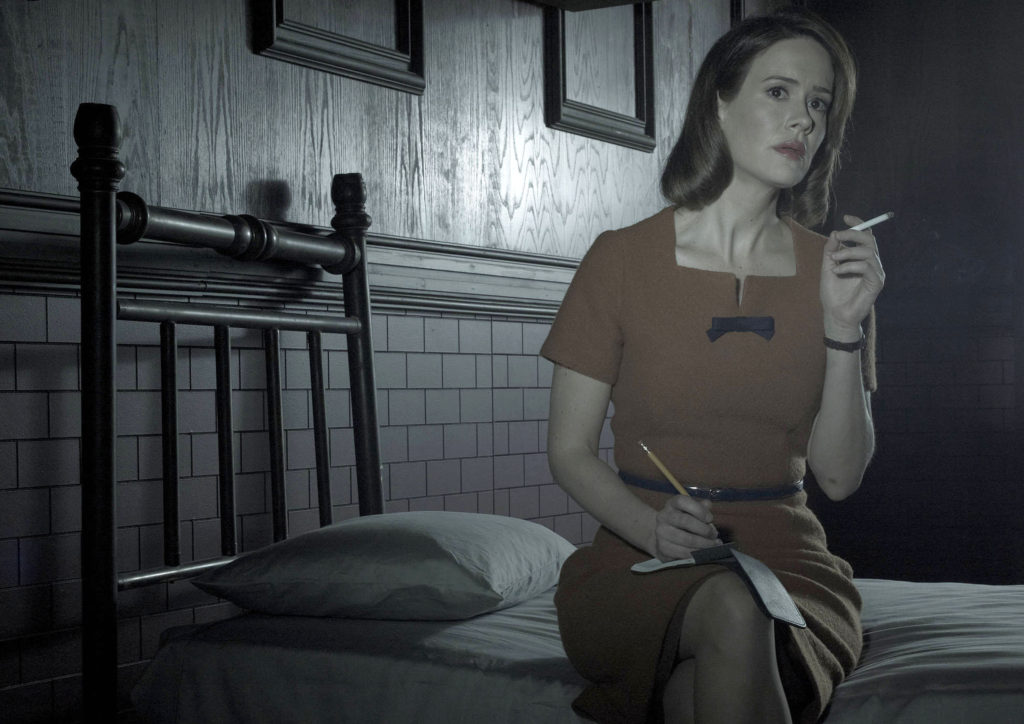 WARNING: Scenes of explicit violence, drug use, suicide, sex, and/or abuse occur regularly. Not intended for children or sensitive viewers.
Overview
Described as an anthology series, each season is conceived as a self-contained miniseries, following a different set of characters and settings, and a storyline with its own "beginning, middle, and end." Some plot elements of each season are loosely inspired by true events. All the seasons have creative character or plot overlaps.
Most seasons have included queer female and transgender characters.
Queer Plotline Timeline
American Horror Story: Murder House is the first season, and centers on the Harmon family: Dr. Ben Harmon, Vivien and their daughter Violet, who move from Boston to Los Angeles after Vivien has a miscarriage and Ben has an affair. They move into a restored mansion, unaware that the house is haunted by the ghosts of its former residents and their victims.
American Horror Story: Asylum is the second season, and begins in 1964 at the fictional mental institution, Briarcliff Manor, following the stories of the staff and inmates who occupy it, and intercuts with events in the past and present. It includes Lana Winters (Sarah Paulson), a lesbian journalist whose girlfriend Wendy (Clea Duvall) is killed by Bloody Face.
American Horror Story: Freak Show is the fourth season, and is related to the second season (Asylum) in a way. Set in Jupiter, Florida in 1952, it follows the lives of a troupe of people belonging to one of the last remaining freak shows of its time. Chester, a magician who has a co-dependent relationship with his ventriloquist dummy Margery, kills his wife Lucy and her girlfriend Alice.
American Horror Story: Cult is the seventh season. Ally, a lesbian living in Michigan with her wife Ivy and their son, Oz, is horrified when Donald Trump wins the presidential election. She is plagued by crippling anxiety and phobias. A murderous clown cult that pops up in town adds to the terror.
American Horror Story: NYC is the eleventh season. In 1981, mysterious deaths and disappearances of gay men ramp up in NYC. Meanwhile, a doctor makes a frightening discovery, and a local reporter becomes a headline.
Characters
There are 26 queer characters listed for this show; 15 are dead.
Regulars (10)
Recurring (5)
Guests (11)
This page was last edited on November 3rd, 2022.