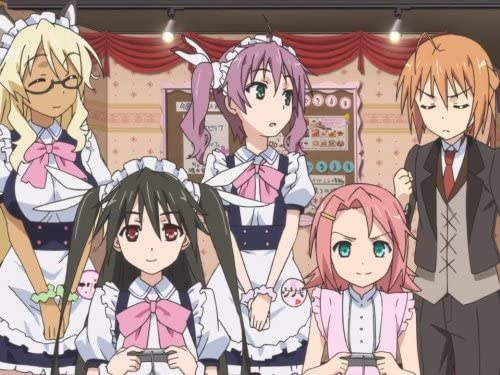 Overview
Sakamachi Kinjirō is a 16-year-old high school boy who suffers from gynophobia (abnormal fear of women), which makes his nose bleed every time he has physical contact with a female.
Due to his mother and sister, who both love professional wrestling, Sakamachi developed a resilient body that could take hard punches, aggressive kicks, and even deadly vehicle bumps, in order to survive their various grappling positions and locks. However, he also developed gynophobia, an abnormal fear of women. With just one touch from a girl, his nose bleeds uncontrollably, he sweats excessively, and in rare cases, faints abruptly.
His life changes for the worse because of a fated meeting in the restroom. While trying to escape from a girl, he discovers that the most popular student in their school, Konoe Subaru —the butler of the headmaster's daughter, Suzutsuki Kanade —is actually female! Surprised, Subaru violently assaults Kinjirou, dealing significant damage and knocking him unconscious. When he comes to, he meets Kanade. In exchange for his silence, she promises to help cure his phobia.
Characters
There are 3 queer characters listed for this show; none are dead.
Regulars (3)
This page was last edited on December 25th, 2020.