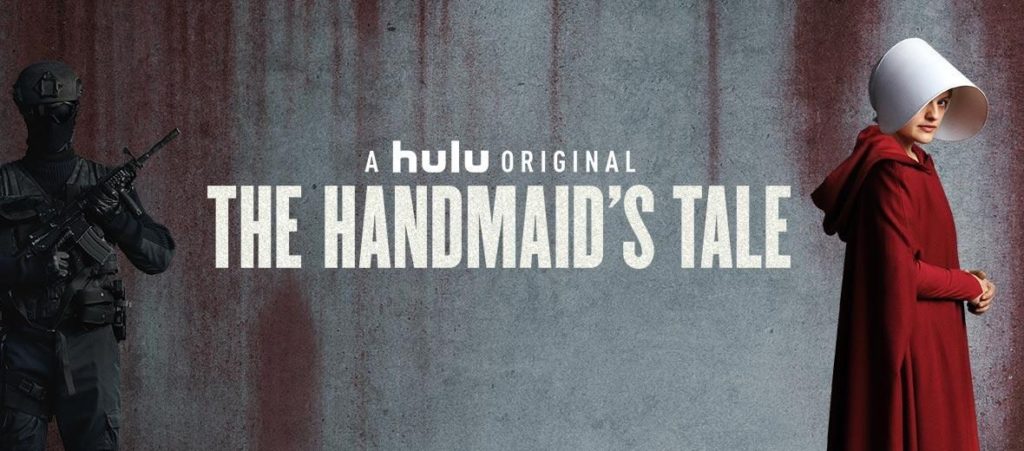 WARNING: Scenes of explicit violence, drug use, suicide, sex, and/or abuse occur regularly. Not intended for children or sensitive viewers.
Overview
The Handmaid's Tale is an American dystopian drama web television series created by Bruce Miller, based on Margaret Atwood's 1985 seminal dystopian feminist novel of the same name.
In the near future, fertility rates collapse as a result of sexually transmitted diseases and environmental pollution. With this chaos, the totalitarian, Christian theonomic government of "Gilead" establishes rule in the former United States in the aftermath of a civil war. Society is organized by power-hungry leaders along a new, militarized, hierarchical regime of fanaticism and newly created social classes, in which women are brutally subjugated, and by law are not allowed to work, own property, handle money, or read. Worldwide infertility has resulted in the conscription of the few remaining fertile women in Gilead, called "Handmaids", according to an extremist interpretation of a Biblical account. They are assigned to the homes of the ruling elite, where they must submit to ritualized rape by their male masters in order to become pregnant and bear children for those men and their wives.
Alexis Bledel (of Gilmore Girls fame) plays "subversive lesbian" handmaid, Ofglen. And Samira Wiley plays Moira, who was best friends with main character June/Offred before the fascist regime took over.
The entire premise of the show is really dreadful, especially since it came out right after the deplorable US election and the brutal attempts to destroy healthcare. It's important to remember this was meant to be a cautionary tale.
Notable Queer-Centric Episodes
Season 1 Episode 3 "Late" - Ofglen and the Martha she was in a relationship with are put on Trial. The Martha is sentenced to death and hanged.
Season 2 Episode 2 "Unwomen" - We see Emily/Ofglen's life in the Colonies and learn about her backstory.
Season 2 Episode 7 "After" - We find out Moira had a fiancé named Odette that was rounded up and killed before the war.
Characters
There are 9 queer characters listed for this show; 3 are dead.
Regulars (2)
Recurring (2)
Guests (5)
This page was last edited on May 23rd, 2021.