It's 2016 and we're all scared. There's a new WLW pair on screen, the adorable WayHaught from Wynonna Earp, and we're all scared.
Even though Emily Andras has spoken up about the tropes, we're scared.
So #wayhaught just happened on #WynonnaEarp in ep 9. Taking bets on when officer Haught dies

— Doc (@DocWhatever) June 1, 2016
But then Wynonna Earp's official Twitter replied:
Why would you do this. https://t.co/KLfi8774EE

— Wynonna Earp (@WynonnaEarp) June 1, 2016
And when someone tweeted getting Nicole a bullet proof vest:
Please, Officer Haught, you have to wear your bulletproof vest. We need you 💓 #WayHaught #WynonnaEarp @syfy pic.twitter.com/rXWtCHBqel

— Alida (@Lejonhaerta) June 1, 2016
They replied:
Protect Haught at all costs. https://t.co/NxdSkfznoz

— Wynonna Earp (@WynonnaEarp) June 1, 2016
And over on SyFy.com, they actually posted a photo with a WayHaught caption!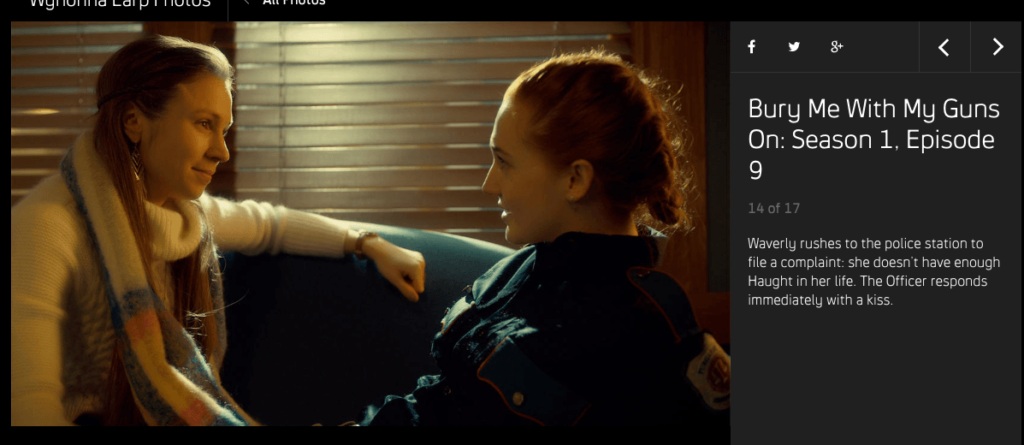 And we're all still scared.
Can anyone blame us? 20 LGBTQ women have died this year. It was 26 last year, which is the record, and we still have the Summer Season and the first half of the 2016-17 season to go before 2016 is over.
Even when people who have reason to know are telling us that no one dies in season one…
So friends, I have it on good authority that no queer ladies meet their demise on #WynonnaEarp this season. This is pretty fantastic.

— Dana Piccoli (@DanaPiccoli) June 1, 2016
No need to worry about #WayHaught & the queer ladies of Purgatory. My #WynonnaEarp sources say they are in very safe hands. Trust @emtothea

— Bridget Liszewski (@BridgetOnTV) June 1, 2016
And yet… we are all scared.
And we are likely to remain scared even though Emily said this outright:
AE: Give me a sense of what's in store for WayHaught for the rest of the season? Can you assure fans they'll be standing at the end?

EA: Whether they're standing or not, they are certainly alive at the end of the season. They are really trying to make this relationship work and find out what this romance is. If it has legs, what it means. But they're doing it in one of the most dangerous places on Earth right now. So, I'm not going to lie; there's a lot of drama and danger coming their way. People get hurt, people get put through the wringer.  But they are both very much alive and very much in love come the end of the season.
We know they survive.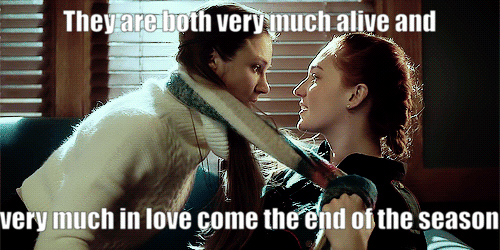 Watch Wynonna Earp tonight on SyFy though. We can't know if they'll survive a second season unless they get one.