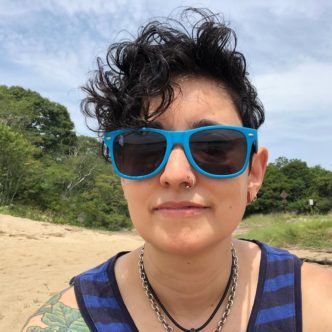 On this chapter of The Queerest Things I Watched Last Week I'm on vacation, but that is not going to stop me from writing my Queerest Things post! Fortunately I only have Wynonna Earp to cover (I haven't started OitNB yet), so I only need to take a few moments away from the beach.
Seriously though, the queerest thing I saw this week was the Provincetown Stop And Shop, which may be the gayest supermarket on the planet. I'm here in Ptown for Family Week (the largest annual gathering of lesbian, gay, bisexual, transgender and queer-identified families in the world) which means the town is overrun with queer families and their kids.
I feel bad for all the kidless queers who randomly picked this week for their vacation and are now like, "Fuck, it's Family Week." I used to be one of you, and now here I am with my emo tween.
Warning: This post contains spoilers!
Wynonna Earp – Season 3 Episode 2 "When You Call My Name" [Live]

At the end of the previous episode Wynonna and Waverly got into a car accident. This episode opens up with Waverly getting dragged away from the crashed truck by some guy.

Waverly's kidnapper is a creepy-ass Revenant trapper who lives in the woods and steals women's voices. The woman he previously kidnapped is in pieces laying around his house. It's pretty gross. Meanwhile Wynonna has fallen down a cliff and is having a hallucinogenic conversation with Mama Earp.

Back at creepy kidnapper cabin, Nicole is texting and calling Waverly, and creepy kidnapper steals Waverly's voice, answers one of Nicole's calls and impersonates her on the phone.

There are tropes I enjoy and ones I do not. Leading people to think everything is fine when it's actually a disaster is one I hate.

Nicole tells Dolls are Jeremy about her phone call with "Waverly."

Another trope I hate is people unknowingly telling people not to worry about a situation when the person actually needs rescuing.

Nicole decides to go to the homestead to let Waverly know the team is going to regroup, and on the way a hunter who got lost and separated from his son flags her down. He says he'd still be lost if he didn't see the wrecked blue and white truck.

At least it only took 22 minutes into the episode for Nicole to figure out something was really wrong.

Meanwhile, back at the cabin, creepy kidnapper lures a hunter (probably the dude's son) into the cabin by shouting, "Help me!" in Waverly's voice. He gets his throat cut by one of the kidnapper's booby traps. Ugh, gross.

Nicole texts Doc that Waverly and Wynonna are in trouble. Back in the woods, Wynonna found her way to the kidnapper's cabin. She's now in a cage instead of tied up, and she voicelessly warns Wynonna of the booby traps laid out in the room.

I love this show's ability to keep things funny even when a favorite character is kidnapped and locked up in a cage.

Wynonna makes her way to the cage. Then creepy kidnapper comes back, and she has to hide under the stairs.

Doc arrived at the truck and assessed that Waverly was dragged away and Wynonna walked away from the wreck. Over the com Jeremy tells them there are two outbuildings in the woods, one to the West and one to the North.

Nicole concedes, and the they proceed to the North.

Back in the woods, Wynonna confronts the kidnapper and tricks him into falling into a deep pit. After he lands, Waverly gets her voice back. Wynonna accidentally triggers one of his booby traps and is hanging upside-down from a tree when Nicole and Doc arrive.

The whole gang is back at the truck, and Waverly needs to further process the fact that Wynonna's been visiting their Mama in jail and keeping it a secret from her. Waverly is so upset over it, she asks Dolls to take her to his truck.

Now someone needs go get Peacemaker which Wynonna left at the bottom of the rocky cliff after the crash.

While Nicole is climbing down, one of Bulshar's demons cuts the rope. Wynonna grabs it and is miraculously able to hold Nicole up with a busted arm while she tries to retrieve Peacemaker. Meanwhile, Doc is trying to fight the demon, but it has the ability to disappear and reappear and knocks him out.

Then things get a little chaotic. Jeremy warns Waverly that Dolls is unstable over the com. Dolls starts fighting the demon. Nicole successfully gets the gun, but Wynonna is having trouble holding on to the rope. Waverly helps Wynonna with the rope, and they are able to pull Nicole back up. Dolls is using his dragon fire breath to kill the demon. Doc comes back to consciousness. Bulshar himself shows up, and Wynonna is about to shoot him with Peacemaker when she hears Doc yelling for her.

She runs back to the gang. Dolls collapsed on the ground and is not breathing.

Dolls is dead.

The episode ends with Wynonna and Waverly tearfully over Dolls' body. Wynonna can't accept his death until her hallucinogenic Mama shows up again and tells her she needs to let him go.

Goodbye, Xavier Pamela Dolls, we will miss you.
Wednesday is the last episode ever of The Originals! Will Freya and Keelin have a happily ever after? I will definitely be tuning in to find out.