It's summer which means happy birthday to Tracy, it's time for some Canadian action, a couple conventions, some WayHaught screen time, and more with our July 2018 roundup.
23 shows added
70 characters added
3 characters died
Interviews With Everyone
This month, we've put our tape recorders out there and talked to a whole mess of amazing queer people. We've interviewed such cool folks as the historians from the History is Gay podcast, the new series stars of Total Party Kill, and Hillary Esquina from the upcoming series, The Passage.
We love talking to people about the brilliant work they're doing with queer media and are always on the lookout for more. Please feel free to hit us up and tell us about the cool things you're up to.
Convention Season
This month was both Outfest, up in LA, and San Diego Comic Con (aka SDCC). We weren't able to make SDCC but we collected all the pertinent queer TV news for you. Big news? We've got Charmed coming to Sundays on the CW, where it'll pair up with Supergirl, who's introducing a trans character. Also the Arrowverse is planning to introduce Batwoman in this winter's massive crossover event. I have a lot of really excited feelings about this, especially since they want to case a lesbian. And yes, I have some suggestions.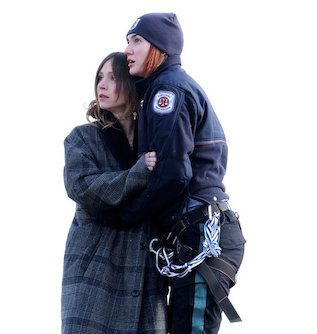 At Outfest, I attended screenings of Vida, Riley Parra, and Féminin/Féminin and Strangers. It was a lot to pack in to three days, and I managed to talk to the cast and crew of some of the shows. I may be a little more in love with Tanya Saracho (of Vida) and Liz Vassey (of Riley Parra but also Nikki & Nora) than I was when the week started.
WayHaught
Our favourite goofy western is back, and this time it brought vampires who want the d– Sorry. I was channeling Wynonna for a second. Wynonna Earp premiered at SDCC and was actually renewed for season four before the premiere officially aired. How's that for good news? Of course, the first episode ended on a cliff-hanger of Waverly being kidnapped, but we knew she was going to be okay because we have an unkillable gay squad.
That gives us a whole season to do crazy things, though, so don't think we can relax. If there's anything we've learned, it's that this show will pack a doozy.
Bits and Bobs of Summer Fun
Speaking of surprises, The Bold Type continues to be a refreshing series in the second season, complete with frank talks about sexuality. So even if Jane's lackadaisical relationship with deadlines gives everyone anxiety, we're enjoying this one.
The nominations for the Emmy's were announced, and while there was a lot of gay, I'm quite grumbly about the representation that was rewarded. The short version? Nothing with hugely positive rep was rewarded.
Later this month, Tracy will be speaking at FlameCon about how Queer Fans Deserve Data
How can data help with the current state of queer representation in the media? LezWatch.TV, an online database and queer entertainment news site, was started by two TV-obsessed lesbian web developers with the intention of cataloging and documenting queer female, transgender, and nonbinary characters, and their corresponding shows from TV, web, and streaming media. With that data, statistics are calculated on the state of international queer story representation, with the goal of providing free and easy access to information on the best shows with queer characters and stories in the genres fans want to see. LezWatch.TV is a story of fandom, passion, code, and the desire to see fair, equal, and positive representation for people like us on television.
If you're there, cheer her on.