This week, we approach the season finale of Motherland: Fort Salem, a show that has ignited a prolific global fandom in but a few short months – all of whom are collectively holding their breath for what comes next.
Motherland, created by Eliot Laurence, was originally to be a book series and so an entire world full of witchy powers, politics, war, history, and intrigue has been mapped out. I am so here for that!
In the first few episodes we are immediately introduced to a complex world landscape at play as we follow four young witches training as cadets in the US military. In this world, witches are the main military force globally. But, the catch is that all witches are forced to conscript for life into the military once they turn eighteen. Meanwhile, there are the Spree who are fighting to free witches from the military construct but do so by committing acts of mass terror against civilians.
Nothing is clear cut or black and white in Motherland. There are moral grey areas abound and it's part of what makes the show so intriguing. There's endless fodder for discussions around idealism, gender norms, morality, love, and justice – you know, your everyday lunchtime topics!
And to top it all off, with the characters Scylla Ramshorn (Amalia Holm) and Raelle Collar (Taylor Hickson), Motherland has served up one of the best representations of a female queer couple in recent memory. With fans still raw from the tragedy that was #Clexa, the #Raylla relationship is giving life to a viewership that has been looking for meaningful, nuanced, and honest representation.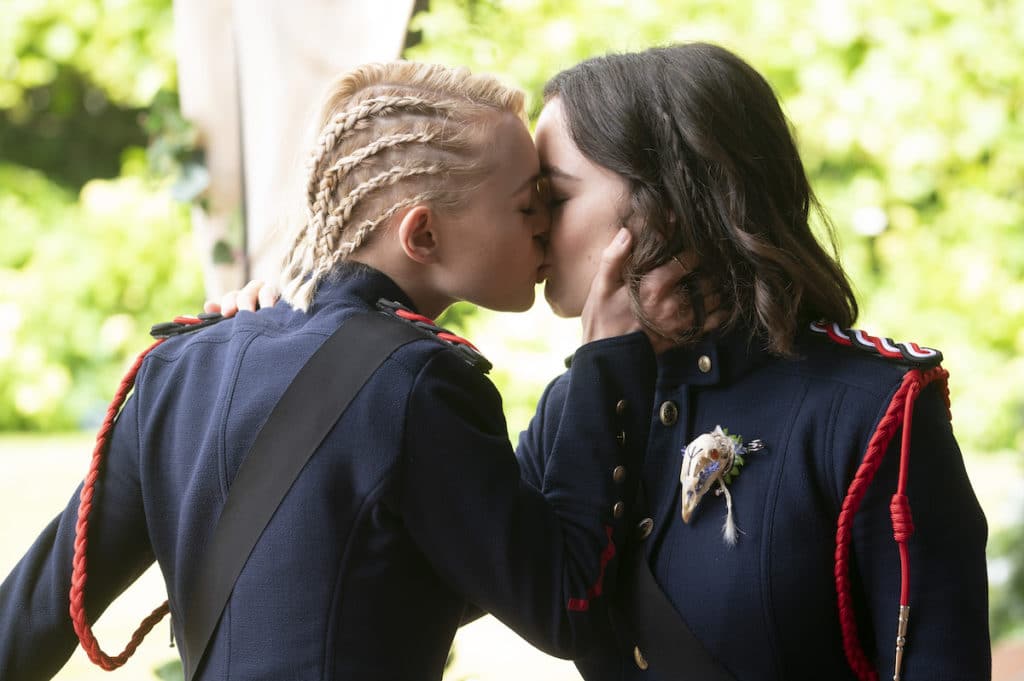 Motherland has given us a couple where each character stands on their own, with their own complex story arcs, inner demons to battle, and layers that we peel back and reveal every episode. Not only that, their story doesn't center around their sexual orientation – it's a non issue, it's just implied as part of the norm. That in itself is radical and reflects the world we hope to be.
This frees us up for a genuinely complex multi layered story, with twists and turns, of two young witches who fall in love against a backdrop of a world unfolding and a seemingly impossible unraveling of secrets, power struggles, and the survival of witches as we know it.
To learn more, we caught up with Amalia Holm (Alena, Playground) who plays the mysterious and complicated Scylla Ramshorn. Scylla and her parents were 'dodgers' – constantly on the run to evade the military conscription that many viewed as a death sentence. Tragically, the military caught up to them one day and killed both her parents. Left an orphan, we find out Scylla's an agent for the Spree planted in the military's cadet school. Her mission is to recruit Raelle to the Spree, but things do not go as planned.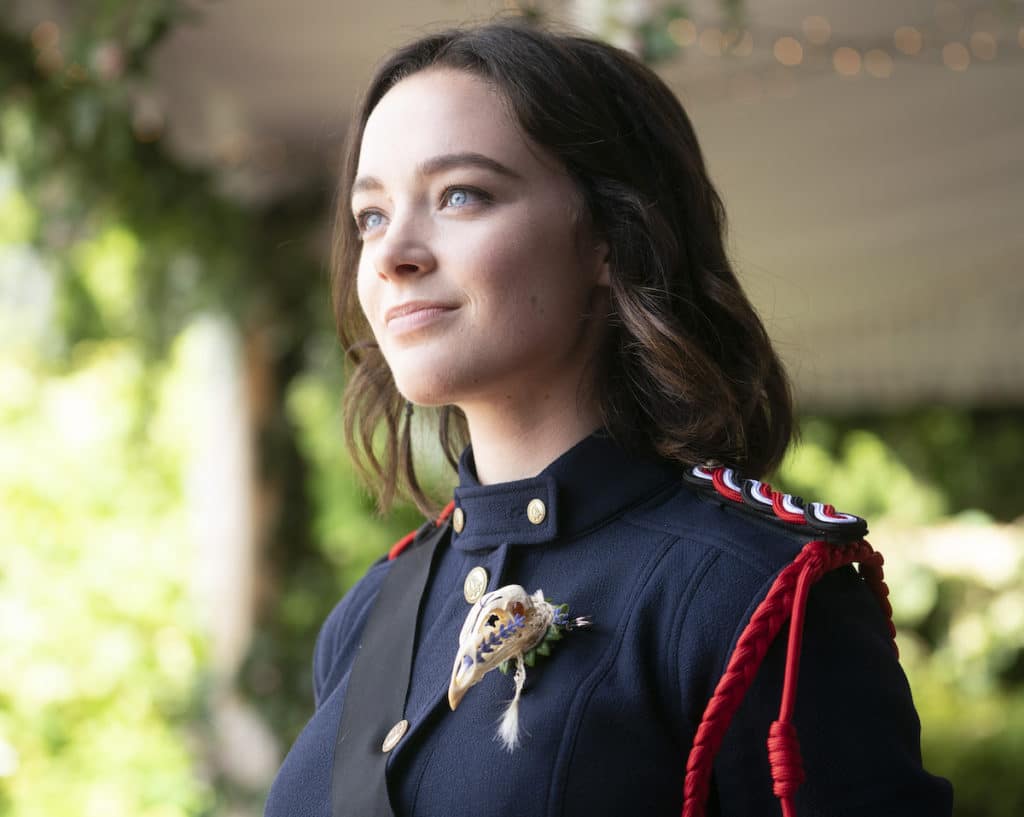 We crowd-sourced and compiled questions from the fandom across Instagram, Tumblr, and Twitter to compile a Q&A with Amalia. Here's what she had to say:
Scylla is such a complex character – we haven't peeled back all the layers yet which adds to why she's so intriguing. What was your process in developing Scylla as a character? How much did you know about Scylla from the start vs having to learn things as you went along?
I didn't know much about Scylla from the start (though more than you usually do when you get a role), but the scripts for episode 3 and 4 gave me a lot mainly because they helped me ask Eliot the right questions. To prepare for portraying her dodger past Eliot recommended me to watch Running on Empty (1988) with River Phoenix. This old jewel was nowhere to be found online so I walked for an hour to one of the two remaining video stores in Vancouver (Black Dog Video) to get it on DVD. I loved the movie.
What would you say is the biggest challenge of taking on this role and your favorite thing about playing Scylla?
Biggest challenge is doing the writing justice! The wicked humor, the darkness and the strive for good and love; her personality is my favorite thing about playing her!
For Scylla and Raelle there seemed to be an immediate perhaps unexpected connection. What do you think drew Scylla to Raelle so strongly and how did that evolve over time? At what point do you believe Scylla realized that she has deep feelings for Raelle?
There is something so grounded about Raelle, her non-existing need to be liked is a sign of strength that is magnetic to a social chameleon like Scylla. It's beautiful when love pops up where you least expect it. It is so hard to know when Scylla realized that, from personal experience I think you always know it long before you admit it to yourself and at the same time it's a growth. I can't give you a specific time and place but it is definitely somewhere in the range of episode 3-5.
What have been some of your favorite scenes you've filmed this season?
I loved all the scenes in the prison cell ep 7-9. They were a big treat! Such juicy scenes.
From another interview we know you study policy and security – how does that influence your interpretation/view of the Motherland world?
Fun question! I guess my interest in these questions added to the excitement of closely watching an alternate world grow to be. The international power struggles at the Hague, old questions of democratic peace and protection (for who and from whom?), universal or national security and rules of engagement. I know the writers room is particular on these things! Me and writer Eli Edelson share a fascination for the theoretical base of psychiatrist Frantz Fanon and anti-colonialism that rhymes with the ideological base of the Spree.
What was it like working with Taylor Hickson and the process you both went through to develop Scylla and Raelle's relationship?
It was fun and wonderful! We both got very invested in the relationship. We would discuss the script but we didn't want to overthink or over talk it together so we would rather do our prep individually and show up to surprise one another in the moment. It was a calm yet intriguing working process!
For season two (because we can't imagine a world without it!), what would you want for your character in the future in terms of her relationship with Raelle, her role in society, and the ramification of her actions?
Oh my, these questions are so hard. When I trust the writers like I do on this show I find it very hard to think forward on my character's behalf. Whatever they put in Scylla's way for a second season will be my path to concur and play with. I hope all good things in those three aspects you mention, but at the same time I am not sure that we would see results so quickly. I want for Scylla to continue to revise her analysis of the world and seek both good and happiness together with others as she is becoming a woman.
What can you perhaps tease about Scylla and her relationship with Raelle for the rest of the season?
They still love each other.
What was it like on set in terms of the camaraderie? Any funny stories you can share?
Lunch was always fun! Either in the big tent when we had lots of people on set or with the girls in or outside someone's trailer. Episode 5 was a dream on that part because we had amazing weather on a beautiful location. The camaraderie was big both in and between cast and crew so great chats were always active, deep conversations, lots of goofiness and rewarding work!
How would you pass the time between filming on set and when you had down time between shooting Motherland?
Read and re-read the script, read books, cook, do little trips to Whistler (with my mum who came to visit for a week) and Victoria, go to a baseball game, windsurf, visit farmers markets, explore the cafes of the city, work out and have dinner with friends from cast and crew.
What would you say has been your favorite part of this whole process of being involved in Motherland?
The incredible experience of working on a production where everything is so well taken care of that you can spend all your awake time to dig deeper into character and discuss character dynamics with co-actors and the writers, directors and producers (who are all so available and kind). The Motherland production is the absolute best work experience I have had so far.
Is this your first experience with a massive fandom? If so, what's it been like living in the waves of comments, fan art, and social media buzz the past few months?
Yes it is! It has been amazing, my only stress being that I want to give back in an authentic way and respond to it all. Still figuring out how to go about it! The fan art and the hashtags that cross my way are mind blowing beautiful and hilarious. I'm fascinated by and in love with the growing community!
Now that social isolation is the norm, how are you staying busy and what are some of your favorite things to do right now throughout the day?
I'm studying for my finals in the last course of my Bachelor [degree] and isolation has had the effect that I can participate more than usual due to it all now being online. My family is expecting a puppy so we are all discussing names in a group chat and over phone!
Rapid fire questions!
Favorite foods to snack on?

Beef jerky, all kinds of chocolate with more than 30% cocoa, carrots, nectarines

Favorite binge-worthy shows you have watched?

Parks & Recreation, Succession, Normal People, Chernobyl

What has been on your music playlist recently?
Any good book recommendations?

The Fountainhead by Ayn Rand, Conversations with Friends by Sally Rooney
Watch the season finale of Motherland: Fort Salem on Wednesday May 20th at 9 p.m ET on Freeform and Thursday the 21st on Hulu.