I don't have children, and Tracy's kid is a bit outside the age range for this one, but Friday morning I became aware of a million 'moms' hating on Disney and GLAAD asking us to step up and support them for a kid's show with two-moms.
Two Moms Are Normal
Back in 2014, the show Good Luck Charlie had a typical sitcom encounter with two moms. The dad met one, the mom met the other, and of course, they argued about what the mom's name was. Oh, silly adults. The moms only showed up once, but that's the kind of show it was.
On August 5th, Doc McStuffins normalized one more bit of queer life with two doll moms.
Who is This Doc?
The titular Doc is a six-year-old who cares for stuffed animals and toys in her playhouse clinic. When she puts on her stethoscope, something magical happens — toys, dolls and stuffed animals come to life and she can communicate with them.
In the episode "The Emergency Plan," Doc helps reunite a doll family (with two moms) and shows them how to make emergency kits after they get separated during an earthquake caused by Dragon-Bot jumping up and down.
Queers Playing Queers
The two moms are in an interracial relationship, played by out actresses Wanda Sykes and Portia de Rossi. Edie and Thea have two children, Brandon and Gertie. And even in animation, the moms give each other the side-eye: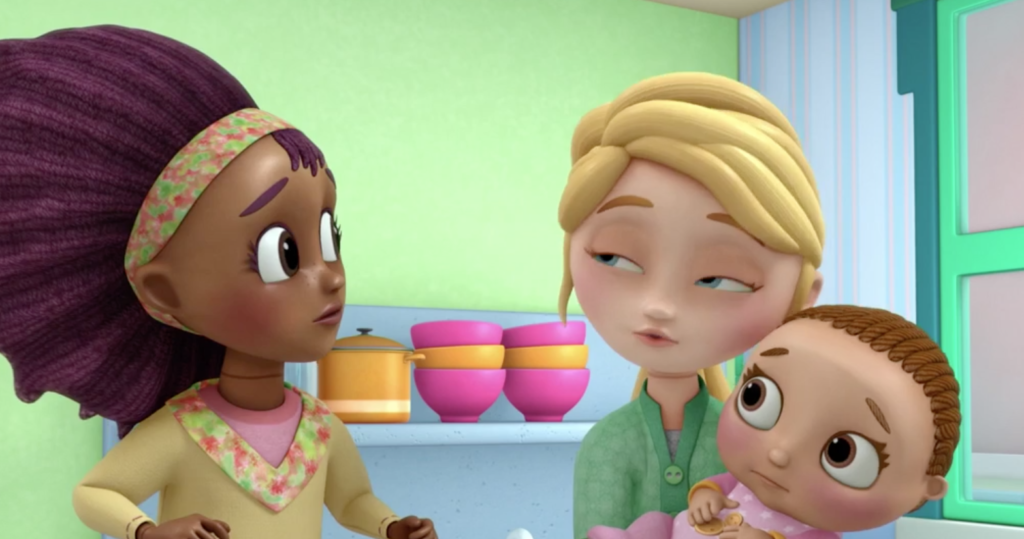 The family is adorable and everyone gets to learn about how to handle disasters.
Thank Disney
I know it's not a whole lot, but for years Disney just shoved their fingers in their ears and sang "La la la!" about the queer in the world. Even though half their casts became gay, they still didn't want to address it. And while I suspect it will be a while before a main-cast character is queer, having parents that just happen to be two moms or two dads is a great step forward.
If you'd like to thank Disney for positive representation, you can do so via the GLAAD Doc McStuffins thank you form.