After earning the "queerbaiting" flag, Riverdale is going for the gold with a new character, Toni Topaz.
A bisexual member of the Southside Serpents.
The Southside Whats?
Okay, lets have some history, folks. The Southside Serpents are the 'bad guys' in the Archie-verse. In the comics they're a stereotypical fifties biker gang, often with hearts of gold. In the Riverdale series, however, they're actually pretty lawless and are led by Jughead's dad (he's an accountant in the comics – nice role shift).
Basically they're the bad guys here too, and in the season finale, Jughead accepted his role as one of their own, much to the consternation of his girlfriend, Betty.
Who's Toni?
In the comics, she's a pink haired Latinx "disruptor" who has a huge appetite. According to executive producer Roberto Aguirre-Sacasa, on the show, she'll be "a member of the Southside Serpents and she's going to be a friend and confidant to Jughead Jones."
And while in the comics, her bisexuality is heavily implied, Aguirre-Sacasa said that "is something that we're going to explore."
Why Is Bi Bad?
It's not! It's that Riverdale isn't exactly a show one looks to with pie eyed adoration for it's LGBT characterizations. I mentioned queerbaiting, because they had a fake kiss between Veronica and Betty already. But even more important is the erasure of Jughead's asexuality.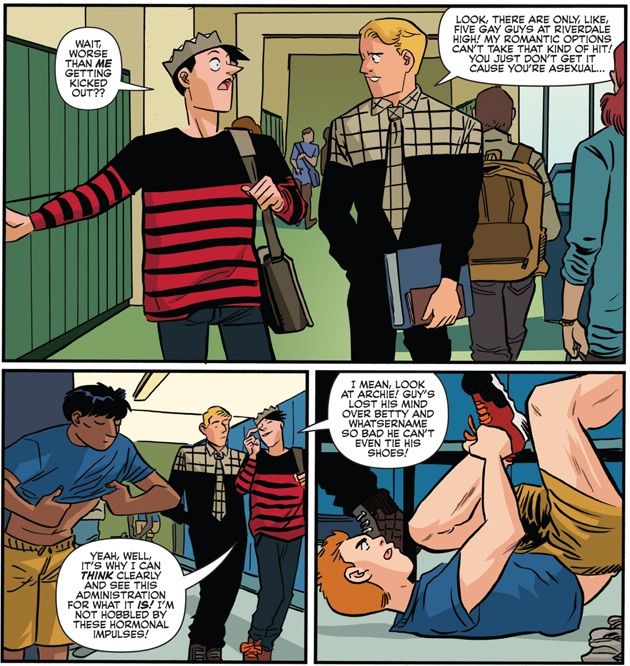 Okay, okay, Juggie is only ace in one of the Archie timelines, but it's an important representation that's been missing for a long time. And I was looking forward to seeing it on TV.
Maybe They Won't Mess It Up?
Yeah. No. Riverdale has already sidelined all their PoCs or made their stories secondary to white people (see Josie and the Pussycats as the backup band to Archie), queerbaited, and now they're giving us a homewreaking biseuxal!
Did I forget to mention that?
Bughead [Betty + Jughead] is pretty strong, and pretty undeniable, and pretty epic, but you know even the most epic of romances has trouble — and trouble often comes as a third party. So yes, it is conceivable that Toni will potentially test the limits of Bughead.
Awesome, I know.
So That's a Nay?
You bet it's a nay. I want to be super excited about more representation on TV, more queers, and more people of color. But Riverdale has the setup for a damn train wreck. They may be able to pull this out of the ashes, but the nail in the coffin is that this show is on the CW.
Don't hold your breath, kids.