I've attended, spoken at, sat on panels and organized many tech and business conferences. I feel very comfortable and in my element at these events, but today — 30 days until ClexaCon — I'm going to come right out and say it.
I've never been to a Con before, and I'm a little scared.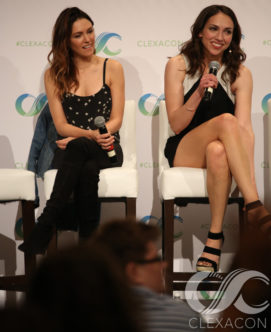 My first experience being a fan of a female/female TV relationship was Bianca and Maggie on All My Children. It was Christmas Eve 2000 when Bianca came out and 2004 when Bianca and Maggie kissed for the first time. I learned my first ship name: BAM (Bianca and Maggie) and found my first online fan community, the now dead bamfans.com. I also started reading the AMC recaps for the first time on AfterEllen.
Even though I had this entry point into queer female fandom, I continued to consume shows on my own and grow an encyclopedia of characters, shows and ships in my head.
It wasn't until I met Mika and we decided to make this site that I really entered the world of wlw (a term I didn't know until relatively recently) fandom. I've onboarded pretty quickly. I've spent a lot of time in online communities over the last 20 years, and I was familiar with needing to learn community terms and acronyms.
I'm a friendly extrovert, but still intimidated about going to an event I've never been to before for the first time. Ultimately I know I will have a lot of fun, but I'm still nervous and wanted write up what I wish to get out of my first trip to ClexaCon.
What I'm most looking forward to
Representing LezWatchTV as Press

I will be attending ClexaCon with a press pass, and I will make it my job to write, tweet, interview and shoot photos as much as possible, to keep our LezWatch audience up-to-date on everything happening at ClexaCon. This is the biggest annual event for our community, and I will take covering it very seriously.

Being with my people.

I've been around groups I'm affiliated with before: queers, tech geeks, music nerds, etc. but I've never been around this version of "my people." I've never been immersed in a community of folks who understands the importance of quality queer representation in the media. I want to fangirl out with people who also have emotional attachment to too many fictitious characters. This will be a first for me, and I'm really looking forward to it.

Meeting Online Friends IRL.

Along this website adventure, I've made some friends I've never met in person, and I can't wait to do so at ClexaCon.

I love the HTL Podcast; every Thursday morning my wife and I listen to it in the car after we drop our kid off at school. Then I have to tweet my reactions when I get to work. They're like an audio version of my Queerest Things posts, but more hilarious and entertaining.

If our projects were beings, they'd be BFFs, and I'm looking forward to geeking out over shows and data with them.

Joe, @FlailerOfAScot on Twitter

I happened to have studied ASL (American Sign Language) and Deaf culture for a number of years, so when one of Joe's signed videos popped up in Twitter, it caught my eye. His tweets are great and insightful, and he's going to be on the Disabled LGBT Representation in the Media panel at ClexaCon.

Many hearing people do not know ASL and BSL (British Sign Language) are completely different — even the way the alphabet is signed. Joe knows some ASL, and we've tried communicating a little via video. Hopefully we'll be able to make communication work in person.

Twitter Friends!

I love having conversations with LezWatch Twitter followers, and I'm hoping to meet folks in person! If you see me, feel free to come right up and talk to me.

Networking.

Of course, I'll be there promoting LezWatchTV. I'll have pins & stickers to give away. I'll also be there to see how other people and groups can use our site as a resource. Mika and I are open source enthusiasts, and we want our data to be helpful and share it with the world. If our database can be of benefit to your project, find me and we'll talk about it.

Finally: Fangirling.

Ok, I wont lie, I'm really excited for the panels and guests. Root from Person of Interest is my favorite queer character of all time; Root and Shaw is my number one queer ship. I may have paid for a photo with Amy Acker and Sarah Shahi. I'm going to play it cool, but I will be freaking out on the inside.
My Guest Wishlist
I fully understand how hard it is to organize an event and scheduling guests must take it to a whole new level. I have much respect for the ClexaCon organizers and am thankful for the work they do. I know if an actor is of interest to the queer female fan community, they've probably been contacted, but I still hold out hope some of my missing favorites will be announced.
Rutina Wesley

I absolutely love Queen Sugar. I think it is one of the best shows on television right now. I wish Rutina Wesley would join the LGBTQ Actresses panel and give us a preview of what's in store for Nova Bordelon on season three.

Deedee Magno Hall, Estelle and Michaela Dietz

I am a Steven Universe superfan. The show is so important to kids and adults alike, and I would love to see a SU panel with the actors who voice the Gems.

Rebecca Sugar

I think Rebecca Sugar is a genius who created one of the most revolutionary shows on television. My daughter is 11 and her friends, who are all over the gender and sexual orientation spectrum, love Steven Universe and strongly relate to the characters and stories. They are confident in who they are and way more evolved about queer issues than I was at even at 21.

Tatiana Maslany

What can I say, Tatiana Maslany is a phenomenal actor, and Orphan Black is one of my favorite shows of all time. She could do a solo Orphan Black panel since she played most of the characters. A Tatiana/Evelyn/Ksenia panel would be amazing.

Ali Liebert

Last, but far from least, my number one guest wish for ClexaCon is Ali Liebert. It's no secret that I think she is the best. She has done so much for quality queer representation on TV as an actor, and I'd love to see her speak at the event.
Tips
To prep for my first Con, I've been listening to the UnConventional Podcast, reading the ClexaCon Forums and looking out for advice from former attendees.
Here are some great Twitter threads I have found with tips:
Raise your hand if @ClexaCon will be your first con experience. I have some tips for you newbies.

— Dana Piccoli (@DanaPiccoli) February 21, 2018
Someone recently asked if they upset me at a con. The answer is always "not really," but it's a fairly common question, so here comes an advice thread on interacting with guests at cons. (Disclaimer: Not every guest feels like I do.)

— Ayu (@soymilkpudding) February 20, 2018
See you there!
I'm so excited to attend my first Con. If you spot me, please say hi!