If you read my write up of Bomb Girls, you know I am a huge Ali Liebert fan. When she came out a couple years ago, I was pretty excited. It's the best when queer actors play queer characters.
Recently a tweet came up in my feed saying Ali Liebert was on episode one of Dana Piccoli's new podcast Still Processing. Of course, I had to listen.
After finishing that podcast, I was convinced Ali Liebert is the future of positive change for LGBT characters on TV.
She is the out actress of our dreams
Around 10 minutes in, Ali talks about coming out and how playing Betty on Bomb Girls, specifically, made her realize who she was:
I had been gay-for-pay for many years playing many many queer roles and I just never really got it. I was like, wow, I really connect to these characters in such a deep way. And then Bomb Girls really was the final thing. It was like myself delivered to myself in a very gentle way. And after I had finished that show and had a moment to breathe I was like, oh my God, this is a real thing. And it was as scary as probably a lot of people feel when they're realizing that they are. And also I was, you know, 30-something. It had been years coming and when I did decide to come out on Instagram, it was a very…it was something I really wanted to do and it felt really natural. Because I think that there is a responsibility when you are somewhat of a public person to not be ashamed. And, obviously, people can do whatever they want, but I think the more and more people who are out there being really proud to be gay and proud to be queer…I think it's a really positive thing for youth and young people who may be struggling. And it's not just about me and how it's going to affect my career as an actress. Like, I don't really give a shit. It was affecting me as a person, and it is who I am. So I felt really happy to do that and it's just been getting better ever since.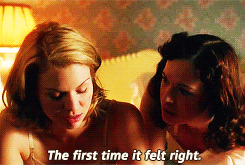 As a lesbian fan, I long for out actors who are unapologetically, proudly, "I don't really give a shit" out. I don't want them to avoid or downplay their orientation for fear of "typecasting" or being labeled a "gay actor." I agree with Ali that people can do whatever they want, and whatever they feel comfortable with, but backing away from queerness says there's something wrong with being queer. Her being her boldly out self is a positive thing for youth and adults alike.
Also, how awesome is it that her character, Betty, helped her come out? Betty helped her in the same way she did for countless others. This makes my fan heart explode.
I told [the producers] literally, if they hadn't cast me, I don't know where I'd be. Just sadly dating dudes wondering what the fuck is wrong with me. Why is nothing working?
Thank goodness for Bomb Girls. 🙂
She is challenging the default orientation
Ali said this during the interview when asked about her favorite types of characters to play, and I think it is groundbreaking:
I'm, literally, trying to play as many queer characters as possible. Like, if the writers haven't written me in some lame boyfriend, I'm like, she's gay though, right?…On every show I'm on, if it's not already written in, I have a conversation with the creatives and I'm like she's definitely gay, right?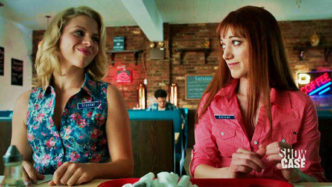 Unless explicitly determined otherwise, the default orientation for all characters is straight. Her wanting to change the default for her characters to queer is a game changer. Not only is she embracing playing gay, something actors of all orientations have shunned in the past, she is trying to make the default more of a reflection of real life. I really hope these conversations she has with show creators open their minds and enlighten them to the state of heterocentricity on TV.
Ali is fighting for the equal representation we deserve
The attitudes Ali expressed in her interview are what we need to create positive change with LGBT representation on TV. She understands the importance of having queer stories and characters on TV and she's running towards it.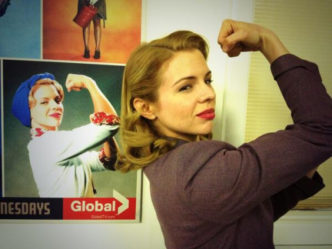 It always bums me out when I hear a well-meaning actor talk about a queer character they are playing with, "It's not just a gay story, everyone can relate to it." What is wrong with it being a "gay story?" The queer experience is different from a straight one, saying it's not is just untrue. I don't believe people need to personally relate to a story to enjoy it. I don't relate to 98% of the stories I see on TV, and I still love watching. If I can see an experience from someone else's perspective, that's a bonus, right?
I love that we have a queer actor who understands this and accepts the responsibility to get our stories out there.
A hearthrob (as Dana calls her and I agree), gay-for-pay actor turned gay for real being a game changer for LGBT representation on screen – I really couldn't ask for more.
I love you, Ali Liebert. You are the best!