The premise is an interesting one. In a dark and dystopian timeline, witches are not only real but they made a treaty with the burgeoning nation of the United States. With the aid of the supernatural, the revolution was won because of the power of witches.
Three hundred years later, society is led by women, but it comes at a price.
Warning: This post contains mild spoilers for an upcoming series.
The Sacrifices of Daughters
In this world all witches, who bear the mark, must report to Fort Salem for training as the most powerful military force known to the world. There are legacies, witches who have served for generations since the accord was made, and there are the witches who live in the free states and volunteer. There are the enlisted who'd rather be anywhere else, and those who will sacrifice everything for their fellow witch.
But America isn't the only country who has enlisted the supernatural, and no one is safe. Not all born witches want to be warriors after all. The Spree takes up arms against the status quo to be free, and who is right and who is wrong is a far more complicated answer than it looks.
Empowerment
One of the main characters is, in fact, a lesbian. And guess what? It's 100% accepted as normal, because it is. It's simply another factor of who she is, and it's not a concern at all. In fact, sex is normal and all the women are sexually empowered, taking ownership of what they want and who they want to be. That said, they're also young adults, and make all the mistakes you'd expect them to make.
Of the four main young women, three are roommates and one is a love interest who is so, so much more.
Abigail Bellweather is the latest in a long line of famous Bellweathers. Abigail has to learn that the world she's been destined to join isn't as easy or as clear as she thought it was.
Sweet and naive Tally Craven is Abigail's roommate. She could have avoided the war, being from the free states, but volunteered out of idealism and responsibility.
The third roommate is Rae Collar, our lesbian and unwilling warrior, gives us a complexity of a soldier who feels obligated to fight but harbours resentment over her mother's death.
And then there's Scylla Ramshorn, an older student … or is she? Scylla and Rae meet early on and strike up a friendship that rapidly becomes much more than that. Syclla will have to decide who is right and who is wrong, and who is worth fighting for.
As for the adults … Well Lyne Renee and her cheekbones steal every scene as General Sara Alder. And when you find out what is sacrificed for her, you'll remember magic has a price.
Yes, It's Queer!
Now look, I know some people looked at this photo and thought "They must be queer baiting." Trust me, they're not. You're going to get what you want, folks.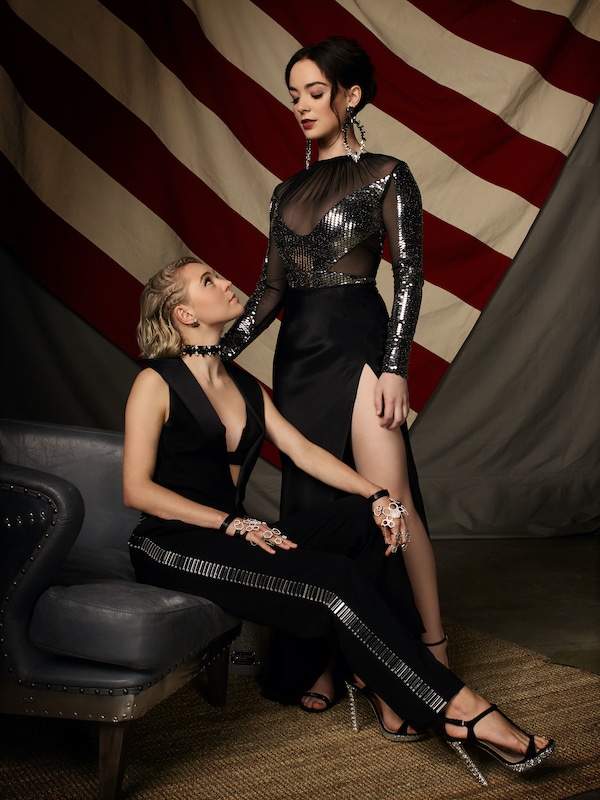 Is the relationship simple and easy? No it's not. The show has a world at war and the women are in the military academy. Rae has a lot of baggage, but Scylla has an equally dark and complex backstory as well. Their histories are told and retold over the first five episodes in ways that make you question who is right and who is wrong.
We're getting a complicated, messy, love story where the issue isn't that they create obstacles for themselves, but that the world has built walls between them. Will Rae and Scylla break the walls down or will they be crushed? I don't know yet, but I'm absolutely popping some corn to find out!
Is This For You?
Let's be honset here. The show is a little over the top. It's a great match for a show like Siren, and that's a show I slept on until it was almost too late. Being a fantasy, they're not beholden to any pseudoscience that disrupts your immersion. While it never quite steps into Xena or Legends levels of campy, it's not as serious as it might be on HBO. What it is, is fun. There's humorous and darkness, a lot of teenagers being idiots and making bad choices, and witches.
Putting this simply, they have a great premise. And I won't lie I love that it's a total matriarchy which was something I didn't realize I wanted quite so much. Heck, I went most of an episode without hearing a single male voice. You may not realize how rare that is, but even on Supergirl we don't get women monopolizing the screen time that much.
If you like supernatural stuff, women empowerment, lesbian witches, and complex characters, then you should check out Motherland: Fort Salem next week on Freeform.