On this chapter of The Queerest Things I Watched Last Week, The Thomas Wintersbone Memorial Ladies' Choice Dance on The Great North turns out to be a very sweet queer story and I give a quick rundown on all the queer things I've been watching.

Warning: This post contains spoilers!
I'll be honest last week was hard, so I didn't have time to recap everything I've watched in detail. Instead, I decided to do a speed round.
All Rise
I literally screamed "Is that Amy Acker??" while watching All Rise last week. I was shocked in the happiest way to see her play queer again!
OMG, thank you thank you, All Rise, for giving us this wonderful gift.
Black Lightning
I really want to love married Anissa and Grace, but it's like Anissa impulse-married Grace without thinking anything through. Like, making room in her loft for Grace's stuff or telling her parents.
Riverdale
Why can't Cheryl use her words? Toni has been incredibly patient and honest with Cheryl this entire season. Instead of telling her how she feels while they are having a conversation, Cheryl goes home and whines about "her beloved" breaking her heart again. Way to make everything about you, Cheryl. She then creates an elaborate scheme to win Toni back involving an old skool Key Party. Okay, that makes sense. I don't know about you, but I am feeling over them. It's fine anyway because Cheryl kissed someone new last week.
This is Us
Tess is in a relationship with her friend Alex we were introduced to several episodes ago.
I think the writers are spying on our family because this is exactly how our teen talks to us.
Station 19 / Grey's Anatomy
I love Marina so much, but the show's been too much for me to recap. Everything is so heartbreaking and emotional I just don't have the strength. But here are a couple cute, sweet moments.
Danielle and Stefania's tweets have also been making Thursday nights a little easier.
Wynonna Earp
I don't understand the plot, but Wayhaught is as cute as ever.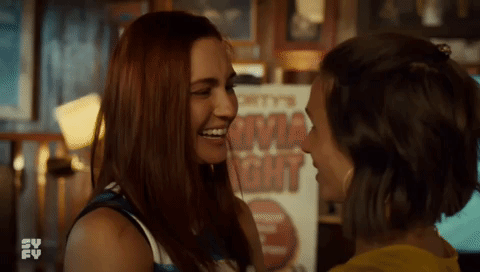 Shameless
Debbie has gone so off the rails I don't even want to talk about it.
Batwoman
Last night when Twitter blew up over the big reveal of Wallis Day playing Kate Kane take two, I was like "huh?" We just got through a whole episode where everyone was like, "Kate's dead for real." Did I miss something? I went back and watched and I guess this 10 second clip is a huge reveal.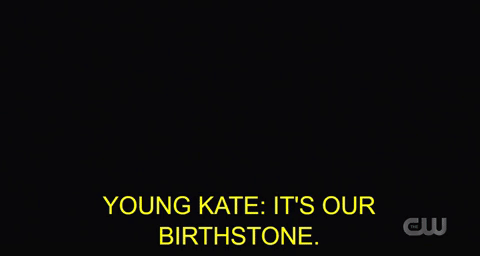 Sticking the necklace in my face should have been enough to tell me that's Kate with a bandage on her head, but I missed it. Anyway — cool! I wanted Kate to come back as a different actor, so I'm happy. I really hope they stay true to her character and keep her gender non-conforming.
The Great North – Season 1 Episode 6 "Pride & Prejudance Adventure" [Catch Up]

My family loves Bob's Burgers and Central Park, so when The Great North (created by the same folks) started airing, we were excited. I think the other two shows are better, but I still like it and watch it every week.

This episode was about the Thomas Wintersbone Memorial Ladies' Choice Dance and Judy's plan to ask Crispin, the Smoothie Boss boy at the mall, to go with her. Judy explained the history of the dance to imaginary Alanis Morissette who she talks to regularly from the roof of her house. Thomas was a teacher in the 1800s who fell in love with Ruby, the school groundskeeper. When he asked her father for her hand in marriage, he said no because he was worried about his "indoor disposition." Thomas set out to prove his toughness by surviving outdoors for a year (the show takes place in Alaska) and if he made it they will get married. He didn't make it and died in the snow.

The entire story was coded is a hilariously gay way.

When Judy went to ask Crispin to the dance it's obvious he is more interested in her gay brother Ham.

Leading up to the dance, Judy, Ham and Crispin hang out and Judy can't see the super cute gay connection being made right in front of her face. Ham doesn't want to hurt his sister so he keeps it to himself for the most part and doesn't stop Judy from taking Crispin to the dance.

At the event, Ham and Crispin dance together while Judy is in the bathroom and she walks out to find them kissing. It's so cute, but also sad of course because Judy is devastated. Ham tells Crispin he doesn't want to hurt her sister and walks away.

In the hall Judy is crying and has an imaginary conversation with Thomas Wintersbone himself. He tells her the real story behind his and Ruby's relationship.

After that Judy gave Ham her blessing to be with Crispin.

Oh my goodness that was the sweetest gay rom-com wrapped into one episode of an animated show! I loved everything about it, especially Ham staying loyal to his sister and Judy coming around at the end.

We now say "I was a lesbian for men" at our house all the time.
This week: What is going to happen to Gotham when there are TWO Batwomen? I'm excited to find out.