On the heals of a lot of backend work, we've now got a pair of new features you'll see on show and actor pages. That's right! These features are for you, the wonderful readers, to help you visualize the data in new ways.
Actor Statistics
This was a long-term itch to scratch for me. The stats section of the site has a lot of data, but at the end of the day what a lot of people want is a quick way to see how 'well' their actor is doing rep-wise. I have a lot of one-off asks for this, and I've been fiddling with it for a while. Finally I bit the bullet.
Here's our friend Ali Liebert and her nine characters: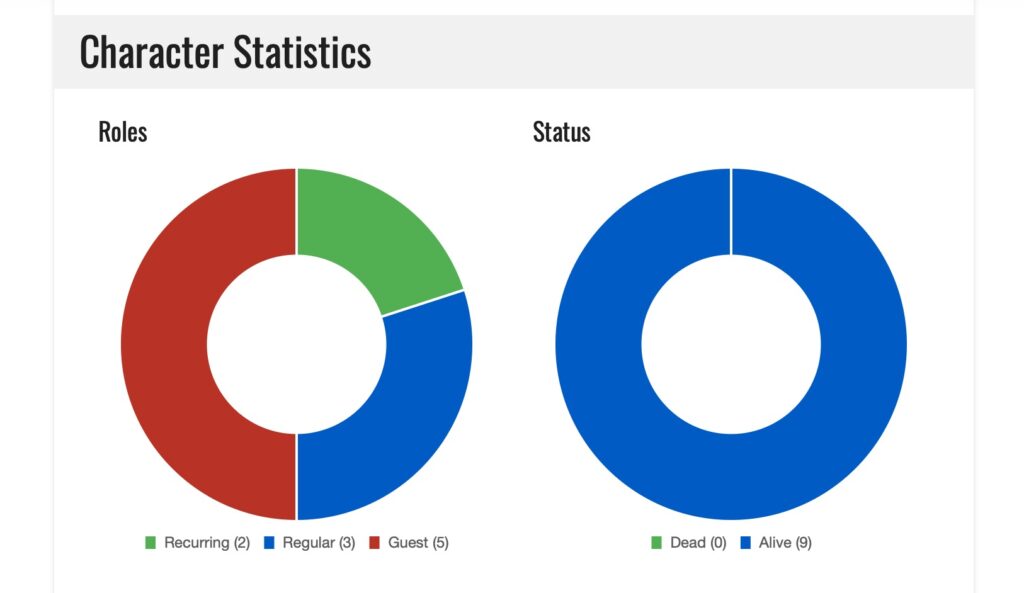 As you can see, she has more guests than anything.
Also if you're thinking "Mika, she's played NINE and I can count 3 + 2 + 5 is TEN."
Yes, she did. But she played nine characters on ten shows (the Bomb Girls movie we never speak about). I mean, come on, Caity Lotz? She's only played one character in our DB (Sara Lance) and has FIVE separate show appearances. I'll probably have to update that for a footnote on everyone's pages "X characters on Y shows"…
Show Scores Expanded
We've had show scores for a long time. But one of the issues with it is that seeing our calculated score isn't the same as seeing knowing how other places have reviewed it. It's great to know that we love Legends of Tomorrow, but what about everyone else?
Enter the multiple scores!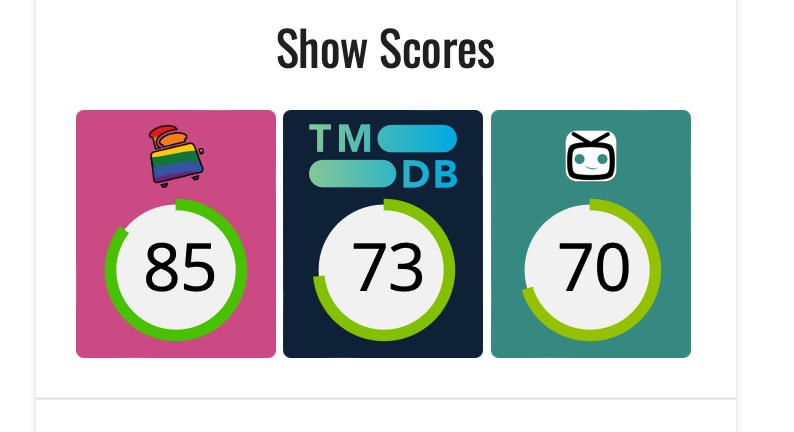 We really like it! TMDB mostly, and TV Maze a little less. But that's pretty cool to see the comparison.
Those two sources were chosen simply because I have access to their APIs. I've applied for access to a couple others, but as we wait, I thought I could actually show them where we're going. Sadly don't get any hopes up of the IMDB API, that costs $50k a year.
This is being rolled out slowly and will have tweaks along the way.
Recommendations? Requests?
Are there front-facing features you'd like to see? Something big or small you think would help the site? Even if it's something like "This should be smaller/larger." We can't promise to do everything, but sometimes a person's simple ask of "It would be nice if I could visualize the score…" has interesting outcomes.
On the list is 'hide the recent death to not spoil people' but it's proving complex with regards to accessibility. Don't want to spoil one subset of people just because they use a screen reader, right?