As a lesbian fan I have trust issues
When it comes to the shows and characters I love I always have my guard up. I keep my expectations set to low at all times and I'm perpetually ready for a show to get cancelled or a stray bullet to take out a character.
However, while real life in the US may be a complete shit show, 2017 TV is bringing a strange, unfamiliar feeling: optimism. I find myself relaxing, letting go of perpetual worry and enjoying shows.
As of this post, no queer female characters have died in 2017. And there are multiple shows on the air with main queer characters who get screentime and decent story arcs.
I'm afraid to jinx it, but I think things may be getting better.
Here are the shows getting me to let my guard down.
The Good Fight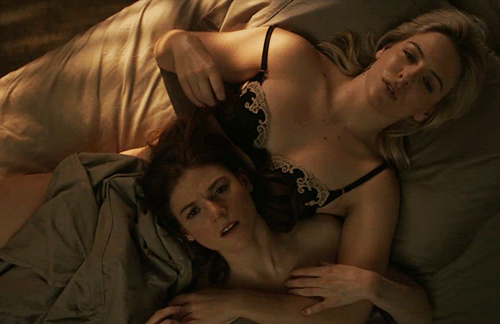 The Good Wife is one of my favorite shows of all time. It's one of the few shows I needed to watch live with undivided attention. When I heard there was going to be a spinoff show with a main lesbian character I was pretty excited, but cautious. They did a bad job with Kalinda by giving her character the fade away. Also, the show was going to be streaming only on CBS All Access.
So far the show has exceeded my expectations. It's just as well written and shot as the Good Wife. And Maia (brand new lawyer and Diane Lockhart's goddaughter) and her girlfriend Amy (assistant state attorney) exist equally among the other characters. There's no queerbait, no sensationalism and no big gay reveal. And the fact that it's on a streaming platform gives the writers more creative freedom than a network show.
I really hope it survives the platform. I am going to follow my wife's advice and just enjoy these 10 episodes for now.
One Day at a Time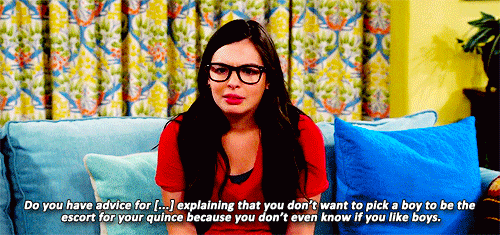 I watched the original One Day at a Time when I was a kid and this Netflix reboot with a Cuban family is really great. The show somehow pulls off having a laugh track and making you cry at the same time. It tackles serious issues like PTSD and dealing with the VA (the mom, Penelope Alvarez, played by Justina Machado from Six Feet under is a military veteran) and does them justice where other network sitcoms fall short.
The daughter Elena Alvarez (played by Isabella Gomez) has a coming out arc that is really well done. It's sweet, funny and not 100% happiness and rainbows like is often the case in real life.
It has not been officially renewed yet, but the word from Netfilx is:
To the best of our knowledge, Netflix has yet to publish a show that hasn't gone past a first initial season, at least in the same category as this.
Fingers crossed it gets a second season, because I really want to see where they go with Elena's character.
Orphan Black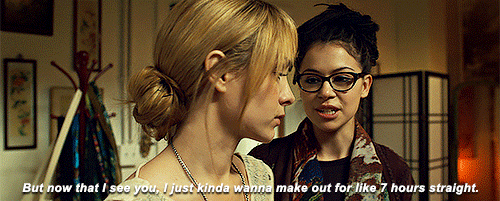 I love love love Orphan Black and the fact that the final season is coming out this Summer makes me so sad. I am having difficulty coming to terms with never seeing Tatiana Maslany play these characters ever again after this season ends.
She does such an amazing job of playing multiple characters I honestly forget it's the same person every time I watch it. And I find Cosima to be such an authentic lesbian character, she could totally be one of my gay nerd friends.
We'll see what happens in this last season. My big hope is Cosima gets a season where she is not perpetually sick and weak. Orphan Black's final season starts June 10, 2017.
Sense8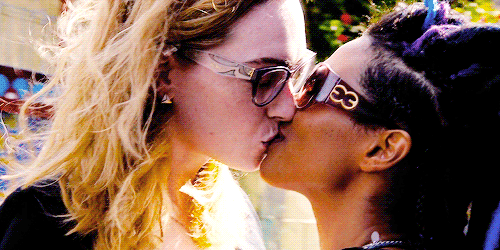 Sense8 is a beautiful show in so many ways — the concept, the way it's shot, the fact that it's filmed on location all over the world and the characters. I love Nomi and Amanita who are definitely the healthiest and most loving couple on the show. Jamie Clayton and Freema Agyeman have great chemistry and their characters will do anything to protect each other.
Truth be told, I have a big crush on Nomi. I <3 queer computer geeks. My hopes are high that Nomi and Amanita will not get killed off, because the show was co-created by the Wachowskis and shows with queer creators are less likely to have dead queer characters (unless your name is Ilene Chaiken). I'm looking forward to season two coming out on May 5, 2017.
Supergirl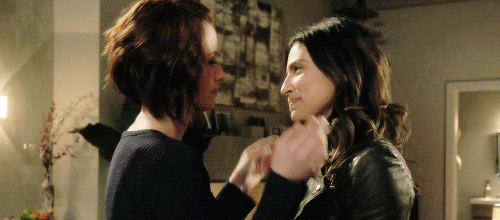 I've watched a lot of queers on TV, and in my opinion, Alex Danvers' coming out and subsequent relationship with Maggie Sawyer on Supergirl is the best in television history. The writing is so good. It really gets to the heart of what it can be like to come out, to yourself, your friends, family and co-workers. And all of this happens on a show with superheros fighting aliens.
Supergirl is delivering a queer relationship story to an audience that is starved for positive representation. I am not exaggerating when I say this show will save lives, if it hasn't already. Another great thing is actors Chyler Leigh and Floriana Lima show so much support for their queer fans and they ship #Sanvers hard on social media. All of this matters when it comes to improving how LGBT folks are represented on TV.
Alex and Maggie are also a ridiculously cute and kick-ass couple. Let's hope we get many more seasons with these crime-fighting girlfriends.
Wynonna Earp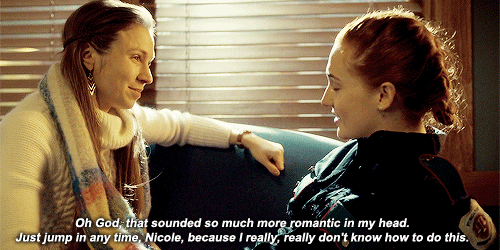 I have to be honest, Wynonna Earp is a little on the corny side for me (sorry!) and I have a hard time paying attention to the demon battling. However, like I did with Lost Girl, I mostly follow the relationship drama and that part is fun.
Wynonna's little sister, Waverly, gets into an entertaining, slow burn relationship with local cop, Nicole Haught. At one point Nicole gets shot and she is wearing a bullet proof vest. I feel like this was a message to queer fans: we'll protect our queer female characters.
The show was created by Emily Andras who was the showrunner for Lost Girl, one of the few shows in TV history to let a same-sex couple have a happy ending. She is also totally aware of the Bury Your Gays Trope and strives to do right by LGBT fans.
She promises to have more Wayhaught in season two:
The relationship is just cooking, and there's so much ground left to cover with those two. I think Dominique and Kat are so exceptional on screen that we all just want more.
There's no release date for season 2 yet, but it's expected to start some time in 2017.