The Woman Behind Doc McStuffins
Chris Nee is the Peabody and Emmy winning Creator and Executive Producer of Doc McStuffins (recent winner of the NAACP Image Award for "Outstanding Children's Program") and the Executive Producer of the new Disney Junior series, Vampirina. She is also one of my friends, and we are both parents in two-mom households.
When my kid was starting to watch TV, I was worried about the extreme heteronormativity of children's programming. If she only saw opposite sex parents on TV, would she be getting the message there was something wrong with her family? My kid is now 11 and watching Modern Family and other "grown-up" shows, but I was still waiting for someone to put a kid with two moms or two dads on an animated show for younger kids.
My girl Chris got it done.
I was so happy Chris was able to have an episode of Doc McStuffins with a two-mom couple, Edie and Thea (also a wonderful tribute to Edie Windsor and Thea Spyer). I wanted to learn the behind-the-scenes story of getting this episode made from idea to air.
Luckily, Chris was generous in allowing me to interview her about the episode and what it means to her personally.
The Interview
What was the motivating factor behind having a two-mom episode?
A basic tenant of the show is that we want to make sure every kid has a chance to see their lives represented on screen. As part of a two-mom family, I knew that my son rarely, if-ever, gets to see a family like his in popular entertainment.
Was self-representation important for you in this episode?
Sure. I wanted to make that kids like my own have a chance to see their families as a part of the greater fabric of our country, which is real life. And at some point it was hard to explain why we hadn't done it. Our show is known for representing all kinds of people… and toys! We've done over 240 stories, and it was time for one of those stories to represent same-sex families.
When did you have the idea to have an episode with a two-mom couple?
The episode is, of course, not at all about a same-sex family. It's a story about having an Emergency Plan. And over the years we've been working on Doc, the need for families to have emergency plans has come up over and over. Hurricane Sandy really made it so clear, and of course I live in Southern California, so we have a whole subculture of talking about what to do in the BIG ONE. So, I've wanted to do that episode for a really long time. Then, as we came into season 3, and DOMA was overturned, it seemed like a clear moment to say my marriage is legal and there's no reason for it not to be represented. Since an emergency plan episode would focus on a family, it seemed like a perfect combination.
How long did it take from pitch to production?
Not long. No longer than any other episode.
Was this pitched any differently from your other episodes?
Yes. It was a big deal for Disney. It was a new step. So I went to the head of Disney Junior, and it had to be approved. But once in, they were in. Disney's statement about it says it all. They want to reflect families that exist in our country, and around the world. We're a part of that.
Was there any pushback from the production company to make changes?
No. And really, if you watch the episode, it's not about the family. It's about having an emergency plan.
How bad was the backlash?
It was certainly intense for me. Million Moms came specifically after me, and so did many of the other alt-right outlets. But, we also had so much support, and that outweighed anything else. Seeing families react to seeing themselves on screen brought us all to tears. Disney was really happy and as moved and proud as I was for what we'd done.
Will we see Edie and Thea again?
We see them in the background of other episodes, so we know they're a part of the fabric of McStuffinsville, but when you cast celebrities it limits how you bring them in for small 'keep 'em alive' moments. While I'm working with Wanda on another series and could get her to do her voice, Portia was all in for the episode, but not someone we'd ask to come back in for a line or two. So, it's certainly possible, but less likely. But that has nothing to do with the content. The same can be said for characters like Gus who is played by Ludacris. We love the character, but we can't just bring him back whenever we want. I have made sure Edie and Thea are visually represented so we know they are there.
Because Vampirna is about celebrating differences, will we see any LGBT representation on that show?
Honestly, I don't know. The whole show is about making kids who feel different when they're young know that they are just as amazing as every other kid. I think that applies to all kinds of kids, and teaches us important things about all kinds of families. And Disney has other shows for LGBT kids to watch, like the amazing Andi Mack.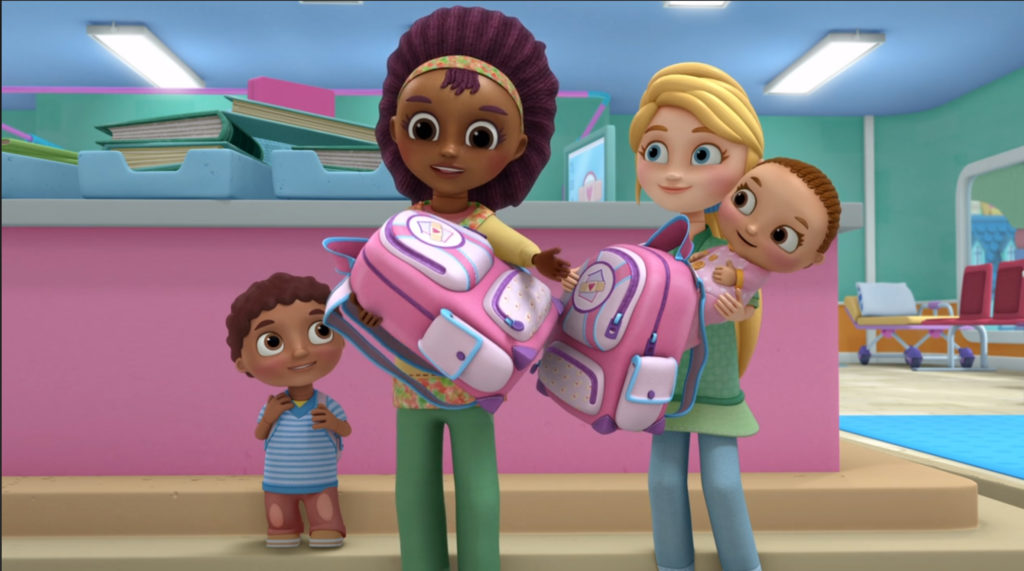 Thank you, Chris, for taking time out of your busy schedule to talk to LezWatch. Catch both Doc McStuffins and Vampirna on Disney Junior.