Briana on playing her first out queer character on Good Trouble
If you're like me, you've probably been a fan of out actor Briana Venskus since Supergirl or Agents of Shield. While we love her on those shows where her characters give off queer vibes, they are not confirmed to be other than straight. That changed when she joined Good Trouble playing Meera, Sumi's girlfriend and fiancé.
At ClexaCon last weekend, I was fortunate to have an interview with Briana Venskus and asked her what it was like to play her first queer character on TV and about Meera's future on the show.
---
The Interview
Tracy: Was Good Trouble your first role as an out queer person on TV?
Briana: It's the first one where it's blatant.
T: How did that feel for you? How did you feel finally getting to play that role?
B: It was great. Honestly, on Agents of Shield, they joke at it a lot and make hints of it. Which I think is hilarious, because I'm not fully developed in the sense where they would ever incorporate romantic interests yet. But if they ever did, it would obviously be a woman. It's great. It's nice to not just have it insinuated for once.
T: Beyond not insinuated.
B: Yeah, in an actual relationship and that's just what it is. It's great. It just blows my mind, it's like any other relationship on TV, except it's two women. And it's the first time it's ever happened to me in 12 years of acting in actual TV shows. It takes time. But other shows I'm on I play to that type. They clearly like an essence of it and a look and a style. They're like, "Oh, this is a good direction and we know what it represents, but we're just not going to talk about it."
T: They'll telegraph it to us.
B: Completely. They'll feel seen without actually being spoken to. Which is kind of fucked up, but unfortunately in this country it's baby steps.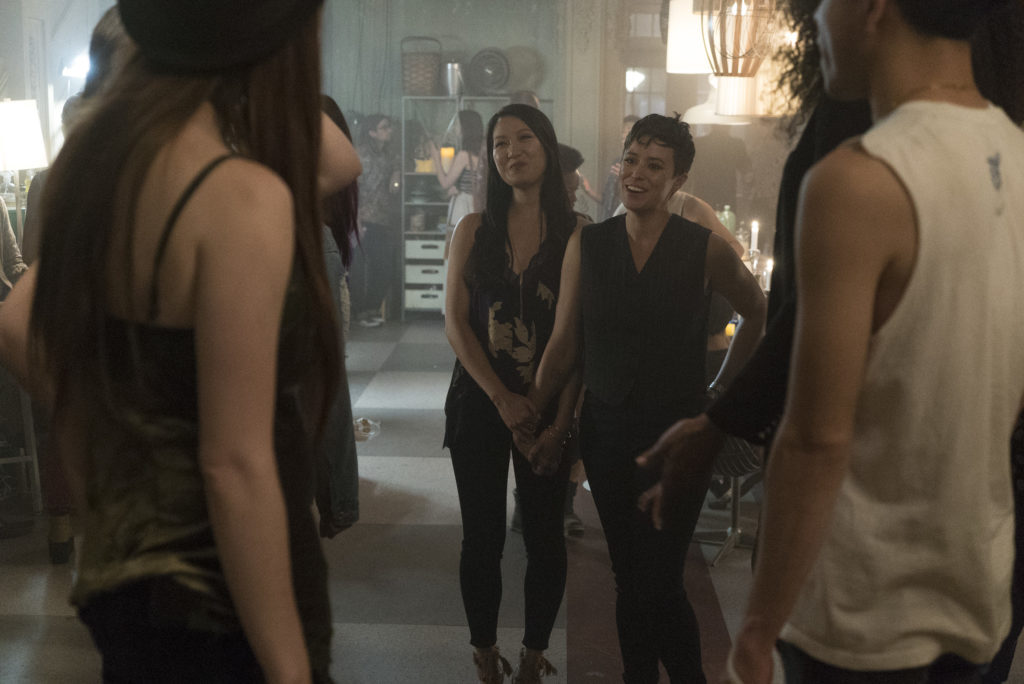 T: I have to say as a fan, when I saw you were Sumi's love interest I was psyched. Like, "Finally. Yes!"
B: I know, right?
T: It's nice to see you in this different role of comedy/drama vs. shooting guns, which is also fun.
B: Tell me about it. When I auditioned for it Scott was the casting director. He is just the sweetest guy in the world. I just went in, and he said, "I can just tell you've been waiting for a role like this." I was like, "Yeah, just putting my life on screen; I've been waiting for it." It's really fun.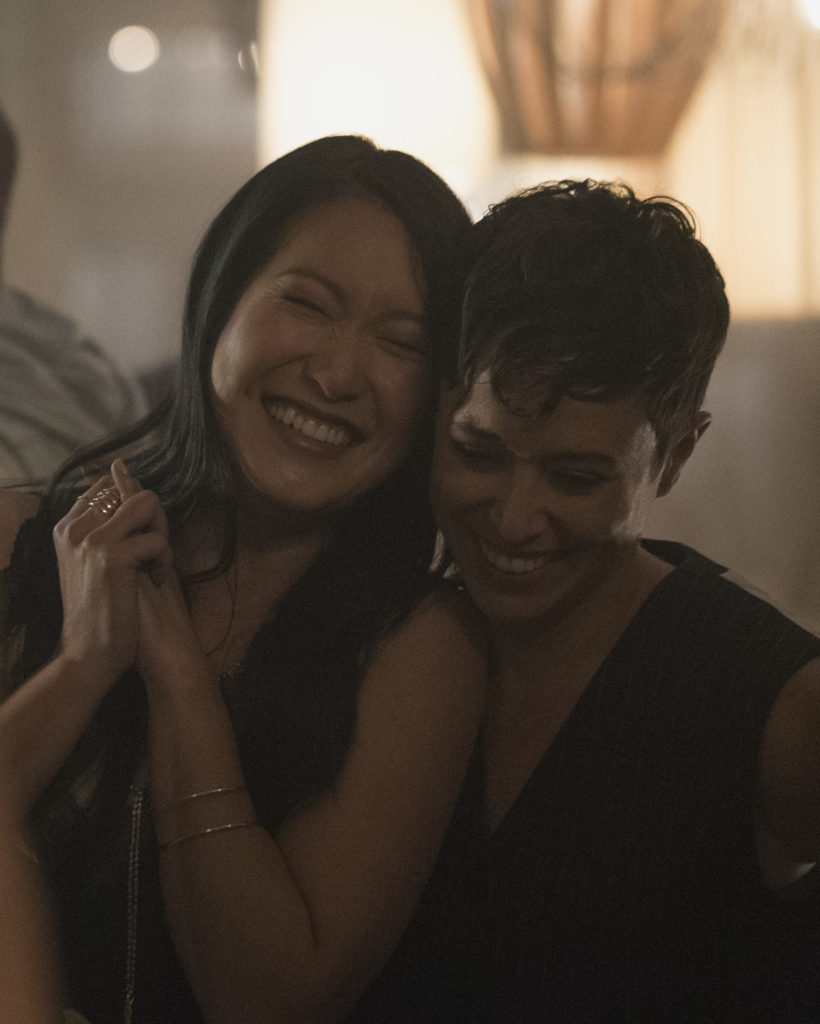 T: So, next season, will we see Meera again?
B: I sure hope so.
T: Me too.
B: Every time I see the writers they're like, "See you around. We'll see you soon." So I'm hoping. I can't imagine they're going to get away from that story line. It was such a closer of last season. And Sumi's such an obnoxious brat.
T: She is a piece of work.
B: She is the worst. I'm just supposed to be so madly in love with her, just like, "This is the greatest person I've ever met, I love her so much." Then I was like God, she's a terrible human being. There is no redeeming quality about her what so ever.
T: She is the literal worst.
B: The actual worst. Love is blind, they say.
T: Did you watch The Fosters?
B: I did. I loved it. Peter Paige and Joanna Johnson… they're such groundbreaking producers in what they do, especially on Freeform or ABC Family at the time. For it to be a Disney property and ABC…ABC has always been in the forefront. They have Grey's Anatomy and the lesbian relationship on there, and they kind of dabbled in that over the years. But I think for them to take the reigns on Freeform being so progressive, like with Bold Type and now this show, they're really making content that actually speaks to the generation that's in the world right now.
T: Absolutely, I think Good Trouble is such a good show.
B: It's bananas. You read the description and think, "How many things are they going to talk about in one episode?"
T: I don't know if you noticed, but the episode the moms guest on had six queer women plus Gael and his boyfriend, so that's eight queer characters in one episode. It's phenomenal.
B: And the best part was their sexual identity wasn't even questioned. It wasn't about, "that person must be gay," it's just life. It's just six queer people living their lives.
T: Everybody's plot was different, too. Everybody had authentic stories going on.
B: I was very lucky to have been a part of it. I'm really excited for the Alice story line to move forward. Sherri does such a good job with that character. I've read a couple interviews about representation of first generation immigrants in America and how it is to be in America and be an immigrant or a child of an immigrant and come out. And it's such a story line you don't see on TV. Honesty, I think it's one of the first ones.
T: I have an Asian immigrant mom, so I identified a lot with the things that were said. They were very realistic.
B: It's cool, it's one of those shows where I think it's only going to do good. It's great. I'm glad to have been a part of it for sure.
---
You can watch season one of Good Trouble on the Freeform website or Hulu. Season two is scheduled to premiere on Tuesday June 18.