A little over three years ago, we began our intersectionality project here. The goal was direct and to the point. We wanted to make a way to highlight (and reward) television shows that provided positive intersectionality, as a means to illustrate the qualitative growth of representation on television. That is, we wanted to help people find content on television that showed multiple aspects of themselves in a positive light.
In 2018, we completed the backend work and added content for all on-air US based shows, which allowed us to include the data in show scores. Last year, after an enlightening panel on Disability Representation in Media, I spent more time looking into our stats and making sure we had things marked as best we could.
In light of the world today (and a prod by Nikki to finish), I've looped back to see what the result of the data are, and I can honestly say I'm disappointed.
Statistics
While I've added in a new sub-page for intersectionality to our statistics on shows page, it doesn't give you the full picture.

You see, that graph is for all shows, total, in every nation. To narrow the pie for you just a bit, let's get at a smaller slice and look at just the United States.
The United States alone makes up 59% of all television shows we have listed on this site, with 874 shows. If we remove all webseries, there have been 662 shows from the United States with queer characters of any sort. Of those, 208 are on air (or were on air for the 2019-2020 season).
Only 42 of all those shows have some kind of positive intersectionality.
Under 20% of all US based shows on air today have positive intersectionality. Only 34 shows have no death. 32 have no trigger warnings, which brings the number down to 14.9%. And of those 32, here's the breakdown:
| Intersectionality Topic | Shows |
| --- | --- |
| BIPOC Centric | 14 |
| Interracial Relationships | 13 |
| Diverse Cast | 11 |
| Gender Presentation | 5 |
| Immigrants | 2 |
| Religion | 2 |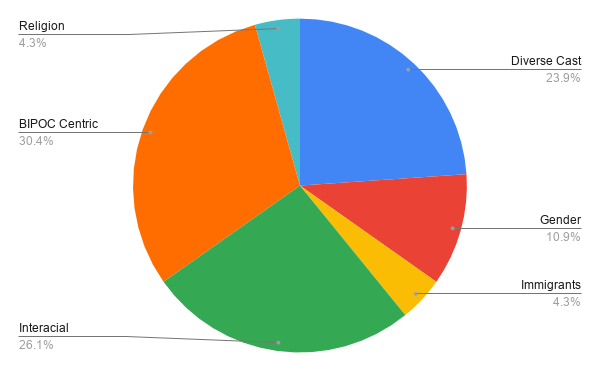 20-15%
That's it. Twenty to fifteen percent of all US based shows on air today have positive, intersectional, representation.
Two are cop shows (both with queers being cops) and neither have killed off any queers:
Brooklyn 99 – being a comedy, it doesn't delve too deep into death and it's unlikely they'll kill off Rosa or any of her various girlfriends
FBI: Most Wanted – frankly I'm waiting for this one to kill off the queer cop's partner
Still. That's 20% at best of shows in the US, and that in no way, shape or form represents the world we live in and the people we see.
I do need to point out that this doesn't mean we're not seeing Queer BIPOC on other shows. These numbers mean we aren't seeing positive representation from them. Law & Order (pick one, all of them are listed here) is never listed as a show with positive representation, even though they actually have a BIPOC police chief in Law & Order: LA.
The Hope
There should be no surprise when Shonaland shows top this list, though perhaps ironically it's not for Grey's Anatomy, which has only one rule for casting.
"Shonda's only rule is drug dealers and pimps cannot be black," said Dr. Zoanne Clack, a black writer for the show who also practices medicine. Even the episodic roles — a gay African-American, a young Hispanic couple — are multicultural.

'Grey's Anatomy' Goes Colorblind – 08 May 2005 by Matthew Fogel, The New York Times
The problem faced by Grey's is that their queer female characters have been predominantly white. An exception to this is of course Sara Ramierez's Callie Torres, and it is in fact her marriage (as rocky as it was) to Arizona that gives them a positive flag for interracial relationships. Of course, the marriage was pretty much the pits near the end, with cheating and divorce, but the end 'grand gesture' with Arizona heading off to NYC to be with Callie keeps the flag in play.
The term 'colorblind' is never actually used in the article, which tracks with how the shows produced by Shondaland are made. That is to say, they cast people on their shows without skin color being a factor. Even the indomitable Christina Yang was created without a last name. That was only conferred on the character after Sandra Oh tried out for the part.
The other bright spot is that the total number of intersections is higher than the number of shows. This is due to shows like One Day at a Time which have multiple intersections. It's a good sign to have 1.5 intersections per show that has one. Of course two per show would be better.
And finally, the best news is this number is climbing. More shows are showing a reflection of the world we live in, and this is only good. The shows that represent us are the shows that address our world and make us feel seen, and those are the shows we should be watching.