Whaaat? The third time?
This is one of the benefits of living in Orange County, California. Sure, it's right wing as hell and there are a passel of crazies nearby, but it's also about 75 minutes from Culver City, which is where One Day at a Time tapes. And since the cast and crew of the show are some of the most honestly incredibly nice people I've ever met, it's easy to go up and catch a taping. On August 22nd, we did just that.
We're Star Adjacent (Again)
Just like last time, we pulled up to the gate and the guard recognized us. She was the same as last time and laughed with us when we joked how they always recognized me and not my wife. This was the second (and last time this season) we had VIP passes. Those are different because you don't have to wear a wrist band and stick with the crowd. Instead, once you get your passes, you're free to walk around the whole lot.
We were early so we sat by the commissary and hung out, people watched, and chatted about what we guessed the episodes would be like. Then around 4ish, we wandered over to the set, where we bumped into Todd Grinnell (Schnieder) who had brought a whole lot of his staff from This Bar Saves Lives. Did you know that was his project!? Me neither!
When it was time to be let into the seats, we ran into our crew-member friend, who hugged us and we chatted about Hamilton a little (we're all going, just different days). But then we heard "Hey, ladies!" and turned around to see Isabella Gomez (Elena, yeah, I know you know). She not only remembered us but came over to hug us hello.
This Is It (Again)
Just like the previous tapings, it started with the MC explaining what our job was (to laugh and react), and then a quick intro of what the show is about. We watched the video, which was clips of season 1, and then 'what's important from previous episodes in this season.' No spoilers, as always, but I will say that one of those moments from the second season, and not an episode we'd seen filmed, made me laugh so hard I wheezed.
Then it was time for the episode! They film the scenes mostly in order, and it was a lot of fun watching this episode. The director was different from the other episodes (which is normal) and she had a very different style than anyone else I've seen. The episode still felt like the show, but the taping had a different beat. I find it absolutely fascinating to see how the myriad directors do this in a show that ends up being the same show that has the same vibe, but a different rhythm.
The Stage (Again)
The friend of ours who works on the show invited us down to the stage after, and unlike last time, it was right away. That meant much of the cast was still hanging around. We helped them (and others) get photos with the cast, before chatting with Isabella a little and she is absolutely a sweet darling. Then we got to talk to Mike Royce again, who has become one of the people I quite admire in his unflinching honest and self-reflection. He's really a good human, and the world needs more of those.
Speaking of good humans, Todd Grinnell introduced himself too us (how humble is it for one of a show's lead actors to say "Hi, I'm Todd" as if we didn't know?) and said he was sure he'd seen us before. We told him we'd been to a couple episodes before, and then I told him that the first one we'd seen, it was his moment that made me laugh so hard I hurt my throat. Being able to tell an actor to their face that their comedic timing was hilarious is a gift I was glad to give him.
Another good thing was to be able to tell Marcel Ruiz (Alex) how much we admired his growth as an actor. Also his height, because the boy is tall now! He too came up to say hello, having recognized us as repeat visitors.
Goodbyes (Again)
Before we left, we said goodbye to Mike and I asked him if he minded a photo with us. Isabella heard this and insisted it happen, taking my phone for the shot. My wife said it should be in the kitchen, and Isabella said "By the toaster!" Which I ended up holding for the photo. Definitely one of the sillier but fun moments for us!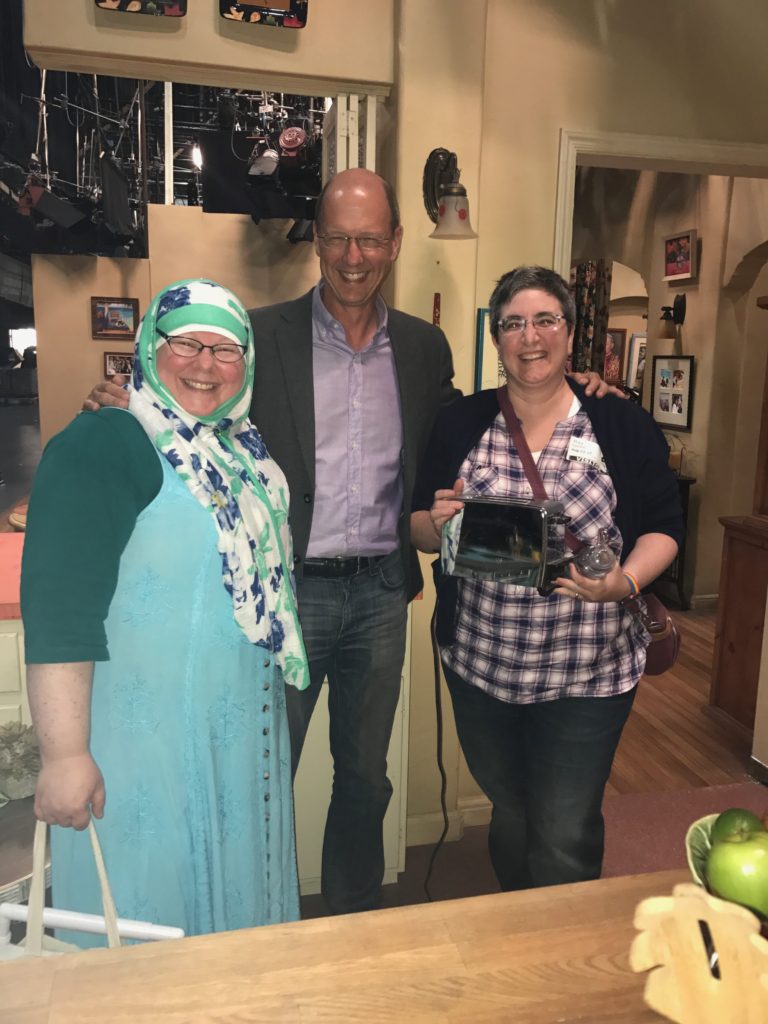 Yes the reflection in the toaster is Isabella.
As we were on the way out, Mike mentioned that he was going back to talk to some women from ClexaCon. I do regret not doubling back to say hello to them, but it was inching on 11pm and I don't actual have a TARDIS yet. Maybe next time? ClexaCon ladies! If you're going back to the show, ping me and maybe we can all team up? A big gay collection!
There Will Be One More Again (We Hope!)
The glory of the VIP passes are not forever. Alas, there were none left for the finale, however Audiences Unlimited was so absolutely gracious to us and got us their Priority admission tickets. Those do not guarantee admission, and we know it, so fingers crossed that we get to see the finale!
I remain eternally thankful for everyone on One Day at a Time for getting us connected to get those tickets. I am super thankful to my employers who not only host this site but give me a reasonable amount of time off to be able to enjoy such things. With only one episode left to go (for us at least) I hope that Netflix sees how awesome and fun and important this show is, and gives them season three.