On November 3rd, 2018, the very first ClexaCon London event will occur, and LezWatch.TV will be there to cover it.
What is ClexaCon?
I used to joke that you'd have to be living under a rock not to know about this, but the reality is that there's so much news, it's easy to miss.
ClexaCon is the largest multi-fandom event for LGBTQ women and allies. There have been two ClexaCon events in the US and there's one planned for 2019 (all in Las Vegas). It's like Comic Con, only for queer women and the things they love and cherish. TV, movies, books, you name it, it's there, represented and enjoyed.
This new European edition will be a more intimate event for the attendees, raising awareness about the differences in creative spaces and support for LGBTQ women in the UK in comparison to the US. All with the goal of inspiring more LGBTQ women to create more content.
What's it like?
Part of it will be like any convention, with people showing their art off and selling amazing things. A larger part is going to be the panels. There will be fandom panels like the UK Wynonna Earp one, as well as content creation panels, acting panels, academic panels, workshops, yoga, and more.
There will be meet & greets with the stars, photo opportunities, autographs, and workshops.
Who will be there?
I know that's really what you want to know. Okay, here's the current (as of today) confirmed lists.
Talent: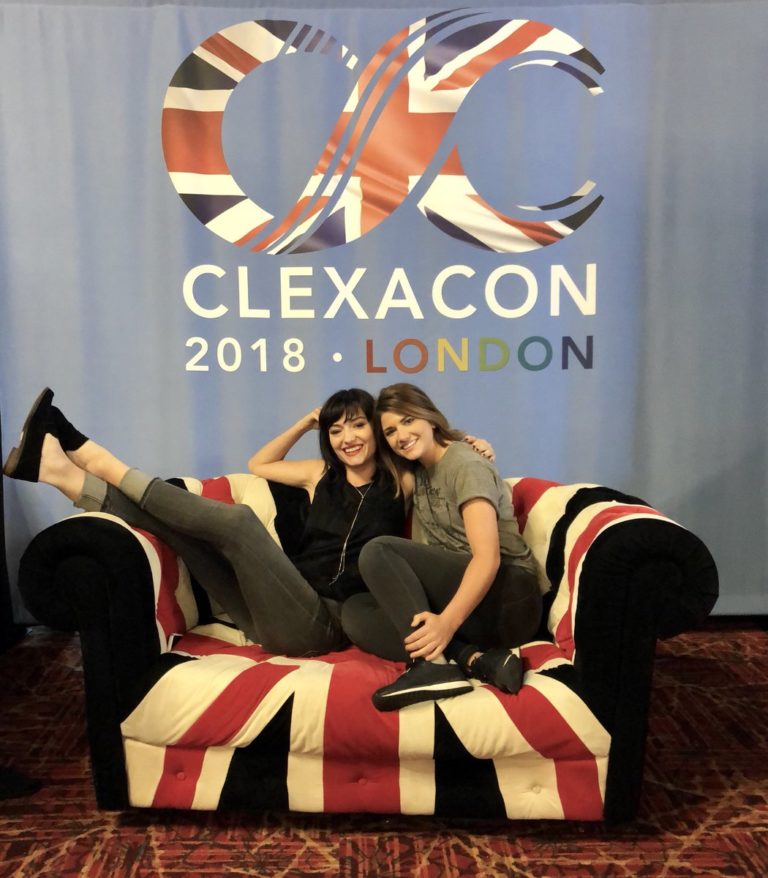 Industry Reps:
Christin Baker (Producer, Director, tello films)
Shamim Sarif (Writer & Director, I Can't Think Straight, The World Unseen)
Hanan Kattan (Producer, I Can't Think Straight, The World Unseen)
Dana Piccoli (Writer, Moderator, Podcaster)
Jess Harris-DiStefano (writer, producer, and currently the Head of Creative Programming at YouTube Space LA)
Caroline Mitchell (writer, Emmerdale)
Debbie Moon (Creator, writer, Wolfblood)
Delyth Scudamore (TV Development Executive, script editor on EastEnders)
More are expected to be added as time goes on, so keep an eye out.
Should I go?
If you're in London already, a two day ticket is only $150 USD. I would absolutely go. Especially if you can't get the funds to fly over to ClexaCon Las Vegas.
VIP tickets are already sold out. While many people claimed that a VIP pass is the only way to go with the larger Las Vegas event, this smaller venue should mean a bit less of a line-con for London.
Whether you are a fangirl, a creator, an activist, or all of the above, ClexaCon offers something for everyone.

Holly Winebarger
I'll be there for ClexaCon London, and I hope to see you too!
Press Release
CLEXACON, 
THE LARGEST LGBTQ MULTI-FANDOM CONVENTION IN THE WORLD, IS COMING TO LONDON!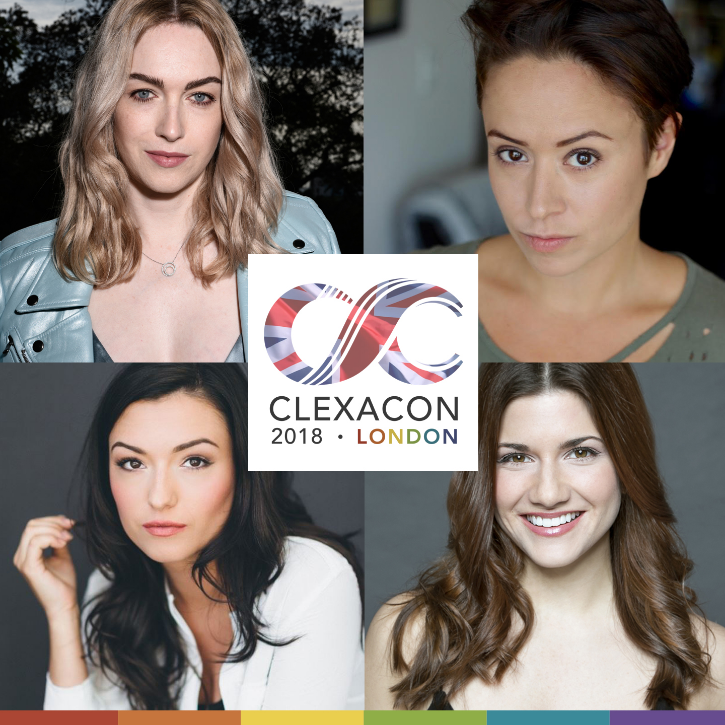 Putting Queer Women's Stories and Voices
on the Big and Small Screen Front and Center
LAS VEGAS, NV – ClexaCon, the largest multi-fandom event for LGBTQ women & allies, is going across the pond this Fall for the first time ever kicking off ClexaCon London.
Building from the massive success of ClexaCon, which has taken place in Las Vegas, NV for the past two years, the European edition will bring together in London the best in queer television, movies, books, blogs and more.
The highly anticipated pop-up event will take place at the Novotel London West (Hammersmith International Ctre,1 Shortlands, Hammersmith, London W6 8DR) November 3-4, 2018.
The London chapter, while a smaller, more intimate version of the main event held annually in Las Vegas that hosts 4,000+ LGBTQ women and allies, represents a key geographical expansion for the iconic Con.  Focusing on a more curated experience for its European attendees, ClexaCon London is committed to raising awareness about the differences in creative spaces and support for LGBTQ women in the UK in comparison to the US to inspire more LGBTQ women to create more content.
LGBTQ+ representation matters now more than ever. While there seems to be an overwhelming move towards diversity with LGBTQ-centric narratives and characters popping up in movies these past few years, still major studios are remaining behind when it comes to fully embracing a culture of inclusion. 
In fact, GLAADS's annual Studio Responsibility Index (SRI) recently noted a drop in the representation of LGBTQ people in films in the past year.
By allowing the LGBTQ+ community to tell their stories on the small and big screen, we not only allow viewers to have a more accurate view of society, but as well give LGBTQ+ individuals the chance to see themselves as integrated members of said society and showcase the universality of our lived experiences.
Sure, many Cons claim to be different, innovative and disruptive in some ways, but ClexaCon not only talks the talk but walks the walk, genuinely pushing the envelope forward for female LGBTQ+ representation in front of and behind the camera.
Ashley Arnold, Danielle Jablonski, and Holly Winebarger, the masterminds behind ClexaCon, are actively working to shift conventional thinking by continuing to advance the conversation about female representation in the film & TV world.
"We hope attendees leave ClexaCon London feeling empowered. We want them to know this industry, like all industries, is in desperate need of more diverse voices, "said Danielle Jablonski. 
"Their voice matters. Pick up a camera, grab a pen, start writing, start creating because there are other people who care about what you have to say," added Ashley Arnold.
High on the agenda at the UK Con is the urgent need to listen to LGBTQ+ voices to create more diverse content and to put queer female stories front and center.
To that end, ClexaCon London will feature a packed agenda of panels, meet and greets, photographs, and workshops from an elite community of LGBTQ gamechangers, industry tastemakers, media influencers and actors.
Aside from fan panels (including UK Wynonna Earp Fan panel), the event will also offer content creation panels, acting panels as well as academic panels.
Discussing the future of diversity, inclusivity and intersectionality in entertainment the panels will be covering a wide range of timely and trending topics from women's voices ("Placing ourselves in the narrative: Queer Women and Fanfiction") to non-binary & gender conforming people representation ("I have a Que(e)ry: where non-binary and gender non-conforming people fit within gendered, queer spaces), among others.
In addition, the organizers have added a London Tour on Friday, renting a bus and filling it with as many LGBTQ woman as possible.
Much like its US counterpart, ClexaCon London will gather under one roof the stars behind a slew of unique and original queer-centric narratives and LGBTQ-themed programs.
Celebrating the illustrious female individuals who make the entertainment industry's progressive and prolific LGBTQ community so powerful and diverse, ClexaCon London's Celebrity roster includes Elise Bauman (Camilla, Almost Adults), Natasha Negovanlis (Camilla, Almost Adults), Briana Venskus (Supergirl, The Walking Dead), Jamie Clayton (Sense8), Mandahla Rose (Forever Not Maybe, All About E), Hanan Kattan, Shamim Sarif, Annie Briggs (Carmilla, Clairevoyant), Sheetal Sheth (I Can't Think Straight, The World Unseen), among many others.
"Whether you are a fangirl, a creator, an activist, or all of the above, ClexaCon offers something for everyone," said Holly Winebarger.
Dedicated to lead the push for diversity, equality and inclusion of LGBTQ+ women in entertainment, ClexaCon London brings Europe's diverse community of queer women together, providing a safe space and a valuable platform to amplify their voices and celebrate their many cultural identities. An empowering experience both professionally and personally.
For more information go to: https://clexa-con.com/london/
Talent Confirmed
Jamie Clayton (Sense8)
Natasha Negovanlis (Carmilla, Clairevoyant)
Elise Bauman (Carmilla, Almost Adults)
Annie Briggs (Carmilla, Clairevoyant)
Sheetal Sheth (I Can't Think Straight, The World Unseen)
Briana Venskus (Supergirl, The Walking Dead, Agents of Shield)
Mandahla Rose (Forever Not Maybe, All About E)
Industry Reps Confirmed
Christin Baker (Producer, Director, tello films)
Shamim Sarif (Writer & Director, I Can't Think Straight, The World Unseen)
Hanan Kattan (Producer, I Can't Think Straight, The World Unseen)
Dana Piccoli (Writer, Moderator, Podcaster)
Jess Harris-DiStefano (writer, producer, and currently the Head of Creative Programming at YouTube Space LA)
Caroline Mitchell (writer, Emmerdale)
Debbie Moon (Creator, writer, Wolfblood)
Delyth Scudamore (TV Development Executive, script editor on EastEnders)