Tonight brings us to The Bold Type season two finale, with the girls going to Paris for fashion week. But dresses and swag aren't the only baggage they'll bring along, as many of their struggles will be coming to a head.
A Sense of Self
The underlying theme of the second season of The Bold Type has been about finding our places. Jane spent the first half of the season trying to find herself after leaving Scarlet, Sutton has to find who she is in her new role in the fashion department, and Kat is the first black (queer) department head. At the same time, Jaqueline, the boss we all wish we had, is fighting for her place in a changing Scarlet after turning down a seat on the Board.
But it's also been about finding a place in love, at least for our main trio. Jane has found a boyfriend in hunky doctor Ben, while fending off the peculiar attention of the persistent Pinstripe. Sutton slept around until realizing she still loved Richard, only to find out it was too late and he'd moved on. And our baby queer, Kat, was experiencing lesbian life at full throttle, even though it perhaps wasn't the best for her relationship.
Kat has also been coming into her own as all the things she is. Accepting herself as a biracial queer woman has been a rocky road. Just as hard, she's been trying to find her place in a new position, and experiencing disagreeing with her boss for the first time. All this while navigating her first serious relationship, let alone with a woman.
An Open Relationship
Relatively early into their romance, Kat and Adena decided to try an open relationship. They established fairly simple rules, and Kat quickly jumped into a world where women sent her snapchats of their vaginas. But as swiftly as Kat dove into this experience, she realized it wasn't for her. She didn't want to be with anyone else but Adena.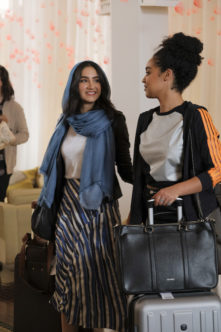 As Tracy noted in her Queerest Things recap, Adena seemed positive about this change, but also a little distant. Kat began to question Adena's sincerity, and more her commitment. Was Adena cheating on her? Or was she really going to the studio to work?
Interestingly, other than the time Adena worked at the Scarlet photoshoot, we haven't seen her at work or any of her finished products. In fact, we've barely seen her working except in reference to her artist's retreat.
Lurking behind this is the situation with Adena's Visa. While we've already seen commercials and promo pictures with Adena in Paris, I have to wonder… How? If Adena's in the process of waiting for her Visa, leaving the country and coming back (as an out and proud muslim lesbian) won't be easy.
Watch The Bold Type Tonight
Some of these questions will be answered tonight, and some will leave you wondering what's next. Will Jane pick Ben or Pinstripe? Will Sutton find success or will that $500 charge for cocaine come back to haunt her? Will Kat and Adena figure out what's actually going on? Will Jaqueline take on the Board?
While you're waiting, check out the sneak peek of Sutton's first time in Paris.