While we haven't (yet) been able to add her to our database, Mandahla Rose is one of the brightest and most authentic queer actresses out there. From openly sharing her story with others to genuinely caring about everyone she meets, Mandahla is the kind of actress who embodies every role she takes on and is the person you'd love to have a cup of coffee and chat with by the pool. She was also on our short-list for Batwoman.
We had the opportunity to talk with her at ClexaCon in 2019.
---
LezWatch.TV: How have you seen the representation of LGBTQ content on television change in the last few years?
Mandahla Rose: I feel as though it's changed greatly. I think I mentioned it in [ClexaCon] London that I've been in a number of projects and the high majority of them are queer. I just finished wrapping another short that is 9 — have you heard of Los Angeles? It's nine short films that are written and directed by fifteen female filmmakers and I'm in one of those. Since I've been here [in the US], I got here three years ago, the roles that I keep getting offered are all queer, and they're all with female filmmakers, mostly. In my experience from Australia to here, it is changing vastly and it's really exciting because I feel as like we're starting to make a difference, starting to get out there, starting to have people see us and recognize us.
LezWatch.TV: Do you worry that you're going to be stereotyped in the US?
Mandahla: I don't care. I really don't care because I'm getting work and I'm doing what I love. I am bringing stories to life that matter because it represents who we are as individuals. If I get stereotyped, then that's some white man's decision, and I don't need to work with that. I will get the work that I need.
LezWatch.TV: The acceptance of being an openly queer actor, how is it different here as it is to Australia?
Mandahla: I didn't have a problem with being out straightaway. As soon as I realized who I was, I didn't think my sexuality would at all— it shouldn't alter my work. I've never been a person to hide who I am. Working in Australia and working here— Looking at my career here, I'm just working a lot more and they happen to be queer roles. But it I was working in Australia, I'd still be seeking it out. I don't know what that film world is like right now, or where the queer world is at in the film world of Australia.
LezWatch.TV: Most queer actors have played at least one straight character. What's your experience been?
Mandahla: I have a film coming up, [For the Love of Jessee], which is a straight film, and a friend of mine who's in it said "You play straight better than the actual straight lead actor." And I was like "Sweet!"
LezWatch.TV: How does it feel playing a straight character?
Mandahla: I was able to watch it a couple weeks ago. We went to Wickenberg, which is where we shot it in the desert in Arizona. It's a very white, Trump supporting community out there, and I was the only person of colour. The only queer one I feel, except for two lesbians who were in the front. They actually ran up to me and they're all "Hi! We recognize you're one of us!" But how does it feel to play… it felt strange. I saw myself perving at this topless guy going "Mmmm yum." And I'm like, "I believe what she's saying!" That's great, though, because that's not me, that's Sage. That's whoever I am in some parallel universe. How does it feel to play straight … it's fun. Because it's challenging, because it's not who I am anymore. But it's still an acting job.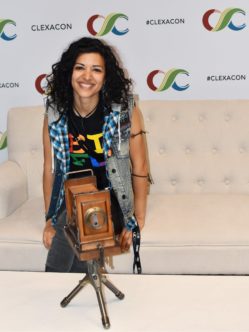 LezWatch.TV: We were talking yesterday, about the difference between comedy and drama. You've just branched out into doing comedy with BIFL, and with Passage you said. What has changed in your acting style when you start embracing more of the comedic roles?
Mandahla: A lot more doubt. I remember doing Passage and we had this day where I am Diana, completely a dork, a real geek nerd, and I'm falling for this girl and stumbling over myself and my luggage. I remember walking away that day, after I had wrapped and thinking I don't know if I'm in the right career, I don't know if this feels good, I don't know what that was about. Because it's something new that I'm not used to. You put me in something dark and serious and drama, and I'm there and I'm super invested and I will bring everything. Comedy? I want to do the same thing, but it's unknown territory. Have you heard of Butch Pal for the Straight Gal?
It's the lesbian Queer Eye. And I've just been cast in that as Sam, the interior designer. We had a two hour improv and it's comedy and it's so much fun. I walked away from it thinking "Comedy is fun!" and having this actual play with people and improv is fun. I'm looking forward to getting more into comedy to be able to open my craft more.
LezWatch.TV: You mentioned that you're a superhero fan. You were on our personal short list for people we'd like to see play Batwoman. Do you have an iconic superhero role that you'd like to take on and be that person?
Mandahla: I auditioned for Batwoman and I was so sure I was going to get it. I love superhero. I would love to play a hero, but I would love to play a villain. To play someone really dark. Like Killing Eve, a beautiful dark serial killer. Like "Kill me, please." I would love to play something that is a little more dark, maybe vigilante, like a vampire that's gone rogue but kills other vampires. Something that's dark but kind of — I'm a Slytherin. I want the fun dark stuff. Have a play with that, because it is fun.
LezWatch.TV: You've got three projects premiering here at ClexaCon. Do you want to talk about those and tell us?
Mandahla: Absolutely. So today we've have Alice & Iza screening. It is Guinevere Turner and I. I worked with Guinevere a couple of times. It's wonderful to work with such an inspiring actress, and just to see her in her craft. We happen to have really wonderful chemistry, so playing with her and bringing Alice & Iza to life is wonderful. Guinevere plays Alice, and it's her 1 year divorce-aversary and she goes to lesbian brunch, cause that's what we do. Just to celebrate with her friends, but she doesn't want to be there. I'm Iza and I'm standing there and we happen to meet and go home together. It's about that connection and a one-night-stand and what just happens if you let something happen. That's premiering today. I haven't actually seen it on the big screen yet, so I'm really looking forward to that.
Tonight is the shorts, it opens with Passage, directed by Christine Baker and written by Hillary Esquina. That one's a sci-fi queer — I like to use the word queer for those who don't want to be recognized as lesbian — it's a queer sci-fi comedy/drama. Nicole Pacent is in it as well, Shannan Leigh Reeve. I play Agent Diana Atwell. She's the tech to Agent Ali Prader's tact. Tactical, technical. Agent Ali Prader is a level three Caelus agent. She can integrate with and see all paranormal entities. It's a huge world, and I'm excited to bring it to life. I think it will be really be really lovely to have sci-fi, queer, stories out there.
BIFL. I play Sarah, they/them/they're. Ace lesbian. I keep wanting to say it's the queer friends. There are four friends, in a house. We don't know everyone's sexuality. We want to get as much representation out there as possible. It's a comedy with a — a drama with a lot of comedy, rather. And we get to see the first three episodes of them tonight, and the first two episodes of Passage tonight as well.
LezWatch.TV: What do you think makes for a successful queer project in today's media?
Mandahla: As an actor, one of the things that's most important to me, especially if it's between two lovers — two people who meet and have a connection, chemistry is so important. If you believe it on screen, then I feel as though the story is going to be so much better and more wholesome because of it. When I first got on to the BIFL project, I remember reading that Daren Taylor is going to be the director. And I assumed he was a straight, white, man. So when I went to this coffee shop, instinctually my wall went up and I was all "Who is this straight white male who thinks he can direct a queer show?" So already I had this question going in there, "What do you think that you can bring to this that someone else who actually is in the community can't?" And Daren walked in, and he's this beautiful black man and I was just … we're going to be fine. I think another key element in making something that is going to be successful is trying to incorporate as many woman, as many PoC, as many queer cast and crew as well. It's a different set. It really is. I've worked on sets that are mainly male but recently I've been so lucky, so privileged to work on sets that are predominantly women and you only see one or two guys. And I was all "Cool, I do not feel threatened. I know who they are, I feel safe and I feel comfortable." Unfortunately in this day and age we don't realize, because it has been drilled into us so much, that to feel comfortable around a guy feels normal. So when you suddenly feel safe, it's so much more noticeable that it's a safe space. So I think chemistry and having predominantly women and PoC and queer, especially if it's a queer story, which is what we're talking about, then that is also a key ingredient. And people who believe in the story as well, not just the business side of it, but believe this is going to make a better world as well.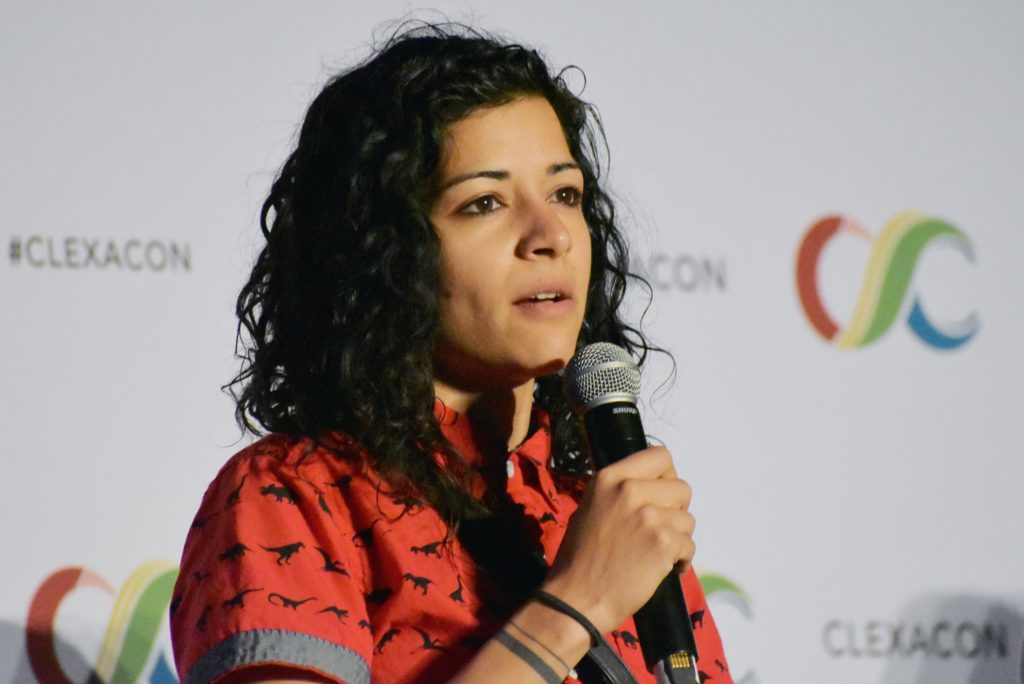 LezWatch.TV: You mentioned feeling safer doing productions with all women. When you've done productions with men, do you think that it holds you back as an actor, to be able to express your full range?
Mandahla: Yes. Which is why it's really important to me that if I am working with a male, that I want to be able to actually spend the time to get to know them and feel safe with them. I want to feel comfortable to be able to ask the questions that I need to ask. Like if there's nudity or there's a sex scene, why is that important to the story? And if he can't answer that in a way I feel is relevant to the story, then already my questioning of my safety is a bit more fractured. Working with someone like Daren that would ally, it is important in our community to have straight people that are allies. Straight white males that are allies, because we feel safer. I've had the privilege of working with makes, like For the Love of Jessee is David MacAbee, and he feels like a big brother. It's the same with Daren, he feels like someone who can encircle me and I feel safe. It's very few and far between that I find men that I feel safe and can trust. I feel more able as an actor to get to where I need to be with a female director than I would on my own. I can get there, just takes a little more work on my end.
LezWatch.TV: What are your feelings about the importance of queer representation for children and young adult television?
Mandahla: Oh my gosh, super important. Because that's when we learn who we are and become who we are. If, at that age, we don't have that positive representation, then how are we going to know what's right in the world? If all we're being told is straight, this is how it should be, the patriarchy is this way, women should be treated like shit, no. If children have that positive representation in any way, if people know that love is love is love is love is love, and it is from an early age, then our world could completely change. You get those young people to know that equality is everything, then they take that into the world and they spread that and then they have kids and they teach that? It's this whole, wonderful, iceberg of equality and love. It's super important. Especially as well, if you think about it, our memories and who we are doesn't just start as a teenager or when we're eight or even when we're six. It starts in the womb. If you're hearing that love is love is love in the womb, then you're going to start your life with "love is love is love is love." It's important. Very important.
---
You can catch Mandahla in no less than three upcoming series: BIFL, Passage, and Butch Pal for the Straight Gal.