In the LGBT community, we commonly say as a tagline that representation matters. In fact, it more than matters: for some people, representation may mean life. According to the United States' National Alliance on Mental Illness, queer teens are six times more likely to experience symptoms of depression than their heterosexual peers and four times more likely to attempt suicide. According to a 2016 Centers for Disease Control study, a staggering 32.8% of queer girls attempt suicide. According to researchers at the University of Arizona, queer teens cope best with stress related to their sexual orientation by connecting with other queer individuals. Rather than trying to run from their sexuality or muddle through, they do best by embracing it and finding their community.
Finding that community teaches teens—and adults, too—that they're not alone in their sexual orientation and provides them a social support network to cope with depression and feelings of ostracism. In several ways, LBGT representation on TV and in movies helps foster this feeling of community and safety: it provides role models, suggests possible positive futures, and encourages interpersonal connections online through fandoms. It also exposes heterosexual viewers, who may include family and friends, to gay rights issues on the road to more inclusivity.
Thus for many young LGBT individuals, representation means hope. It means a validation of their identity and the suggestion that their lives can be filled with more than discrimination and familial rejection. In places where they might not see another openly queer individual, the LGBT characters they see on screen represent a tangible connection with the global LGBT community.
In another article, I discussed the sleeping giant that is the Latin American market for LGBT content in TV and film. With over 400 million Spanish speakers worldwide (more native speakers than native English speakers, in fact), there are a potential 12 million Spanish-speaking queer female viewers, not including speakers of other languages watching with subtitles.
The hunger within the queer female community for representation on Spanish-language TV is clear: in the last five or so years, any lesbian couple on Spanish-language TV has taken off like a wildfire on social media platforms, garnering massive international followings. Indeed, the viewership for Spanish-speaking lesbian TV couples has often dwarfed traditional Anglo TV pairings.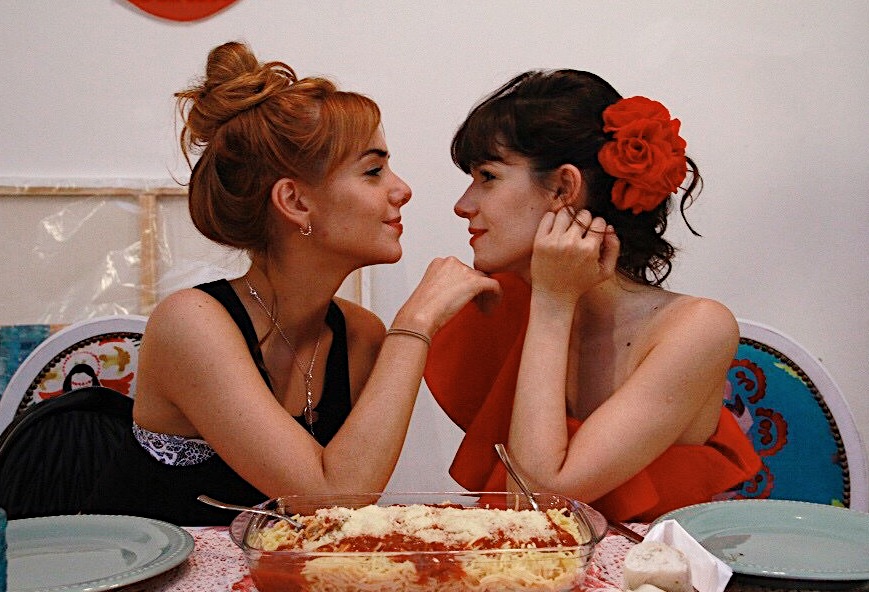 The two most viewed YouTube videos for Argentina's "Flozmin" (Florencia and Jazmín from the telenovela "Las Estrellas"), for example, have 12 and 10 million views, respectively, while Julia and Mariana from Mexico's telenovela "Las Aparicio" have 12 and 9.9 million views. For context, these Spanish-language TV pairings are averaging three to five times more YouTube views than most of their English-language TV counterparts.
Much of the future growth of global LGBT representation on TV and in film could easily come from the Spanish-speaking world, but it will take a conscious shift on the part of content producers in those areas and a commitment to greater diversity and inclusivity. Presently, queer female representation on Spanish-language TV—at least from this American's perspective—feels very similar to American TV 17 years ago: numerical representation is extremely poor, with lesbian couples only shown sporadically.
Physical intimacy between queer couples varies tremendously, from a peck on the lips to a modest roll beneath the sheets. But there's hope: the exuberant popularity of most same-sex TV pairings in the last few years may prompt studios to add more couples in the future to capitalize on these pre-existing fandoms. The question is: will Spanish-language TV follow a similar pattern to English-language TV and begin introducing more LGBT representation, or will it continue to marginalize and ignore these pivotal storylines?
Enter "Juliantina," the portmanteau of Juliana and Valentina from "Amar a Muerte" ("Love to Death"), a telenovela that recently finished airing in the US and Mexico on Univision and Las Estrellas, respectively. Juliantina is the first lesbian pairing on a Mexican telenovela from a major network that aired nationally during a popular hour. Juliantina offered LGBT Spanish-language TV viewers two almost totally unique things: 1) a depiction of two Spanish speaking teenage girls in a same-sex relationship, and 2) a happy queer ending.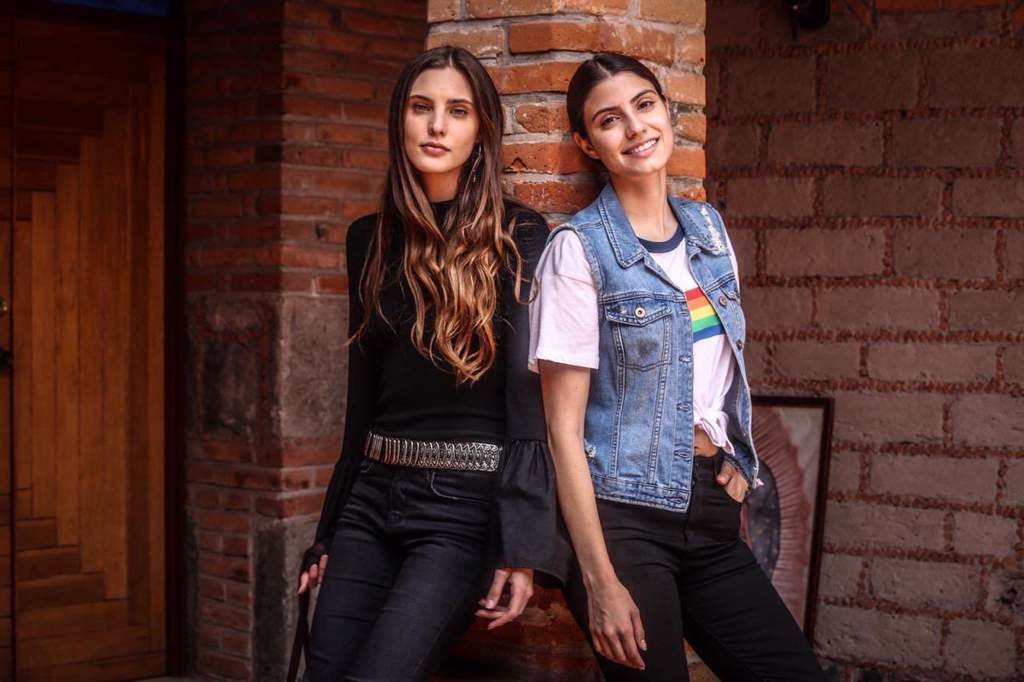 Juliantina is a queer storyline success story: Juliantina has a massive online following (including a petition for a spin-off with well over 55,000 signatures and counting), and Juliantina fans helped garner the show the most TVyNovelas Awards (the Mexican equivalent of the Emmys) wins of any telenovela in history (14 wins of 15 nominations, including for both actresses involved in the pairing: Macarena Achagaand Bárbara López). If Juliantina was a test balloon for teenage LGBT representation on Mexican television, it flew high and proud.
The success of Juliantina, however, also underscores a massive deficiency in LGBT Spanish-language TV programming: based on LezWatch.TV's database, which we totally admit is not 100% accurate and is certainly missing some shows, we were only able to conclusively identify three other Spanish language TV shows in the history of the world that included a female same-sex teenage relationship. These are Agusleria from Argentina's "Los Vecinos en Guerra" ("Neighbors at War," 2013), Menesis from the US' "Mi Familia Perfecta" ("My Perfect Family," 2018), and Crisana from Spain's "Skam España" ("Skam Spain", 2019). We only found one other queer teenager: Alma Núñez from Spain's"Física o Química" ("Physics or Chemistry," 2009-2011).
Let that sink in for a moment. The experiences of approximately 12 million people living in 20 countries have been represented on TV by—as far as we can tell—nine teenage characters (in three relationships) coming from four countries. All in the last decade.
It's 2019. Argentina, Colombia, Uruguay, Spain, and Mexico all allow gay marriage. Same-sex civil unions are performed in Chile and Ecuador, with a limited form of domestic partnership benefits in Costa Rica. Laws are slowly changing; it's time for societies to catch up. As argued in the opening paragraph of this article, representation is a major component in identity formation and community building, and it can save lives. The pronounced absence of queer visibility on Spanish-speaking TV—and the all but total absence of teenage queer characters—means that young adults are forced to turn to programming from the Anglo world, which doesn't fully represent their own experiences at home, for exposure to characters with their same sexual orientation. They deserve to see their own experiences represented on screen in their own language.
Of course, the problem of teenage representation is by no means limited to just the Spanish-speaking world. We guess off the top of our heads that of the 30 countries we have catalogued in our database, probably only 15 at best have ever aired even a single queer female teenager on TV. Massive swathes of the world, from Europe to Asia, Africa to Latin America, have zero examples of teenage LGBT characters. There are 195 countries in the world today; 8% representation is nowhere near enough. But progress in the Spanish-speaking world, which has already dipped a toe into the queer representation waters, is a good way to start.
How can Spanish-language TV shows improve their LGBT young adult representation? Juliantina, Menesis and to a slightly lesser extent Agusleria show the way. They feature relatable, sympathetic young characters coming to terms with their sexuality in a realistic, honest way while also dealing with the varied reactions of their friends and family. The shows use their queer storylines to educate parental figures about the need for acceptance, support, and unconditional love for their queer children.
Juliantina resonates so strongly with queer viewers right now because the attraction and love between the characters is palpable. They overcame the challenges around them to be together. Ultimately, they are exactly what the queer female community, young and old, needs: love it can believe in.
We hope Juliantina gets a spin-off, because if the Spanish-speaking world doesn't increase its LGBT representation immediately, it could be awhile until we see another couple like them.