Every year I like to sit and look at the numbers. How good are we doing on TV? Is representation improving or not? And over the years, I've come to learn a lot about the intertwining strands that make up representation. It's more than just "Are we getting more shows?" We have to look at how many we lose and how many we gain, and also how many are making it past a first season. Sure, total queer deaths matter a lot, but so does the whole show being shuttered.
2020 is a little weirder than most years, for reasons I'm sure you all know.
Literally as I was working on my quarterly review of all shows on-air (making sure they were still on air, updating characters on-air listings, etc), the news dropped that Stumptown was canceled. Our disaster bisexual was not the only show to get the boot (albeit one of the few to get it after renewal was announced). A number of bubble series that had ended 2019 looking 'okay' were suddenly canceled.
I actually started the night with 396 shows 'on air' in 2020 and ended with 376. 20 shows. And I know that doesn't look like a lot, but I do this check every 4 months. That means in the last four months we lost at least 20 shows.
Okay so let's talk about how and why this bloodbath played out.
COVID vs Productions
I'm going to start big here. COVID messed everything up. Properly, shows shut down filming in March to protect people like National Treasure, EGOT Rita Moreno. Many dramas, especially those with significant post-production work, were able to finish, but the same is not true of sitcoms which tap only a couple months in advance, at best. That's why we got a conclusion to Batwoman but we're still not sure where Elena's going to college on One Day at a Time.
This puts a number of shows in a precarious position. Normally it's considered gauche to leave a show in renewal limbo. Production companies and managers want to keep actors are to move on to the next gig, when their current one ends. Sometimes contracts are weird, like Mindhunter was put on 'indefinite hold' in January 2020 (before all this) but all the actors were released from their contracts. That effectively canceled the show, without having to say those words.
The mickey of it all is that there really aren't any new shows to go to right now. Movies are different, since they can lock things down and isolate the cast and crew. A TV show though films very differently than a movie, and it doesn't really lend itself to that, unless you want to make every TV show have a Very Special Big Brother season. And most actors would balk at that.
Some of us, myself included, had assumed this meant more bubble shows would just be pended until things were safe to film again. But as spring waned into summer, we started seeing a distressing trend.
You're renewed … Wait, no you're not!
It started with Netflix. Shows that had been greenlit for a new season were suddenly canceled. Take The Society, which dropped it's first season in May 2019. It was renewed by July, and was set to return to filming in March 2020. The show was originally put on hold until September 2020, but by August the show was canceled entirely.
In fact, a higher-than-normal level of Netflix shows were all getting the axe. Shows that had decent, but not stellar, first seasons were canceled, instead of letting them run another one.
When Stumptown, which had been renewed, was canceled on September 16th, a cold chill ran down my spine. ABC cited COVID and serious delays, which is legit. The show films in Portland, and it's unlikely that's going to be possible any time soon. And cancelling an expensive (lots of great actors there) show seems logical. Free up those actors to go do something else.
But where are they going to go?
Where does that leave us?
We already know that the number of shows on air with queer rep has been dropping since 2017. And representation itself is stagnating. The trend is continuing with a significant lack of new series, and a nearly dead even number of canceled:
Year
New
Shows
Canceled
Shows
Net
Gain/Loss
2020
95
91
+5
2019
122
138
-16
2018
146
164
-18
2017
134
133
-1
2016
128
97
+31
2015
115
87
+28
International metrics
But there's a scarier thought I had in the middle of the night.
How many US based shows in 2019 and 202 were canceled after one season? I excluded mini-series and web series from this, to get a better idea of how traditional linear media was doing.
Year
Total Shows
Canceled after
one season
2020
224
15
2019
248
20
Now, you may think that 20 and 15 isn't that bad. It's only around 7% of all shows. But that's just today. More shows are being canceled every day and there's no end in sight. Also that means 15% of all new shows don't make it more than a season, if that (NBC, I would still like to see the rest of the Abby's episodes).
Conclusion?
I feel like this: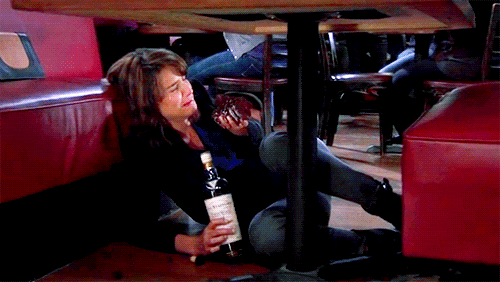 And not just because Stumptown was canceled.
This year, shows like Wynonna Earp, that got a late start thanks to IDW drama, and still had to shut down filming. One Day at a Time did a few episodes sans audience (I miss them so much y'all) and then an animated special but what happens now? Those 'bubble' shows that (IMO) don't deserve to be on the cusp are all at risk. It's not just COVID, but finances. How much do they have to pay people to wait for a safe time to film? Buildings are empty. And while it's not like they're going to be used, or that people have places to go to work,
My prediction? We're going to see more cancelations every week until there's a vaccine, and even then some shows (especially ones with kids) are not going to come back.