I was planning to do a quick summary of the 40 minute panel, but at the end of the day I have a lot of feelings y'all.
Okay. Let's be real. This off-season has been wild. It's IN-FORKING-SANE.
Just as we were getting settled and delighting in the success of the series, Ruby Rose left the show. Batwoman has been a success for the CW, but also for representation. Having a queer lead as a queer main character is (still) groundbreaking, and Batwoman is the only such show to get a second season since Ellen.
Yeah, I know.
But there were a lot more trials than just fighting the cultural homophobia in TV production. Getting to use Batman at all has been a crazy struggle. Long terms fans have heard about the Bat-Embargo, and it's no joke. Caroline Dries had been told over and over that she would not be able to use Batman at all, but somehow managed to bookend her season with the Bat himself.
Beyond just the trials of using Gotham, a world every fan seems to know, Batwoman tackles diversity and inclusion and family through a very queer lens. Mary and Kate are sisters by choice, and even the death of Mary's mother (and the evil that Kate's dad has become), they remain as such. The concepts of found family is nothing new to the queer community, as so many of us find ourselves bereft of the blood relations who won't accept who we are. Related to this is the collective fan love for Alice, someone who lost everything and now finds it's not going to be back the way she wanted it.
We also have the stuggles of Sophie, a bisexual black woman. It's hard enough to be a black woman in America, but to add in queerness? Even from the very first episode, we knew what Sophie sacrificed. How different will her world be now that she has chosen to take that risk and be openly queer to her family? What will the cost be for her?
Of course we also have to ask … how will that impact the new Batwoman, Ryan Wilder!?
Season Two
The second season has two big pillars. First of all, where the heck is Kate Kane? There's a comic called "Whatever happened to the Caped Crusader" and I'm expecting an episode title to riff on that. We're not going to know right away, either. All we know is that Kate isn't dead, but the characters don't know that for sure, and there will be a good part of the season devoted to them trying to figure all this out. They're going to have different theories about the disappearance and what it means.
And intertwined with that, we have Ryan Wilder. She's new to the world of DC and has a lot against her.
She's been a statistic for injustice since the moment she was born. The system was not made for this person. She will constantly battle against the system. All throughout, she's battled through it her whole life and she will continue to battle against it as Batwoman.

Caroline Dries
Ryan cares about the characters who are overlooked by the hospitals and the Crows, just like Mary does. She's a crusader for the overlooked community. Nicole Kang is excited for that, as it will tie her and Ryan closely.
Meanwhile, Sophie came out and is going to have a lot to deal with. Sophie has finally learned why it's so important to have Batwoman, and why Batwoman has to keep her identity secret.
Rachel Skarsten thinks Alice is going to be "peeved." I would have said 'pissed off' but clearly Rachel's more demure than I am. Regardless, Alice's lovely plans are all foiled and now her sister is just gone and yet there's still Batwoman!?
Without Kate actively around, the sister triangle with Mary-Alice-Kate will be flipped upside down. Will Mary and Alice go to war or become best friends? Who knows!
And of course Luke took forever to accept Bruce's cousin, and now he has to trust some random kid off the street? It's going to be hard for Luke, and he's going to be pushing back a lot more.
Some Fan questions
Including an interview with Javicia Leslie (which is at the end of this post), there were some fan questions.
As a Black trans woman, your casting of Javicia truly helped me feel seen. Honestly, this is a big win. My question is … Have you done any costume fittings yet?
Alas, they have not. They've done everything they can prepare, but COVID. That said, they've talked about how important it is for a Black Batwoman to become "… a sista when she becomes Batwoman," as Javicia put it. "More of a natural texture of hair and things like that." She's also been sending Caroline fan art she loves.
It's also important that they not hide what makes Ryan so awesome with the suit. Much like Kate came out as Batwoman, Javicia's Ryan will come out and come into her own both with the design of the suit and her actions.
How will the new character bond with the Kane family?
"I don't see the Kane family really liking Ryan," said Javicia. Which is legit. Commander Kane didn't like Batwoman before, and he's sure not going to like this street criminal/vigilate upstart version. Plus everyone's going to be missing Kate.
Caroline agreed, but had a slightly different take. "I think Ryan will, ironically, ultimately unite the Kane family, whether or not they realize it. There are all of these strands of connections that she brings to them that allows them to continue interacting and having changing dynamics."
What would everyone like to see happen with Sophie next season?
Rachel would like to see "A love story with Alice." Oh Rachel. We love you. Everyone on that cast clearly adores her too, and in their own way, their characters love Alice. Except maybe Mary.
Camrus Johnson (Luke) wants to see Sophie embody the Commissioner Gordon role. Have her rise to power and be helping protect this new, Black, Batwoman. And also take over Gotham.
Nicole Kang (Mary) wants them to be kiki-buddies, which Meagan Tandy also wants. She loved their banter, and would like to have that with the new Batwoman. Of course, Meagan also notes that she won't like Ryan (or the new Batwoman) at first. But Caroline noted that Ryan will help Sophie come out of her shell. So that will be interesting!
Introducing Javicia
We have finally gotten to see Javicia Leslie and y'all, she's as excited as I am!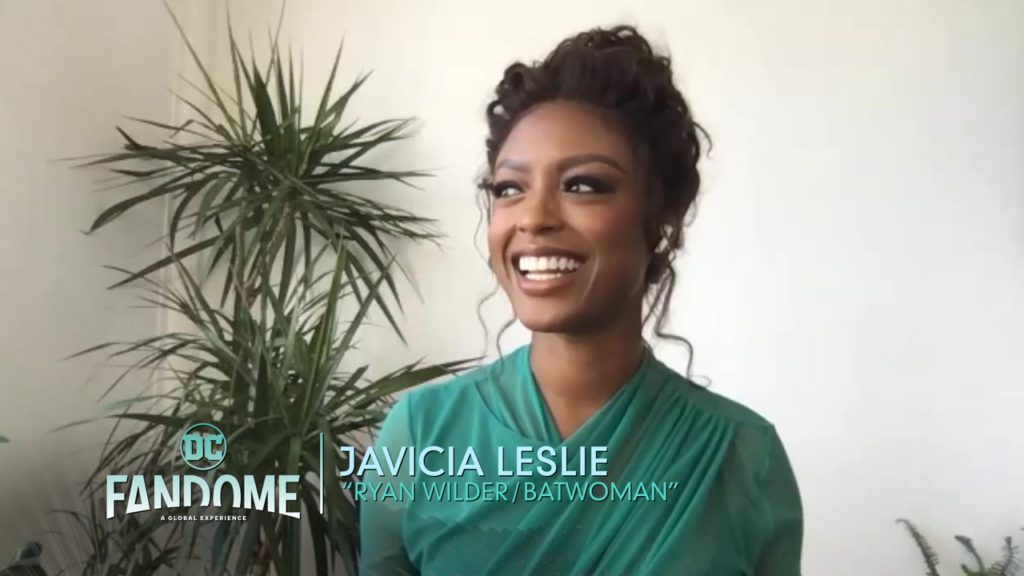 She found out she got the job when her agent called her up and asked to speak to Ryan Wilder. She identifies heavily with the hot mess she and Ryan are, and she's a sporty girl who loves cooking and plants.
Producer Caroline Dries said it felt like destiny, that Javicia was meant to be Ryan and they knew within 5 seconds of watching her audition that she was the one. Besides just embodying the ideal they had for Ryan, Javicia also sent in an 'athlete reel' showing off her physical chops for the job. "I told her, you had me at tire flip," said Dries. "She just brings everything: intellect, emotion, heart, athleticism. Everything you want in your hero"
---
Javicia Leslie: You know, when I read the character description, it was definitely me. I love the idea that she is goofy meets badass meets a person that doesn't like to be told what to do, a person that does not like to follow the rules. It's really hard for me, sometimes, when it comes to "You have to do it this way" as Javicia, versus what you have to do as an actress and you're trying to present yourself. I love the fact that Ryan is just who I am. A hot mess.
I'm really into action. This has literally been my dream. It's so funny because in May I did an interview and I said "One of my future goals and one of my biggest dreams is to be a superhero." I wanted to be a black superhero, you don't get to see those too often. And then a month later I become the first black Batwoman.
I think that really hits the nail on the head. It says to speak your dreams, speak your affirmations, and truly know that whatever you want to do and you continue to go towards it, it can happen.
I also just — I love that it's action. I love that I get to kick ass. I'm really into Muay Thai. I started Muay Thai like two years ago but then, when I had to go to New York for God Friended Me I just moved into kickboxing, because those classes are a lot easier. I was laying off all my stress into the bag instead of a person. Being able to do that every day on set is gonna be super dope.
Trish Bendix: And you know I'm curious, as a Black woman, as a bisexual woman who's stepping into this role, taking on an iconic character that we celebrate because she's a part of the LGBTQ community, but especially like you were mentioning, being a Black woman to take on a superhero role that has never … Batwoman has never been black before! How does that feel and what– you know, it seems like fans are so excited and they couldn't have been more thrilled to see that you were stepping into the role. I'm curious about what you've seen from other people and does that add any stress or just add to the excitement?
Javicia: No, no, no. Honestly, it feels like an honor. It's funny because I was looking at Instagram and I was just kind of scrolling through new followers and I saw all these rainbows in the bios. I just felt so … I felt like a representation. I felt like exactly what I always wanted to be, which was a role model.
I felt honoured. I feel excited. I feel like there are so many little Javicias that don't have voices, little Black girls that didn't have a voice, little bisexual, bicurious, lesbians, gay, everything that just didn't have voices! And I feel honoured to be able to be a voice for my community and the entirety of my community.
And then to play a character that represents my community in the same way? That's not a common thing as an actress, to be a part of a community and play a character of a community. It feels really powerful. With everything that's going on right now, this is what we need. We need to see representation.
I'm so thankful to Caroline [Dries], I'm so thankful to Sarah [Schechter], I'm so thankful to Greg Berlanti and everyone on the WB. This is what's needed. Not just for me — I'm looking at the entire cast of Batwoman and it is just representation. My mom and I are sitting in the living room and we're just watching the show just like "Oh my goodness!" You see characters of all different races and ethnicities. It's just not common and I'm really honoured to be a part of it.
So yeah I'm excited. I'm very excited, as you can tell.
Trish: No that's good because now we're going to let your new family loose on you and ask you a couple of questions and get to know you!
Javicia: Speaking of family, I'm so honoured to be a part, to join a family that is so welcoming. When I went on Instagram, Grant Gustin has me up on his Instagram. It's amazing.
Trish: Okay so who wants to start with Javicia, just to get to know her a little bit?
Camrus Johnson: Yo! We love you so much. You're just so nice!
Nicole Kang: Yeah!
Javicia: It's so cool because Brandon was like "You have Camrus on that show? He's gonna have your back." And I already knew Meagan [Tandy]. Nicole Kang, you have your picture.
Camrus: We were all family before you even joined, so it's like it really cements it now that you're here. My question is, because of your shirt and your plant, is your favorite color green?
Javicia: My favorite color is actually blue.
Camrus: That's my favorite color!
Meagan Tandy: Who was your biggest influence growing up?
Javicia: I am obsessed with Eartha Kitt. I'm obsessed with Nina Simone. I am obsessed with Kerry Washington. Obsessed with, of course, Reese Witherspoon. Just actresses that really transformed and then, not only did they transform, they ended up using their platform to take everything further. Not just themselves, but to create opportunity for others. One of my main reasons for being obsessed with Eartha Kitt and Nina Simone is because they use their art for activism. And i just think that that's so important. Those are like my huge influences.
Camrus: Do you do anything outside of acting? Is Muay Thai like your main hobby or do you write, do you sing?
Javicia: So … I tap.
Caroline Dries: So Batwoman's gonna need tap boots.
Nicole: We're gonna do a dance off!
Javicia: I'm obsessed with cooking. My plans for this summer was to start my online cooking show, which I don't think is gonna happen now. I'm an insane plant mom. [gestures behind her] This is Diana Ross. And inside of Diana Ross' pot is Tracy. [Turns the camera] This is Chaka, we have Jimi Hendrix, we have Huey P. Newton. Over there is Marvin Gaye, Cher.
Nicole: I'm obsessed! You and Rachel are a match made in heaven.
Camrus: You're gonna get along very well.
Javicia: I know Rachel's obsessed with dogs and I have my Yoda Budda over there somewhere [points off camera]. I'm a huge nature, plant fanatic.
Rachel Skarsten: What made you want to be an actress?
Javicia: Because I couldn't figure out what I wanted to do, I wanted to do everything in the world, I was just like "How about I play — how about I'm an actress and I can just play everything in the world?" I wanted to be a lawyer, I wanted to be a doctor, I wanted to be a professional cheerleader, I wanted to be a writer, and there were just so many things I wanted to do and I'm like — I'm a Gemini, there's no way I can just settle on one thing. So, why even chose to settle on one thing? Just be an actress and you can literally be anything you wanna be.
Sarah Schechter: Javicia, you had like a real job, too, before you started acting, didn't you? You were helping people.
Javicia: Yeah, I used to work for the Army, paying soldiers that were stop-lossed in Afghanistan. So I paid them for the time that their contract ended, to the time that they were able to come back home. I'm a military brat, so I have so much love for our soldiers.
Caroline: As a kid, did you have a superhero? A real life superhero that influenced you?
Javicia: She's in here now, my mama. My mom. [shouts off camera] Mom! She raised my brother and I, she's Army, she's done two tours in Iraq and .. she is super woman to me. Matter of fact, she's Batwoman. I call her Batmom.
Rachel: Okay but really importantly. Coffee or tea?
Javicia: Ooh. It's kind of both. It's coffee right now.
Rachel: You can't answer both! If you could only have one.
Javicia: I could only have one? So we're just gonna choose what I'm drinking right now, which is coffee.
---
Will I miss seeing a Jewish superhero? Yes. But it's not like they'd done anything with that yet (I was kind of looking forward to a very special Hanukah episode, I won't lie). Plus getting to see the world change just a little bit more is far far more important to me.
Besides. Who says Ryan isn't Jewish?