There's a term running around called "Nostalgia Porn" — it's not about old-school porn, it's about all those reboots and revivals we've been getting lately, but also shows like Stranger Things that bases itself in a 'beloved' but relatively recent era. Those sorts of shows are pretty hit and miss. My wife and I were pretty big X-philes, but we hated the return of The X Files.
A number of those shows don't get more than one season. The Punky Brewster pickup, for example, set us up for a big gay wedding in season two, but since it was canceled, we'll never get that. Of course, that show had some younger kids, and those can be tricky to deal with in the era of COVID, and it was a little obvious and over the top on plots. On the other hand, we have a show about teens (and adults) that manages to pull off ostentatious plots, idiocy, retcons, and flashbacks, while still embracing the now.
Yes, I'm talking about Saved By The Bell.
Warning: This post contains spoilers for season one and two!
From Ridiculous Beginnings
The basic plot of season one of Saved by the Bell was that Zack Morris had somehow gotten himself elected Governor of California and is dealing with a budget crisis which he solves by closing schools. After that outrage, he decides to bus the poor kids to none other than Bayside High!
It goes over about as well as you'd think. And to give you the full nostalgia, Zack and Kelly are still married and their son, Mac, goes to Bayside. Also there is the son of Jessie Spano (school counsellor, married to René an artist), Jamie, who is an empty headed numpty but plays football for Coach Slater (yes). They're joined by Lexie Haddad-DeFabrizio, who has a crush on Jamie.
For the new kids, none of them seem to have a tie to Ye Olde Bayside and, at first, feel like they're there to give us a wink-wink about how inane that school is. The whole season is about the two very different groups coming together, figuring out how to be better people, balancing home and school (except for Mac), and then there's an ongoing subplot …
The school principal, Rod Toddman, appears at first to be just another new person there to fill things in. School has to have a principal, right? He keeps acting like he knows the OG crew, and yet no one remembers him. It's not until the school digs up a time capsule, and famous fashion designer Lisa Turtle is there to celebrate, that they show a totally absurd retcon where the adult actor for Toddman is very badly fitted into past moments, to prove he was part of the gang all along!
Another hilarious, but appropriate, hat tip to the old days is when one of the kids has a single comment about maybe taking caffeine pills. Remember Jessie's epic meltdown? It's revisited in one single hilarious moment.
To Even More Absurd Continuation
The first season ends with Mac reading his phone and asking what this whole COVID thing could be…
Yeah. The show jumps ahead and the kids are now juniors! The homeschooled the rest of sophomore year, with things being worse for the poor kids and their crappy internet, but finally, they're all back! And this season the plot is Bayside being in the running for California School Spirit…
Time out.
I went to high school in SoCal. No such thing. I know, you're shocked.
Okay? Time in.
Remember that schtick? Well Zack is no longer the governor (unlike Newsome, he categorically loses his recall, and honestly that's probably for the best), but now he's the Say at Home Dad, and it doesn't go over all that well. He tries to connect with Mac, and it goes over badly, Kelly wants to go back to work, Jessie's getting a divorce, Slater's broke, and Screech is dead (he gets a bit of a montage for some of his more absurd moments).
But where season two really excels is in moving past the wink-nod to the past that it did in season one. Instead, the show goes all in on embracing what they were. Slater refers to his time in college as "The College Years," Jessie talks about the time she lived in Vegas after college (Showgirls) and even pole dances! They even give Zack a chance to call "time out!" again.
And on top of that, while season one gave life to Josie Totah's amazing Lexi, season two lets her bloom.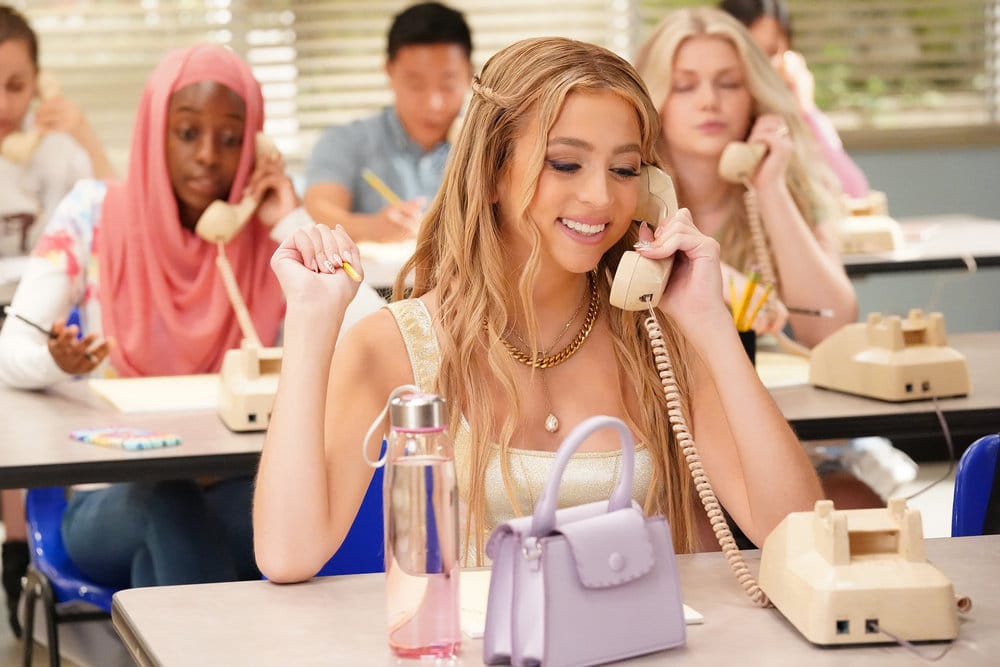 When a trans student is kicked off a sports team at another school, Lexi is suddenly front and centre for everyone asking what can they do to help. She just wants to go on being herself, because she can't change the world and solve sexism and homophobia and transphobia in a day. This results in her being introduced to the PRISM club for LGBTQIA+ students, and the captain… Chloe.
You might recognize her…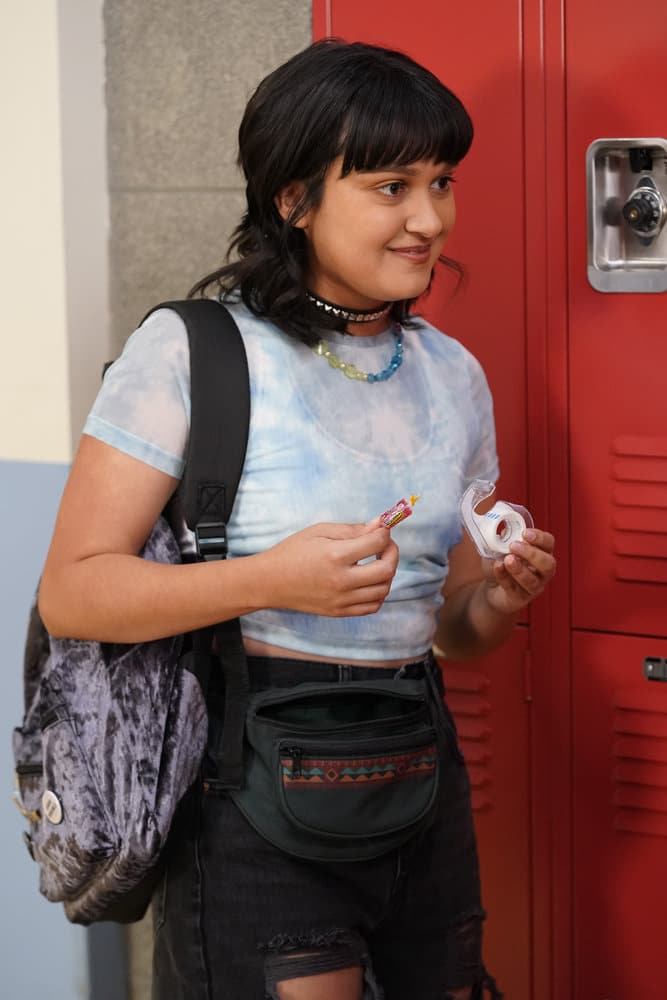 No? Picture her with purple hair and glasses, or maybe as the biggest goth. That's our girl, Ariela Barer! And her Chloe steals the whole second half of the season when she falls in love with a girl who isn't out and is having her first crush on an attainable female (and not, like, Janelle Monae), and those cooky kids have a chance to make it work!
Of course there are the classic sitcom miscommunication moments, but it's there when Saved By The Bell leans on things like 'woke' culture, affluenza, and equality that it begins to sparkle. Unlike that caffeine pill episode, which was way too much 'special episode,' all of these are like the time that Zack's pimple cream made Kelly's face burgundy. It's the more subtle hand at showing how messed up things are (looks, money, etc) that really make things sing.
It's Alright, Cause I'm Saved By The Bell
I can't believe I'm doing this, but I'm gonna say this. Do you want a silly, fun, series where love wins, queers win, and everyone finds success where they should? Do you want to laugh at how bad TV was in the 80s and 90s? Do you want to have a little bit of real in with your comedy without it being a Very Special Episode?
Check out Saved By The Bell on Peacock.
I don't have kids so I can't tell you if they'd appreciate it, but if you grew up with Saved By The Bell on TBS, you'll enjoy the hell out of this.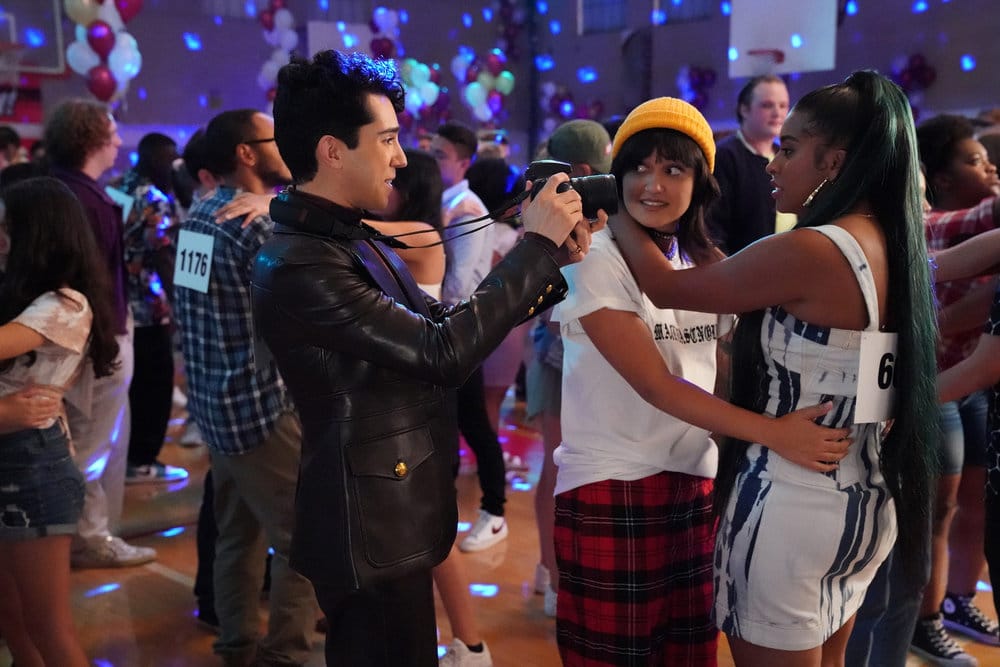 You don't even have to dance in the dance-a-thon.