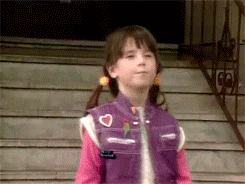 Not everyone looks back at the '80s and thinks "Yes. Let's reboot the most '80s show we ever aired on NBC!" I mean, the dark concept of a homeless, abandoned kid who is adopted by a random British guy in Chicago? Whenever I explain to anyone who missed the original, they double take.
But much to my surprise, Punky Brewster was given a second chance at life and it's well deserved.
What's Punky?
A two-season wonder on NBC, the concept was Punky's mom abandoned her (and their dog!) in a parking lot. She eventually found her way into the orbit of a grumpy photographer named Henry, who adopted her.
Weirdly the show was canceled on NBC after the second season. They'd had an episode about the Space Shuttle Challenger disaster. Punky and her classmates, like so many kids my age, watched the live coverage of the shuttle launch in school. The show was picked up in Syndication for two more seasons (arguably having it air opposite CBS's 60 Minutes was a weird choice in the first place, NBC), but the writer's guild strike in '88 brought it all to an end. The last two seasons were significantly more adult, complete with boys and dating and a fridge.
The reboot picks up 33 years later when Punky is a newly divorced photographer with three kids and her BFF Cherie (yep, still there) is a social worker. Cherie 'tricks' Punky into fostering a kid, and hijinks ensue. Now with four kids, an ex-husband who hangs around a little too much, and an adorable dog, Punky has to make it through unexpected life changes.
My Call: Watch It
"But Mika," you may be saying. "I'm not an 80s nostalgia nerd. Why should I watch it?"
Because Cherie has a girlfriend. And she's played by the amazing, the awesome, the brilliant, the out actress JASIKA NICOLE, who is finally getting to play a queer on mainstream TV!
Yeah, you read me right. Little Mika from the 80s is doing a fist pump. For that alone, I'd say to watch the show. But as it happens, it's actually a fun show. Sure the kids are a little too-smart for their ages, but that's a sitcom staple. Dial in and spend a nice day with ten episodes of Punky Style.
Screener Review On Punky Brewster
Who cares if your shoes are different colors when you're being your true self? The reboot is a fun, silly sitcom with that serious vibe that made the original a little deeper than 'just' a sitcom. It's a fun way to spend an binge. Punky Brewster will be on Peacock tomorrow, February 25th.