Season two of She-Ra and the Princesses of Power will be released on Netflix this Friday, marking the return of the most LGBT friendly Dreamworks series to date.
Two of the other shows, Voltron and The Dragon Prince both suffer from the Bury Your Queers trope. In Voltron, the openly gay Shiro never had a romance on screen, his estranged boyfriend died off-screen, and got a throw-away wedding to a barely known man at the end. While on The Dragon Prince, it's revealed in flashback that one of the princesses had two mothers, both of whom died defending their country.
Not The '80s Anymore
Based on the 1980s Mattel toy and TV show, He-Man, She-Ra was originally a 'girl' version of the cult classic. Equally beloved and derided, the show was about He-Man's long lost sister, Adora, who was raised on another planet by the evil Horde. Once she found her power to also be She-Ra, the legendary warrior, she joined the Princess Alliance and rebelled.
In Noelle Stevenson's remake, the show is far less classically heroic. Instead of relying on by-the-book formulas, Stevenson embraces the complex dichotomy of duality. Heroes are always villains, depending on how you look at it, after all, and Stevenson takes viewers into the grey areas of having powers, of ruling, and ultimately what it means to be a good person.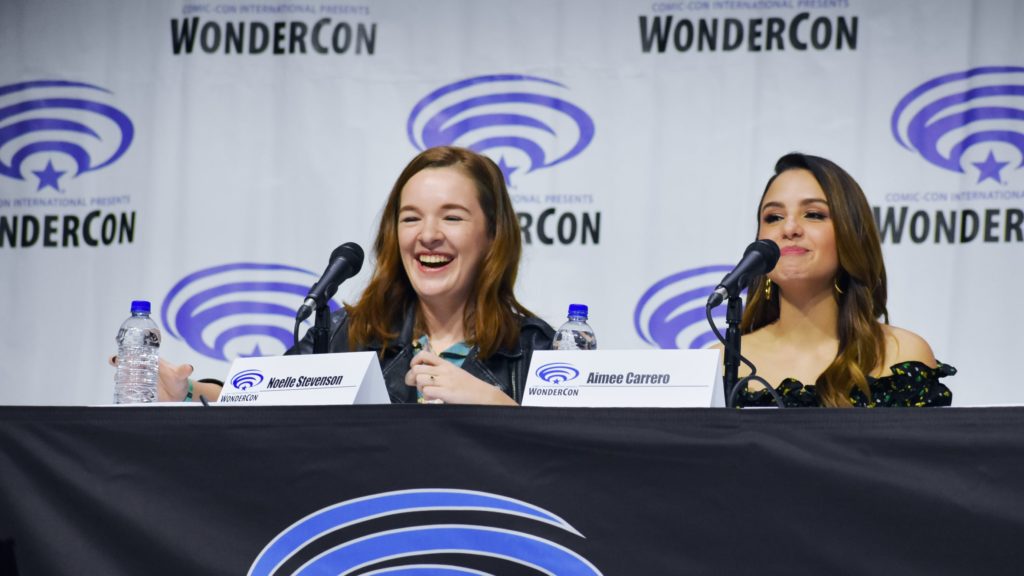 At WonderCon 2019, Stevenson and the main cast took time to talk about the struggles of the characters. All the characters are growing up, and growing into their powers and roles, but those changing worlds of teen to young adult, coupled with phenomenal cosmic powers, is a difficult road.
Adora, for the first time in her life, isn't just a simple soldier, following orders. Now she's a leader, and she's without her lifelong best friend. Speaking of Catra, that worthy is also learning how to be an effective leader, how to trust others, and how to balance her desire to have her best friend back and punish the princesses who stole her.
Without Declaration
There is a quibble to be had with the show, however. While we we do have LGBTQ representation, with Spinnerella and Netossa, and purportedly Bow has two fathers, Stevenson has shied away from actively promoting the characters or the show as LGBT.
It's difficult to miss the implications and overtones, particularly in season one's episode "Princess Prom," where in Catra and Adora enact everyone's favourite 1980s rom-com fantasy. Catra, in a suit and undone bow tie, dancing with Adora, and of course dipping her.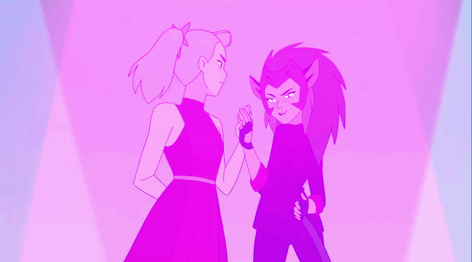 Beyond that moment, Catra's cohort in the Horde, Scorpia, is very queer coded as in love with Catra. When Scorpia emerges from her closet in a slinky dress, Catra is visible agog.
And yet, when asked about the representation, Stevenson simply said "I think the show and the characters speak for themselves."
She-Ra Returns April 26th
The Friends Quad (there are four…) go to war for seven more episodes.
If you happen to live in the LA area, there's a fan screening tomorrow: