It's not a secret, I love Batwoman. I have the original run of comics, I love re-reading them, I loved the story and how it was told, and it had me put Greg Rucka on my list of "men who may continue to write queer women." (because, as all women know, men can write women a little … boobily). It was a queer, Jewish, female superhero. Finally! Finally, I got to see more of me. When I saw the screener for Batwoman at SDCC in 2019, I was the happiest I'd been all that year. It was everything I wanted, and more. Especially Alice, oh my god, Rachel Skarsten steals the show.
When Ruby Rose left the show, I legit worried for the show. Were they going to recast Kate? Would they cancel the series? What was next? Well, then they announced a new, original, character and she sounded a little sus. It sounded a lot like the second iteration of Jason Todd — a thuggish and street smart criminal who puts on a cape. Then? Then we found out Javicia Leslie would play her and gosh, it sure read like typecasting.
I'm very happy that, four episodes in, my worries have been dashed away. Not only did Batwoman redress the issue with stereotyping the homeless black woman criminal turn hero, but they garnered a season three pickup already.
All Things Being Equal…
Network TV has been slow to change their stories. We've all heard about how the people behind the new Magnum P.I. show claimed it couldn't find Latinx writers to tell the story of their Latinx lead.
I was watching The Equalizer (the new one with Queen Latifah) and I realized how important it was that they finally have an action show about a Black woman who helps PoC who are regularly abandoned by TPTB. That is, we know that there is a bias in government services, like social services and the police, that result in PoC not getting the help the need, and being judged harsher than caucasians in the same circumstances. Evidence of this is all over the news.
But for CBS to have a whole show that has the premise of "a strong, powerful, Black woman is here to help the others and lift them up" is, to me, a surprising and powerful message. It's no longer the white-saviour story, it's the underrepresented being the hero and having their story told. That's the same (though with less punching and shooting) as having Judge Lola Carmichael being the agent of her own change and the change for others who need it on All Rise.
Much in that vein, this week, on The Good Doctor, they handled a case where a trans man was pregnant and a Black woman was assumed to have been lying. The latter was attributed to a racial bias, later proven via in-series documentation and research, by the medical staff. Including a fellow Black doctor. These horrible truths affect and impact people's lives, but too often are told under that white saviour veneer.
Comics are Political
Comics have always been political. Superman was created by two Jewish kids in Cleveland out of the Golem mythos in Judaism to protect people. Captain America and Wonder Women literally punched Nazis. The X-Men are a thinly veiled allegory for homosexuality to begin with (they hide in plain site, eh?). But by that turn, weirdly the TV shows and movies made about those same heroes often skip over, or only lightly touch, the political aspects of their source.
Batwoman isn't doing that. Just as with Kate Kane's coming out as Batwoman was a political necessity for representation, having Ryan Wilder be who she is, today in 2021, is a critical and fundamental cornerstone of exactly why we need superheroes.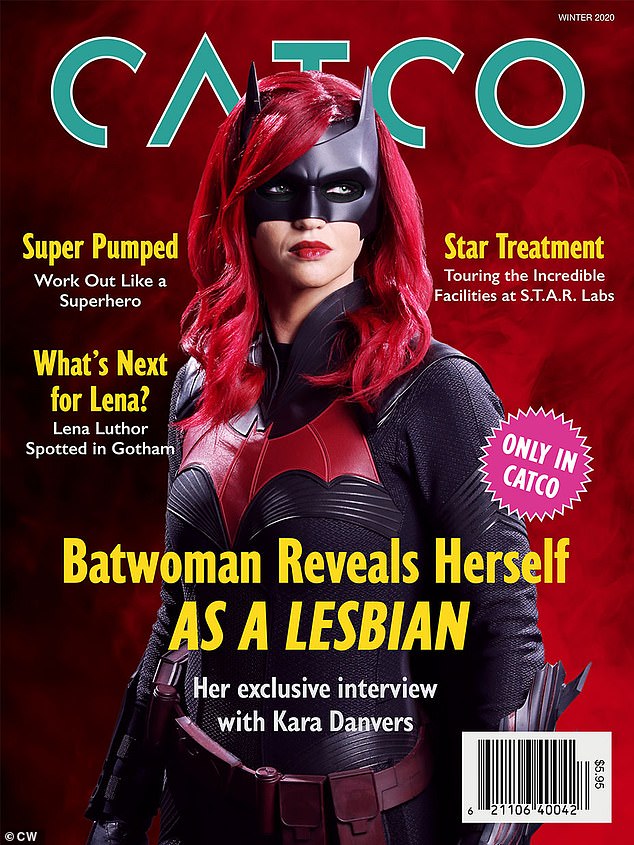 In a recent episode, Ryan listened to a young black boy when no one else would because she'd been there. She'd been him. And unlike the entitled Bruce Wayne or Kate Kane, she was no dilettante billionaire playing with toys. Ryan has been to jail. She's been not listened to. She was actively punished by her parole officer for not finding a job or an apartment, even though it was incredibly obvious to anyone with a functional brain that for a convicted felon, those things were near impossible to achieve.
The Story of Heroes
By handing Ryan one tool, the batsuit, she became empowered. She was given the one chance she needed to make a real change. Haven't we all looked at Batman (and yes, Batwoman) and thought "If they really loved Gotham, wouldn't they use their money without the punching?" Ryan doesn't have the money. Her suit's a loan. And yet she's not going to miss her shot. She has this chance to actually make Gotham better, listening to the ignored and helping the abandoned, and being the hero.
Watching the Batwoman pilot, I reveled in seeing me. But watching the new episodes with Ryan means even more. Ryan is the hero her community needed. And more over, they don't shy away from pointing out the inequality in Gotham. They actively call it out and address it, but don't solve it in an hour because you really just can't. It's ongoing, the discoveries and reveals for Ryan and for Gotham are nowhere near ending.
As much as I love Kate Kane (and I do still ship her with Renee Montoya and Maggie Sawyer), I'm even happier with the changes brought by Ryan Wilder. If I wanted to see another white person saving everyone, I have my choice of movies and books and TV shows. But to watch a scrappy, innocent-but-criminal Black woman rise up and say "Not in my Gotham, no more," well that's a story we all needed.
Watch Batwoman. It's telling a story that now, more than ever, needed to be shown. Anyone could be Batwoman. Anyone, even Alice, could put on the suit and do good. But only Ryan Wilder can be Ryan Wilder and be the arm for the downtrodden like this. And the world could use a few more Ryan Wilders.