Grown-ish is back, and most everyone is back at UCal (the fictionally amazingly diverse university). But for the queer viewers, we are left wondering where the heck is Nomi?
A Stumbling Storyline
In the first season, Nomi was a stereotypical, biphobic (when it was men), promiscuous, closeted at home, bisexual student. I know, that's a lot to unpack and go "Wait, a bi woman is biphobic?" but … that is sadly still a thing. Anyway, Nomi fit a pretty typical slot in the Grown-ish cast, and while it wasn't the greatest rep, it was far from the worst.
In the second season, she hooked up with her (female) professor, Prof. Hewson. Or as we called her, Prof. Shane. Since Kate Moennig went back(?) to The L Word: Generation Q, they contrived a messy breakup. Fine, those things happen. But that is what got us into season three …
Season three brought us pregnant Nomi. Hugely pregnant Nomi. Ready to pop any day Nomi. She ended up going back home and she went into labor in the finale.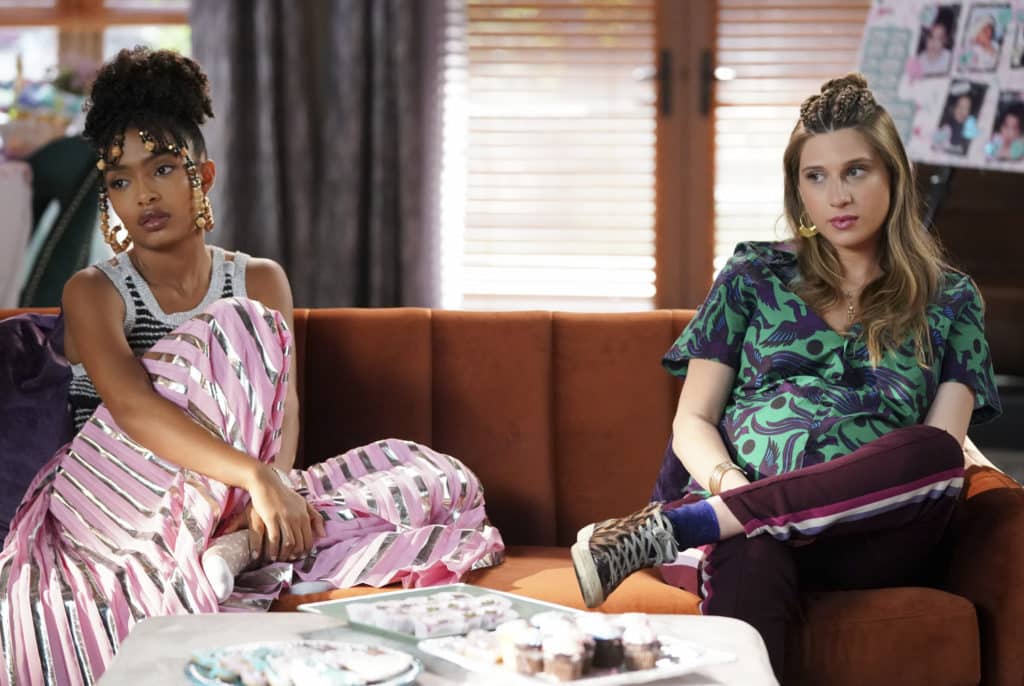 As the back half of season three began, Nomi was still gone. We did not see the birth, we didn't see the baby. We got Nomi's face, on a tablet, live chatting with the girls as they cleaned up their Insta follows, and we heard the baby cry and literally that was it.
Where is Nomi!?
All we know, Nomi's at home. It was implied that she was going to come back to school and bring the baby with her, but … That one bit on FaceTime? That is the only time we see her in the first four episodes. It's the only time she's mentioned, even in passing, in the first four episodes.
Unlike Zoey who got a whole episode A plot about why she's away from school, Nomi has nothing. Now, yes, Zoey's the star of the show, but they've been doing episodes without Zoey around too much in the back half of the season.
Will we see Nomi soon? I think so, but brace yourself because she'll likely be coming back with the baby.